Posted on
Wed, Jun 13, 2012 : 5:59 a.m.
Menards on Jackson Avenue: Home improvement chain pitches store to Scio Township officials
By Lizzy Alfs
Menards representative Tom O'Neil told the Scio Township Board of Trustees Tuesday night that the company desperately wants to build an Ann Arbor area store.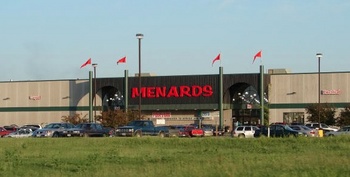 Source: Facebook
He said the Wisconsin-based home improvement chain has tried — unsuccessfully — to enter the local market for years, including when Pittsfield Township voted to deny Menards' rezoning request to build on Carpenter Road in 2010.
Two years later, O'Neil said he thinks the company has finally found the right property: A vacant 62-acre site on the southeast corner of Jackson and Staebler roads, just west of the Meijer store at Jackson and Zeeb.
"We think we finally found a winner here as far as it meets our needs and the community's needs as well," he said.
Township officials are indicating they'll approve the chain's latest request to build near Ann Arbor.
Menards is under contract to purchase 62-acres of the 165-acre site known as the former Farmer Grant land.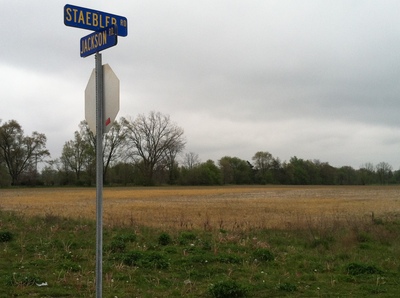 Lizzy Alfs | AnnArbor.com
In order to build a 160,000-square-foot home improvement store, the company is requesting a straight rezoning to general commercial for the 62-acre portion, which is owned by Mel Vanderbrug and Don Colone, operating as Scio Properties LLC.
The site was conditionally zoned in 2009 after the property was eyed for development with the proposal of a $100 million mixed-use project called The Village at Honey Creek. That project fell through due to zoning issues and the crash in the real estate market.
Scio Township Planning Commission unanimously voted to recommend approval of Menards' request at its May 14 meeting.
O'Neil told the Board of Trustees Tuesday night that the Menards store will only account for about 18 to 20 acres of the site, leaving room for additional smaller development projects.
"Ultimately, the goal would be to develop the rest of the property," he said. "We've had some success as far as getting other retailers to go near us, or restaurants to go adjacent to a Menards store."
He said the project — which is still in the preliminary planning stages — would include two access ways off Jackson Road and an additional two off Staebler.
O'Neil acknowledged that the site is located near both a Lowe's store and a Meijer store, but he said Menards is "considerably larger" with a "broader selection of merchandise."
Scio Township Supervisor Spaulding Clark told AnnArbor.com he doesn't anticipate any issues with the rezoning request. It will return to the Board of Trustees at its June 26 meeting.
Menards, which has 262 locations in 13 states, including nine locations in Michigan, is in various stages of planning and development for stores in Warren, Livonia and Kalamazoo County.
Lizzy Alfs is a business reporter for AnnArbor.com. Reach her at 734-623-2584 or email her at lizzyalfs@annarbor.com. Follow her on Twitter at http://twitter.com/lizzyalfs.