Posted on
Sun, Sep 1, 2013 : 5:55 a.m.
Menlo Innovations CEO Rich Sheridan puts finishing touches on upcoming book
By Ben Freed
Courtney Sacco I AnnAarbor.com
Menlo Innovations
CEO
Rich Sheridan
has been spreading the gospel of the "business value of joy" for years -- and now he's putting it on paper.
Sheridan regularly leads tours of the Menlo software "factory," located on East Liberty Street in downtown Ann Arbor, and is now in the final editing stages of his book, called Joy, Inc., which will publish later this year.
"It's been quite a labor," Sheridan said.
"I've never worked on something this hard… I now fully understand why authors in the acknowledgements apologize to their families in the first one or two sentences."
As the company's name suggests, Sheridan has drawn inspiration from Thomas Edison's Menlo Park lab, which sits less than an hour away in Greenfield Village.
The book is intended to mimic the experience of the factory tours that show off Menlo's open and collaborative working environment. The office space in the basement of Liberty Square is light on walls and heavy on movable furniture.
"It's is largely experiential storytelling with the lessons that come out of the story," Sheridan said.
"For the same reason we'll do 300 tours here this year for close to 3,000 people who come from around the planet to see us. The book will draw the same kind of attention."
The book is available for pre-order on Amazon, but will not publish until December 26. Despite the fact that the release is timed for just after peak "gift giving season," Sheridan said he's not worried about missing the Black Friday and Christmas sales.
"My guess is not many people give others a business book for Christmas, but they probably give them Amazon and Barnes & Noble gift cards," he said.
"So I think people who are looking to reinvent themselves in 2014 might buy themselves a book like this."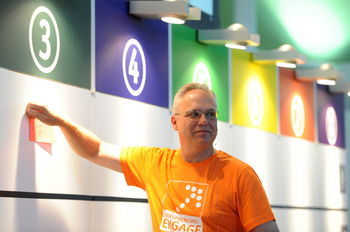 AnnArbor.com file photo
Joy, Inc. is a step in Sheridan's own reinvention story that started when he and Menlo Innovations co-founders
Robert Simms
and
James Goebel
decided to build a software company
in the wreck of the dot-com bubble in 2001. Since then, as the company's "chief storyteller," he has been featured on the cover of
Forbes
magazine and in articles from the Wall Street Journal and New York Times,
visited the White House
, and was named
AnnArbor.com's Executive of the Year in 2012
.
Sheridan's public persona and his frequent speaking engagements attracted the attention of a literary agent who pitched the idea of a book that would tell the company's story.
"He [the agent] worked with me to create a proposal that he brought forth to the publisher and it was accepted I think pretty quickly," he said.
"I'm guessing my experience was much easier than most because it was a lot of work but I hear stories of people trying to get published and it takes a long time. It didn't take me a long time."
Sheridan is nearly done writing the book, but in today's world that's just the first part of being an author. A meeting is already planned with representatives from Penguin Random House, the book's publisher, in mid-September to discuss plans for marketing the book nationally.
"All they've told me is don't book anything in the month of January," he said. "They haven't told me what I will be doing but they've advised me I should leave the month wide open."
Joy, Inc. was made available for pre-order last week and is currently ranked the No. 148,306 best-selling book on Amazon. Sheridan said he has been busy finishing his final draft and hasn't had much time to pay attention to the numbers.
"If there's a way to see how many pre-orders there have been, I haven't discovered it yet," he said. "I know my daughters have all pre-ordered copies so there are at least three that have been placed so far."
Ben Freed covers business for AnnArbor.com. You can sign up here to receive Business Review updates every week. Get in touch with Ben at 734-623-2528 or email him at benfreed@annarbor.com. Follow him on twitter @BFreedinA2