Posted on
Fri, Nov 2, 2012 : 11:31 p.m.
Menlo Innovations' Rich Sheridan named AnnArbor.com's 2012 Executive of the Year
By Ben Freed
Courtney Sacco I AnnArbor.com
Related story: AnnArbor.com unveils winners of 2012 Deals of the Year awards at annual ceremony
Whenever people in the entrepreneurial community talk about Ann Arbor as a next Silicon Valley or global innovation hub, a key component that always comes up as lagging is networking and mentorship in the startup community.
Collaboration is a much bigger buzzword these days than competition, and people are trying to find new ways for successful executives to rub elbows with young people who have new ideas. When you're looking for people creating that mentorship network in Ann Arbor, you can't miss Menlo Innovations co-founder and CEO Rich Sheridan, named Friday night as AnnArbor.com's 2012 Executive of the Year.
AnnArbor.com's 2012 Deals of the Year award winners
Deals of the Year award winners were unveiled at annual ceremony on Friday
Sheridan was awarded Executive of the Year not only for his guidance of Menlo Innovations as it has grown without any venture capital investment and moved into its new "software factory" this year, but also for the impact he has had on the entrepreneurial community in Ann Arbor.
Sheridan stumbled upon the idea of communal mentorship in the startup community years ago by doing what he did every morning — getting a cup of coffee.
"While I was at Cafe Verde I would bump into someone interesting, someone I really wanted to know," he said.
"I remember thinking, 'This is really cool. Rather than making coffee in a little kitchen, if I bring my morning e-mail checking to the coffee shop, I increase my chances of just bumping into people.'"
Sheridan said at the beginning of his "coffee shop marketing" days he was the mentee asking others for advice. Now that Menlo is a successful and growing software development company, he's become a central cog in the growing mentorship community that is offering guidance to new entrepreneurs in southeast Michigan.
"The mentorship network is becoming strong from top to bottom, and once it gets there it's a virtuous cycle that is very hard to stop," he said.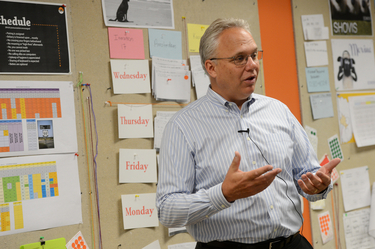 Melanie Maxwell | AnnArbor.com
"There are almost no steps you can take to stop [entrepreneurship], I think it's a basic human need. In fact, I think that we're all born to be entrepreneurs but most of us have it squished out of us."
The drive to create a network of mentorship is a large part of what led Menlo to relocate this year to its current space in the Offices at Liberty Square. Sheridan said that when co-founder and CFO Bob Simms wanted him to look at the space, he was hesitant to look underneath a parking structure for an office.
"But when I saw [student startup accelerator] TechArb here with the glass wall, my heart-meter went 'ding!'" he said.
U-M assistant director of student ventures Moses Lee said Sheridan, like everyone at Menlo, serves as an informal mentor for students at U-M's student startup accelerator and is also an adjunct faculty member at the College of Engineering, helping to teach the practicum course in entrepreneurship.
Sheridan was also tapped to lead an "un-conference" at the North Campus Research Complex earlier this year that brought the startup and innovation communities together to talk about the future of innovation in the region.
In addition to having TechArb next door, Menlo shares its workspace with other startup companies that pay nominal rent to be downtown and connected to the community that Sheridan is building. Sheridan said that while the companies are not paying a tremendous amount, they are contributing to the vibe and the entrepreneurial density of downtown.
"Entrepreneurship is very much about community," said Lee, whose startup company Seelio is also located in Menlo's space.
"Entrepreneurs need a community of support because the ideas are very fragile early on. So being here, that's why they call it incubators, because it helps it grow from ground zero."
Paul Krutko, chief executive of Ann Arbor SPARK, where Sheridan sits on the board, said Sheridan is a vital part of the community in large part because he believes in Ann Arbor and is willing to help make it a destination for companies from across the country.
"Rich has got that community gene in that he wants to have the Ann Arbor region be successful and he's willing to give of himself to do that," Krutko said.
"He opens his doors to everyone… he's one of the shining stars of the Ann Arbor entrepreneurial system."
Ben Freed covers business for AnnArbor.com. You can sign up here to receive Business Review updates every week. Reach out to Ben at 734-623-2528 or email him at benfreed@annarbor.com. Follow him on twitter @BFreedinA2