Posted on
Thu, Apr 25, 2013 : 5:58 a.m.
New Hungry Howie's location opens on Washtenaw Avenue in Ann Arbor
By AnnArbor.com Freelance Journalist
By Ben Solis For AnnArbor.com
Pizza lovers have another place to satisfy their cravings now that a new Hungry Howie's franchise has opened in Ann Arbor.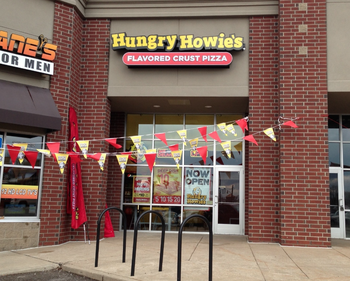 Paula Gardner | AnnArbor.com
Franchisee Shailesh "Sam" Patel opened the new restaurant Wednesday at 3365 Washtenaw Ave. in the Chalmers Place shopping center Wednesday. Patel runs the store with his wife Mekah, 42, and sons Jinil, 21, and Jinesh, 21.
Patel, who recently moved his family from Roseville to Ann Arbor, is new to the pizza business. For 10 years, he and his family operated an Elaine's Bagels location in Eastpointe. Jinil Patel worked for a Hungry Howie's for two years, and when the family wanted a new venture, he pushed his father in the direction of pizza.
Although the store officially opened Wednesday, Patel, 46, held a ribbon cutting ceremony Tuesday and offered free pizza buffets at lunch and dinner time Tuesday. He estimated he served about 600 patrons. Patel also gave a $250 donation to the Washtenaw-Lenawee Chapter of the American Red Cross to mark the opening.
The Hungry Howie's opening comes as a franchisee for Virginia-based Elevation Burger prepares to open in the shopping center this summer.
The first Hungry Howie's opened in 1973 in Taylor, Mich., and it's headquartered in Madison Heights. There are more than 545 locations in 21 states, including several in Washtenaw County. In July 2012, the Hungry Howie's at 2145 W. Stadium in Ann Arbor closed.
The new store is open from 11 a.m. to 1 a.m. Sunday through Wednesday and Thursday through Saturday from 11 a.m. to 3 a.m. The phone number is 734-929-0072.