Posted on
Tue, Sep 25, 2012 : 8:18 a.m.
New masters program at U-M teaches inventors to be entrepreneurs
By Ben Freed
In entrepreneurship classes, students usually are taught to first identify a need, and then to engineer a technology or a service to fill that need. A new masters program at the University of Michigan is turning that process upside down.
"In this program we're doing the opposite and starting with a particular technology," student Steven Sherman said in a release. "It's our job to find out what issue it is capable of solving."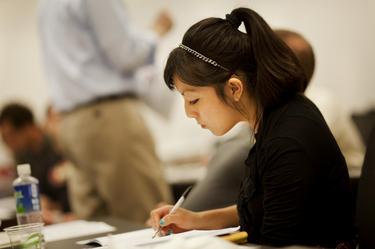 Photo by Joseph Xu courtesy University of Michigan
This approach will force students out of their comfort zone as they participate in the joint Master of Entrepreneurship program through the
Ross School of Business
and
Michigan Engineering
. The program is targeted to inventors and the goal is to train them to bring their inventions to market.
"[The program] provides the entire range of business and technical skills necessary to commercialize new technologies," program co-founder and professor of business administration Bill Lovejoy, said in a statement.
"It contains more business content than a typical master of engineering and more startup content than a typical MBA."
Students are exploring commercialization of five technologies that they chose this week after hearing pitches from more than a dozen faculty members. According to U-M, they are:
Inkless, color-changing fluid: A device that makes structural color—like that of iridescent peacock feathers—by rapidly re-ordering microscopic particles in a liquid. Possible applications include color displays that aren't backlit and camouflage paint.
Transparent electrodes: A nano-etching process that can make transparent electrodes. Initial application ideas include cheaper solar cells or more efficient, higher-resolution display screens.
Electronic nose: A gas sensor that's uniquely robust, precise and portable. Possible applications include detecting chemical weapons or diagnosing diseases from a patient's breath.
Reusable heat pack: A reusable materials-based technology that provides instant, nonelectric heat. Users boil it to recharge it. Possible applications include storing waste heat from electricity generation for later use and infant incubators. This was invented by program student and 2012 alumnus Grace Hsia.
Sub-millimeter wireless sensor: A tiny wireless sensor that can measure the buildup of materials on itself. One possible application is to integrate them with stents that prop open blocked blood vessels to alert patients and doctors of additional blockage.

The program is similar to the six-week I-Corp program where faculty receive National Science Foundation grants to complete market research and find practical uses for their inventions.

"We're training scientists and engineers to identify opportunities, because they are the ones at the lab bench when discoveries happen," program co-director and associate director of academic programs at the College of Engineering's Center for Entreprenuership Aileen Huang-Saad said in a statement.

"We hope to help capture more commercialization opportunities that might have otherwise been missed, thus empowering our engineers and scientists. The growth of startups has become critical to the growth of our national economy."

The growth of startups has also been critical to Southeast Michigan's economy, with Ann Arbor and the University of Michigan helping to lead the way. Michigan also has founded student startup incubator TechArb, and the Office of Technology Transfer helps spin inventions at the university into startup companies.

In the new masters program, students explore commercialization of technologies while completing their coursework. Students heard pitches from faculty members and then chose five technologies to work on during the course of the year. The cohort chose one technology that was developed by a current program student and 2012 alumna of U-M Grace Hsia.

Hsia engineered a reusable heat pack that provides instant non-electronic heat and can be recharged by boiling. According to a press release, the technology could be used for storing waste heat from electricity generation or in infant incubators.

Hear the students talk about the program, and why they chose to attend:

Ben Freed covers business for AnnArbor.com. Reach him at 734-623-2528 or email him at benfreed@annarbor.com. Follow him on twitter @BFreedinA2