Posted on
Thu, May 16, 2013 : 5:58 a.m.
New 'tailgate park' plans in motion for Mr. Stadium Coin Laundry owner
By Ben Freed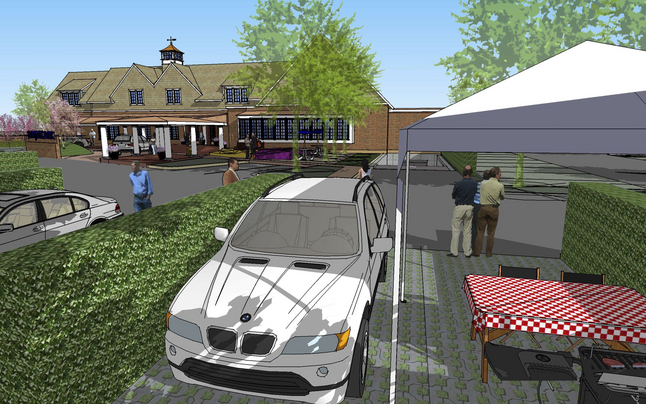 Damian Farrell Design Group
Plans for a new tailgate park on Ann Arbor's South Industrial Highway show what could be a new way to experience Michigan football games for those who can't make it into the stadium.
Dan Kachadorian first had the idea for a self-contained tailgate park nearly 20 years ago when he read that people were renting parking spots at an apartment complex to tailgate for football games. Now the owner of Mr. Stadium Coin Laundry and Dry Cleaning, 1964 S. Industrial Highway, is ready to make good on his dream.
"At this point I really just need to do it or it will never happen," he said. "It's been in the back of my mind all these years and I think it could be a lot of fun."
Plans for the park, drawn up by Damian Farrell Design Group, include 50 to 60 parking spaces and a central "clubhouse" space with restrooms, storage rooms, meeting rooms and possibly a small banquet facility. Kachadorian believes the clubhouse will be a major differentiator between his new venture and tailgates held in parking lots with fewer amenities.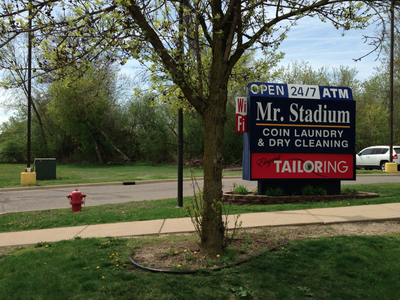 Ben Freed | AnnArbor.com
"The bathrooms are a big thing," he said. "No one likes using Porta-Johns and women especially don't like them. I think people will be drawn to the experience where you can have all the fun of tailgating without those negative nuisances."
In order to create a "family atmosphere," spaces at the new park will not only have to be reserved in advance, they will be held by long-term leases. Kachadorian's preliminary plans call for options that include a 20-year lease with options for the next 60 years.
"Michigan is tradition, and people like the idea of being able to pass something on," he said.
"That's what this is all about. I want this to be something people can keep in their families and keep for a long time."
Last year, another Ann Arbor resident spent more than $80,000 upgrading his patio to a luxury tailgate spot. Other die-hard fans bring massive grills and big parties to Ann Arbor every home football weekend.
Kachadorian graduated from Wayne State University and said he tailgates for every game but rarely actually joined the 110,000-plus fans in the Big House.
"I'm usually right here outside the store on game days," he said.
"Some people like the fun experience of coming out and grilling but then they set up TVs and generators and watch the game right at their tailgate. Even some people who have tickets to the game end up coming back to watch with the tailgaters if the weather is bad."
Football and tailgating are already big business in Ann Arbor. According to a U-M study, each home-game weekend brings $10 million into the local economy. Season passes for parking spots at the Ann Arbor Golf and Outing Club across the street from the stadium can be reserved through Ann Arbor startup Park n Party for $385.
Mr. Stadium first opened in the Colonial Plaza shopping center in 1972. In 1998 Kachadorian purchased the two plots of land between the strip mall and the U.S. Army Reserve Center in order to expand his laundry operation.
"I didn't really have plans for the second plot when I purchased the land," Kachadorian said.
"I figured at some point I would sell it or it would be redeveloped into something else, but it's perfect for this park."
The space has been unused since the property was purchased and is currently a small wooded strip that separates the army area from the laundromat. Kachadorian said he still has a lot to figure out on the project and pricing is still up in the air.
In addition to pricing, Kachadorian has to finalize site plans for the park and will have to have his project approved by the city before he can begin construction.
He has his eyes set on opening the park for the 2014 football season if all goes according to plan.
Ben Freed covers business for AnnArbor.com. You can sign up here to receive Business Review updates every week. Reach out to Ben at 734-623-2528 or email him at benfreed@annarbor.com. Follow him on twitter @BFreedinA2