Posted on
Wed, Apr 24, 2013 : 5:57 a.m.
Noodles & Company signs lease for new Ann Arbor location
By Lizzy Alfs
Fast-casual restaurant chain Noodles & Company is planning to open its third location in Ann Arbor.
The company signed a lease for the former Kentucky Fried Chicken building at 2245 W. Stadium Blvd., according to Southfield-based real estate company Ludwig & Seeley.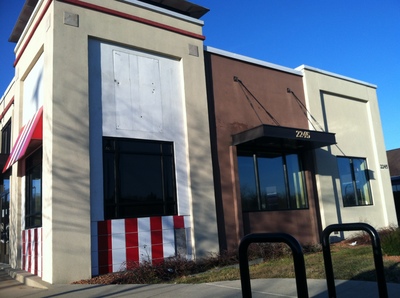 Lizzy Alfs | AnnArbor.com
Matthew Seeley and Max Goldman represented Noodles & Company and the building's landlord in the transaction, according to a news release.
Owned by Arbor Farms Market co-owner Leo Fox, the former KFC building has been vacant since the restaurant closed in June 2012. The property was listed for lease last year for an annual $30 per square-foot. Fox could not be reached for comment.
In March, Todd Quatro of Ypsilanti-based T.S. Quatro Co. submitted building and reoccupation permits to the city of Ann Arbor to renovate the former KFC building for Noodles & Company. Plans call to construct a 12-by-30-foot patio in front of the building and remove two parking spaces at the rear of the .57-acre site, city documents show.
The restaurant is aiming for a July 2013 opening, according to Ludwig & Seeley.
The news comes several months after a deal to open a Noodles & Co. at 2161 W. Stadium Blvd. fell through. The former Sze Chuan West building was demolished, and Noodles intended to build a 3,294-square-foot restaurant on the site.
"We ran into two or three different problems, and finally decided not to go through with it," property owner Chuck Gallup told AnnArbor.com in December.
Based in Colorado, Noodles & Co. has almost 300 restaurants in the U.S., according to its website. There is a location on South State Street near the University of Michigan campus, and one on Washtenaw Avenue in Arborland.
The restaurant serves pasta dishes, sandwiches, salads and soups. It has a "500 calories or less" section on its menu.
Lizzy Alfs is a business reporter for AnnArbor.com. Reach her at 734-623-2584 or email her at lizzyalfs@annarbor.com. Follow her on Twitter at http://twitter.com/lizzyalfs.