Posted on
Fri, Mar 11, 2011 : 5:58 a.m.
Oil prices present 'significant downside risk' to Washtenaw County's projected economic recovery
By Nathan Bomey
Escalating oil prices threaten to slow the pace of Washtenaw County's budding economic recovery, University of Michigan economists said.
Future trends in oil prices, which sped above $100 a barrel in the wake of turmoil in the Middle East, are "so hard to predict," U-M economist George Fulton said. Nonetheless, oil prices represent a "significant downside risk" to the economic forecast predicting that Washtenaw will add 8,840 jobs from 2011 through 2013.
"If we evolve into a high-price environment for a sustained period of time, it will dampen the economy," Fulton said. "It will reduce consumer confidence, it will increase inflation and it could affect the car-buying market."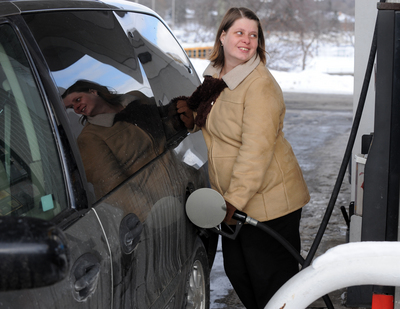 Lon Horwedel | AnnArbor.com
The biggest threat from oil prices is that auto sales will disappoint as consumers question purchases and conserve cash to pay for higher gasoline prices, Fulton said.
The economic forecast projects that U.S. sales of light vehicles will rise from 11.5 million in 2010 to 13.1 million in 2011, 15.1 million in 2012 and 15.9 million in 2013.
The 2013 sales level would be 52.9 percent higher than the industry trough of 10.4 million vehicles in 2009.
Fulton said the economic forecast is based on an "assumption that we won't be into a period of sustained high prices at the gas pump."
"But we could be dead wrong on that," Fulton added.
Washtenaw has only three remaining automotive plants, led by 2,000-person Automotive Components Holdings plant in Saline. But suppliers and other related companies are directly affected by changes in the auto industry.
The county's manufacturing sector had 12,564 employees in 2009, down from nearly 31,000 in 1999. The manufacturing sector bucked years of losses by adding 538 jobs in 2010, and the sector is expected to add an additional 414 jobs by 2013, according to the U-M forecast, which was conducted for AnnArbor.com.
But higher oil prices could undercut that projected job growth.
Lon Horwedel | AnnArbor.com
David Cole, chairman emeritus of the Ann Arbor-based Center for Automotive Research, said the auto sales market reacts quickly and "dramatically" to changing oil prices.
"The challenge for the industry is to be able to be sufficiently agile to move product to where the markets are, and of course this creates uncertainty when you're dealing with cars, particularly if the public gets the expectation that there's a wild ride up, a wild ride down — people don't know what to do, they're confused, so they don't buy," Cole said.
Higher oil prices will extract more dollars from consumers, but they could also provide a boost to Ann Arbor area startup alternative energy companies hungry for clean tech investment.
Pittsfield Township-based Accio Energy, for example, is seeking early-stage angel investment to accelerate development of its wind energy device, which would generate electricity without moving parts.
"Oil price shocks generally create a greater sensitivity for the need for renewable energy sources, and a greater sense of need for renewable energy sources is good when you're a renewable energy startup," Accio CEO Jennifer Baird said. "It's that simple."
Contact AnnArbor.com's Nathan Bomey at (734) 623-2587 or nathanbomey@annarbor.com. You can also follow him on Twitter or subscribe to AnnArbor.com's newsletters.