Posted on
Wed, Jun 15, 2011 : 5:10 p.m.
Owner of shuttered wedding hall 'in Cancun on business' as couples seek refunds
By Nathan Bomey
The owner of the Ann Arbor area wedding destination whose banquet hall was recently shuttered due to code violations is now traveling "in Cancun on business," WDIV Channel 4 reported Tuesday night.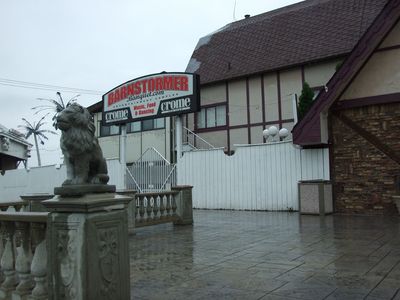 Nathan Bomey | AnnArbor.com
Rob Cortis
, owner of
Barnstormer Entertainment Complex
in Green Oak Township, told AnnArbor.com last week that he is notifying couples who have events scheduled at his business that the code violations may disrupt their wedding plans.
But several couples told AnnArbor.com that they were not told that they would not be able to hold their wedding indoors until a week or two before their event was scheduled. Several couples have also said they have not received full refunds of their deposits.
At least one bride affected by the situation, Kristine Courts, said she was considering filing a lawsuit to retrieve her $2,000 deposit.
One future bride, Kathy Rockwell, whose wedding is scheduled for Aug. 12 at Barnstormer, told AnnArbor.com this afternoon that Barnstormer had still not informed her of the situation. She said she's contacted Cortis four times to get her $1,000 deposit refunded but hasn't heard back.
"I am not anticipating any recourse for the fact that he stole my money, but I hope his business suffers and his life is inconvenienced like mine is," Rockwell wrote in an email.
Attempts to contact Cortis earlier this week were not successful.
Here are links to recent coverage of the Barnstormer banquet hall closure:
AnnArbor.com: Wedding plans disrupted after code violations yield 'potential for catastrophe' in Barnstormer's banquet hall
AnnArbor.com: Couples say they haven't been refunded deposits after inspectors shutter Barnstormer wedding hall
WXYZ-TV Channel 7: Popular reception hall forced to close down large part of venue; couples left scrambling
WDIV-TV Channel 4: Closing Banquet Hall Causing Trouble For Weddings
Fox 2 Detroit: Green Oak Township: Barnstormer Not Up to Code
Associated Press: Banquet Hall Shutdown Hits Michigan Weddings
Livingston Daily Press & Argus: Banquet hall shutdown hits Michigan weddings
Contact AnnArbor.com's Nathan Bomey at (734) 623-2587 or nathanbomey@annarbor.com. You can also follow him on Twitter or subscribe to AnnArbor.com's newsletters.