Posted on
Wed, Oct 17, 2012 : 10:18 a.m.
Ann Arbor as an innovation center: Speakers say it just keeps growing
By Ben Freed
The Ann Arbor-Silicon Valley comparisons just keep coming.
Wednesday morning's A2Y Chamber of Commerce's Early Edition featured two speakers with valley connections in Ann Arbor SPARK's CEO Paul Krutko and Barracuda Network's backup services general manager Guy Suter.
Both speakers highlighted the growing innovation sector in Ann Arbor and offered their own explanations for why major (and minor) technology companies choose to set up shop in a city that is dwarfed by many of its competitors.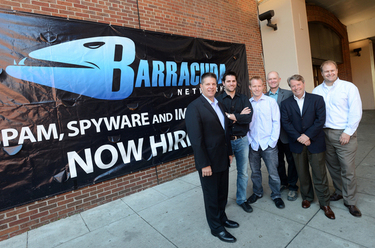 Melanie Maxwell | AnnArbor.com
Krutko's work at SPARK is to make Ann Arbor a more attractive home for businesses. He said that the Ann Arbor area had proven its resiliency during the economic downturn and is primed to continue on a positive direction as the rest of the country tries to catch up.
"The most recent [August] unemployment rate here is 5.9 percent, and that's compared to 9.2 percent for the state and 8.2 percent across America," he said.
"We are always three to four percent(age points) less the national average here, and we look for that to continue."
Previously the head of economic development efforts in San Jose, a city nine times Ann Arbor's size that houses 60 percent of Silicon Valley's companies, Krutko said the tables have now turned as he's gone from attempting to keep companies in in the valley to attracting companies from the valley to open offices in Ann Arbor.
One such endeavor - started before Krutko arrived in Ann Arbor - is the small Barracuda Networks research and development office that moved here to work with University of Michigan graduates. Today, Suter said, the office employs 200 people and is still growing at the rate of one new hire per week.
The office grew quickly enough that in June the software company struck a deal nominated by AnnArbor.com as a Deals of the Year nominee to move downtown into offices on Maynard Street behind the old flagship Borders store.
Suter said the offices are still undergoing a "massive renovation," but that the company is excited to move into its badly needed new offices.
"The software development world tends to be very male dominated, just from the standpoint of the talent available," he said.
"So we have 200 people, mostly men, working on Depot Street with just one urinal between us. It's like the bathrooms used to be at Michigan Stadium before the renovations."
Suter said companies have a number of complex considerations that go into finding a place to open or maintain an office, and sometimes those considerations are simply serendipitous. His decision to move his company BitLeap, acquired by Barracuda in 2008, to the Ann Arbor office was aided by the fact he has a brother in Southfield, had visiting many times, and liked the culture.
He added that the Barracuda's move has been in the works for a year and a half as they looked for suitable space to house their growing offices, always with an eye towards moving downtown.
The decisions that different companies make are also aided by groups like SPARK and the DDA at that help companies negotiate tax structuring with the city or convince them that there will certainly be enough parking.
Ann Arbor still has work to do before it reaches the upper echelons of high tech concentration, but, as Krutko pointed out in his remarks, none other than Thomas Friedman in a column in January casually listed Ann Arbor next to innovation centers Austin, Denver, Cambridge - and Silicon Valley.
Ben Freed covers business for AnnArbor.com. Reach him at 734-623-2528 or email him at benfreed@annarbor.com. Follow him on twitter @BFreedinA2