Posted on
Tue, Dec 8, 2009 : 11:43 a.m.
'PBS NewsHour' to feature Ann Arbor, University of Michigan's TechArb tonight
By Nathan Bomey
"PBS NewsHour" will feature Ann Arbor and the University of Michigan tonight as part of a series exploring the impact of the economic crisis on various communities throughout the nation.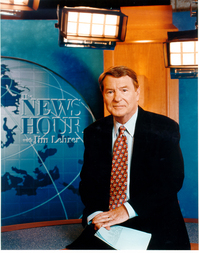 The program is expected to highlight U-M's student entrepreneurial movement, which spawned the TechArb, an incubator for student-led businesses. Executives at U-M, Ann Arbor-based venture capital firm RPM Ventures and Ann Arbor-based real estate firm McKinley Inc. collaborated to establish the incubator as a summer-long experiment.
The program will also discuss Ann Arbor's general economic vitality and lifestyle advantages, PBS spokeswoman Anne Bell said in an e-mail.
"Michigan is home to the nation's highest unemployment rate - 30% in Detroit - and a full blown collapse of its manufacturing economy. But Ann Arbor, built around the University of Michigan campus, is literally buzzing with activity," the PBS show will assert, Bell said.

"NewsHour" producers visited Ann Arbor two months ago and interviewed a variety of local leaders, including U-M President Mary Sue Coleman, U-M College of Engineering Associate Dean for Entrepreneurial Programs Thomas Zurbuchen, Ann Arbor Mayor John Hieftje and RPM Ventures partner Marc Weiser.
Zurbuchen said the program will focus on the entrepreneurial "energy that is in our students."
U-M's student entrepreneurial movement this fall produced 2,165 videotaped entrepreneurial ideas collected as part of the 1,000 Pitches competition. The competition, organized by student organization MPowered, honored its winners Saturday night.
Watch "PBS NewsHour" tonight

The program airs at 6 p.m. on WTVS Detroit; 6:30 p.m. at WGTE Toledo; and 7 p.m. on WKAR East Lansing.

"You see the energy in the students, you see the excitement and you see the tremendous value in the creativity and innovation in these people," Zurbuchen said. "For me, this is what it's about. Very exciting."
NewsHour, recently renamed after years as "NewsHour with Jim Lehrer," is highlighting Ann Arbor as part of its "Patchwork Nation" series.

The producers shot footage at the TechArb's first location in the basement of 510 E. Washington.

That location cultivated several student-led tech businesses - such as MyBandStock.com and iPhone app developer Mobil33t - leading U-M to establish the incubator as a permanent operation on the fourth floor of the McKinley Towne Centre next to Google and Ann Arbor SPARK.
Contact AnnArbor.com's Nathan Bomey at (734) 623-2587 or nathanbomey@annarbor.com. You can also follow him on Twitter.