Posted on
Sun, May 23, 2010 : 5:59 a.m.
Pittsfield Township taking more favorable approach toward business, economic development
By Nathan Bomey
Pittsfield Township's tactical shift toward a more business friendly environment is beginning to draw attention among developers and surrounding municipalities.
The shift - still gradual but increasingly noticeable - manifested itself in April, when Pittsfield openly celebrated the fact that big-box store retailer Costco was likely to build a store in the township.
The township, by all accounts, is welcoming Costco with open arms - a striking turnabout from recent years when businesses reported being hassled by the township. So for local observers, the shift is close to remarkable.
But Pittsfield Township Supervisor Mandy Grewal, who was elected to a four-year term in November 2008, sees it as necessary.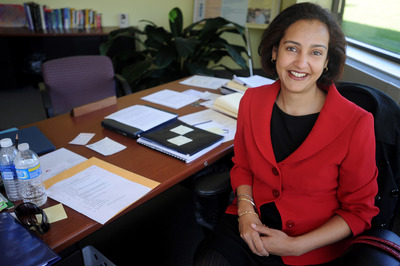 Angela J. Cesere | AnnArbor.com
"What we had been lacking prior to my administration coming on board was really the leadership," she said. "We never really had leadership that was passionate about the community and went out there and made the case for Pittsfield Township. I see it as incumbent on me to get out there and outline the benefits to businesses of locating in our community."
The implications of Pittsfield's shift are hard to quantify. But local municipal leaders said that, although the competition for business might get stiffer, momentum for Pittsfield means momentum for the region. Pittsfield boasts the second largest tax base of any municipality in the county.
"My philosophy is that competition is good, it makes everybody stronger and a rising tide lifts all boats," said Saline Mayor Gretchen Driskell, whose city borders Pittsfield. "If we're bringing in new business from outside the county, this is new business and wherever it ends up going, it's going to benefit the whole county."
Grewal said she doesn't apologize for unabashedly promoting Pittsfield. A large portion of the township boasts the still desirable Ann Arbor mailing address, companies get access to the same talent pool as competitors elsewhere in the county, and proximity to the University of Michigan doesn't hurt.
Still, she's not going to complain when a business selects another local municipality instead of Pittsfield.
"When one community attracts business, the likelihood of positive ripple effects permeating the surrounding jurisdictions are very high," she said. "So it's a win-win situation when new jobs come to Washtenaw County as a whole."
In broader economic development terms, that may be true. But the controversial undercurrent that's impossible to escape is the implications for the tax bases of local municipalities.
For example, conventional wisdom is that if Ann Arbor eventually adopts a city income tax, businesses located within the city limits will flock to the surrounding townships. Pittsfield, which is not considering an income tax, is often cited as the main beneficiary.
Melanie Maxwell | AnnArbor.com
Perhaps just as important to businesses, however, is how they're treated by municipal bureaucracies. In that category it's hard to gauge whether Pittsfield has made substantive improvements.
But Grewal said she wants businesses to feel welcome, and that starts with encouraging expansions by approving tax abatements. Grewal's board has approved six tax abatements since taking office after the 2008 election. That's 30 percent of the active tax abatements in the township.
"Most of them are existing businesses in the township that are expanding," she said.
The city of Ann Arbor, by contrast, has approved one tax abatement over the last 18 months, said Tom Crawford, Ann Arbor's finance director, in an e-mail.
Pittsfield's non-homestead millage rate - the base tax rate for companies - is 47.66 mills within the Ann Arbor school district and 51.64 mills within the Saline school district.
The comparable rate for the city of Ann Arbor is 59.29 mills, and for the city of Saline it's 62.02 mills. Scio Township's rate within the Ann Arbor school district is 43.96 mills, Ann Arbor Township's rate is 47.93 mills and Ypsilanti Township's rate is 56.92 mills within the Ypsilanti school district.

One company that selected Pittsfield was information technology services startup Systems In Motion, a California-based firm that plans to hire 1,100 workers over the next several years. Pittsfield awarded a tax abatement to Systems In Motion to support additional tax credits distributed by the Michigan Economic Development Corp.
"The best way to reduce the tax burden on residents is to ensure that you have a vibrant and diverse commercial tax base," Grewal said.
That commercial tax base may soon include Costco, which is eyeing a location northwest of the State and Ellsworth intersection, behind Tyner's Furniture but east of Airport Boulevard. Costco has not yet submitted plans to the township and would require rezoning approval, but the township has indicated that it views the project favorably.
That stands in contrast to the approach Scio Township took when Costco was considering building a store there about five years ago. Neighbors got upset, the township didn't cooperate and Costco eventually axed its plan when the real estate market started to implode.
Darrell Fecho, township manager for Scio, said it was a "different world" economically. He declined to speculate on why Costco has now set its sights on Pittsfield instead of Scio.
Pittsfield Township
Population: 37,258
School districts: Ann Arbor, Saline and Milan
Leadership: Supervisor Mandy Grewal led a political team that swept into office after the 2008 election.
Tax strategy: Board has approved 30 percent of township's active tax abatements within the last 18 months.
Big win: Californian startup Systems In Motion announced last fall that it had selected Pittsfield for a software services operation with plans to add 1,100 jobs.
Big win No. 2: Retailer Costco is forming plans to build a store in Pittsfield.
"All I can say is they were in the process, and they voluntarily left the process," he said. "It's difficult for us to say is that good or is that bad? A number of people probably thought it was good. Those people who had Costco cards probably thought it was bad."
Big box irony
Pittsfield is welcoming Costco for now, but some observers privately express skepticism that the township's attitude toward business is meaningfully different. They point to the fact that Pittsfield's current board, including Grewal, was effectively voted into office on a platform critical of the township's handling of the Walmart that opened last fall on Michigan Avenue.
It's still a sensitive issue. Several people contacted for this story declined to discuss the paradoxical nature of Pittsfield embracing one big box store shortly after spurning another.
But Trish Kalmbach, a developer who ran Pittsfield Township business park Avis Farms from 1995 to 2007, said she's not surprised the township is altering its approach. She said the township needs to find ways to survive Michigan's distressed economy.
"What has changed in my mind? It's the tax base," she said. "If you turn around and look at what's changed, property values for residential have fallen. (With commercial real estate), you can't rent, you can't build, you can't sell anything."
And Grewal acknowledges that Pittsfield is still exposed to general troubles challenging the Ann Arbor economy, which lost 13,575 jobs from 2006 through 2009, according to an economic forecast conducted by U-M.
The economy may be nudging Pittsfield toward a more pro-business atmosphere, but Grewal said it's not a "direct cause-and-effect."
Grewal believes the Costco store is the first positive outcome of a year-long master plan reconfiguration that's been underway in Pittsfield for about six months.
A central tenet of that plan is encouraging infill development, she said. But she said it would reflect balanced priorities, including encouraging a vibrant tax base, green space preservation and recreational space.
"We want to have a very cohesive vision and policies that complement that vision," she said. "I don't think it's exclusively going to be all pro-growth and pro-development."
Larry Osterling, executive director of the Saline Area Chamber of Commerce, which counts Pittsfield businesses as about 30 percent of its membership, said he hopes that the township will improve the environment for all businesses.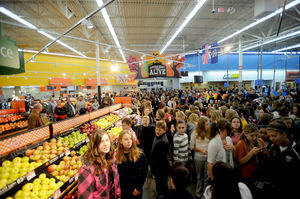 Angela Cesare | AnnArbor.com
"It's nice that the new leadership of Pittsfield Township has recognized the viability of what many of our businesses bring, not only for large business but for the small one-two person operation that is really the backbone of what successful communities are going to be about in the future," he said. "We've got to do more to encourage employers on the small scale and the large scale to bring new businesses in and drag Michigan out of economic" struggles.
Pittsfield's office advantage
Notably, though, the township may not need significant new development opportunities to grow its business base.
Michael Finney, CEO of economic development organization Ann Arbor SPARK, which promotes activity throughout Washtenaw County, said Pittsfield is benefiting from a long list of existing office spaces available for quick occupancy.
"What we're seeing with the inquiries we're getting are companies looking for existing spaces. Companies are looking to be as cost effective as they can, so why build something if you can find something that's 50,000 square feet that meets your requirements as opposed to building?" Finney said. "That really is the point, and we hear it over and over again."
That economic reality benefits Pittsfield, which has extensive available space in Avis Farms and elsewhere. At the end of 2009, the southern part of the Ann Arbor region, which includes the office-intensive South State Street corridor in Pittsfield, had 1.21 million square feet in office vacancy, according to an annual report by Ann Arbor-based real estate firm Swisher Commercial.
Still, Finney said SPARK isn't noticing any particular municipality with a noticeable edge over others. The city of Ann Arbor, Pittsfield's biggest competitor, is still doing fine, he said.
"We haven't had companies coming to us saying, 'I only want to consider one community,'" he said. "They get the message that the Ann Arbor region is Washtenaw County."
Collaborative movement
Roger Fraser, Ann Arbor's city manager, said Pittsfield, for one, is pursuing collaborative opportunities.
"I'm not in a position to really evaluate whether or not Pittsfield is pro-business or not," he said. "I will tell you that since they had a change in the board with the last election, that Pittsfield has truly changed their approach to a lot of things including our working relationship. It seems to me that their perspective is broader and they're willing to explore more things."'
Pittsfield, for example, collaborated with Saline to apply for Google's high-speed fiber optic investment after first seeking to file a joint application with Ann Arbor.
Driskell said regional planning initiatives are critical to sparking growth. She said the city of Saline and Pittsfield are good partners.
"We've maintained a good relationship with the leadership in the township in the past, and we continue to do that and we look forward to working with them in the future," she said. "Pittsfield can't plan in a vacuum, and neither can the city. We abut each other and things we do impact each other."
Grewal said she's actively sought to cooperate more with local municipalities.

"It's just something I do on a regular and continual basis," she said. "Within a very regional context, I am a strong believer that if something serves to benefit one, it is most likely going to have positive ripple effects for many."
Contact AnnArbor.com's Nathan Bomey at (734) 623-2587 or nathanbomey@annarbor.com. You can also follow him on Twitter or subscribe to AnnArbor.com's newsletters.