Posted on
Sat, May 11, 2013 : 5:58 a.m.
Powerball jackpot tops $200 million for 3rd time in 2013
By Ben Freed
It may not be the safest Mother's Day present, but a Powerball ticket again has the potential to bring in huge sums of cash.
If you can match the five numbers and the red "power" number drawn, it could be the best gift ever.
The game's jackpot topped a quarter of a billion dollars again when no winners had the exact match for the numbers drawn on Wednesday. With the top prize now at approximately $270 million, this is the third time this year and the seventh time since last May that the winner will take home more than $200 million, according to a report in the Philadelphia Inquirer.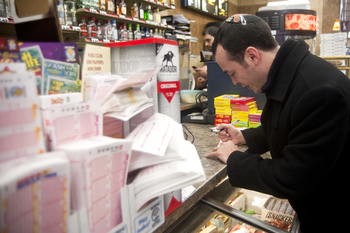 Joseph Tobianski | AnnArbor.com
According to the Inquirer, between 2007 and 2009 the Powerball lottery averaged six months between $200 million jackpots.
The odds of winning the top prize have remained steady at one in approximately 175 million, but increased ticket prices and guaranteed jackpot increases have helped up the stakes for what has become America's top lottery.
A $587 million jackpot last November captured the nation's imagination and led to a spike in ticket sales as well as articles and blog posts reminding you just how unlikely it is to win. Two other jackpots in the past year have topped $300 million.
In a highly un-scientific AnnArbor.com poll conducted in November, a plurality of readers said $250 million was their threshold for buying a Powerball ticket. The next drawing is at 11 p.m. Saturday, when we'll find out if any lucky Ann Arborites have big surprise for Mom.
Tickets may be purchased until 9:45 p.m. Saturday, according to the Michigan Lottery.
Ben Freed covers business for AnnArbor.com. You can sign up here to receive Business Review updates every week. Reach out to Ben at 734-623-2528 or email him at benfreed@annarbor.com. Follow him on twitter @BFreedinA2.