Posted on
Tue, Jun 25, 2013 : 12:52 p.m.
Rendez Vous Cafe closed for renovations and possible hookah bar expansion
By Ben Freed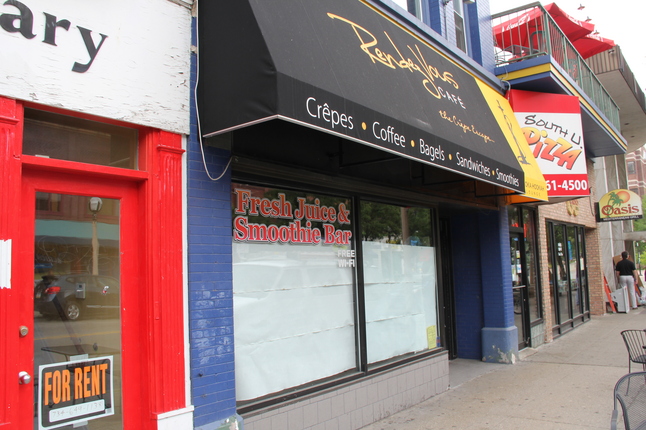 Ben Freed | AnnArbor.com
The
Rendez Vous Cafe
on
South University Street
has been closed for a number of days, with papered-over windows hiding the restaurant's interior.
The cafe's owner Nizar El Awar also owns the upstairs hooka bar, Smoka Hookah Lounge, next-door South U. Pizza, as well as the Oasis Grill. A tobacco shop across the street, also called Smoka Hookah, was closed as of Monday afternoon.
El Awar could not be reached for this article, but an employee at one of his restaurants and another local business owner both said as far as they know, El Awar's plan is to expand the existing hookah bar into the former Rendez Vous space.
Rendez Vous previously had been a hookah bar both upstairs and downstairs before Michigan's indoor smoking ban took effect in 2010. The law required hookah bars to be registered as "tobacco specialty shops" and did not allow the businesses to have any food or beverage service.
When the law came into effect, Rendez Vous and Smoka Hookah were able to split into two separate legal entities, with a separate entrance leading to the upstairs hookah bar.
The distinct separation allowed Smoka Hookah to claim one of approximately 200 available tobacco specialty shop permits issued by the state when the law took effect.
Those initial permits are the only ones available in Michigan and can be transferred from one business to another in a process similar to the transfer of a liquor license, Michigan Department of Community Health spokeswoman Angela Minicuci said. If a business fails or shuts down and does not transfer their exemption, that exemption ceases to exist, further limiting the amount of hookah bars legally able to operate in the state.
Minicuci said if Rendez Vous stops serving food, the expansion of the hookah bar to cover more of the space would not require an additional exemption.
"If they already have an exemption and they are just expanding their business, that wouldn't be an issue," she said.
"The exemption would still apply. However, if the expansion included food service it would jeopardize the exemption."
An employee at one of El Awar's other stores said Smoka Hookah would continue to operate upstairs during renovations to the Rendez Vous Cafe. The lounge opens daily at 5 p.m.
The Smoka Hookah Lounge is the only hookah bar in downtown Ann Arbor, but Hail Hookah Lounge will join later this summer, opening in the former Firefly Club space on North Main Street. The only other hookah lounge in Ann Arbor is the Smoke Station on Packard Road.
Another planned hookah lounge, the Blue Lotus, had its lease terminated before it opened in its intended storefront on South Fourth Avenue.
Health advocates have long been skeptical of hookahs and organizations such as the American Lung Association and World Health Organization have both warned of the dangers of smoking hookahs.
According to a 2005 WHO study, a person who spends an hour smoking in a hookah bar can inhale between 100 and 200 times as much smoke as they would with a single cigarette.
Ahmad Almusawi, an assistant manger of the Smoka Hookah Lounge, told AnnArbor.com in a previous interview hookah smoking is a cultural activity and he believed it was "definitely not worse than cigarettes."
"A lot of people are taking these attacks offensively," Almusawi said.
"Hookah smoking is a cultural thing. This is what they do all over the Middle East. Plus, it's a social activity. People don't want to sit at home and smoke hookah, they want to get out and see people."
There were no permits available on the city website that would indicate future plans for the Rendez Vous Cafe space.
Ben Freed covers business for AnnArbor.com. You can sign up here to receive Business Review updates every week. Get in touch with Ben at 734-623-2528 or email him at benfreed@annarbor.com. Follow him on twitter @BFreedinA2