Posted on
Thu, Sep 2, 2010 : 6:03 a.m.
Rents fall but occupancy stabilizes in Ann Arbor's off-campus student housing market
By Dan Meisler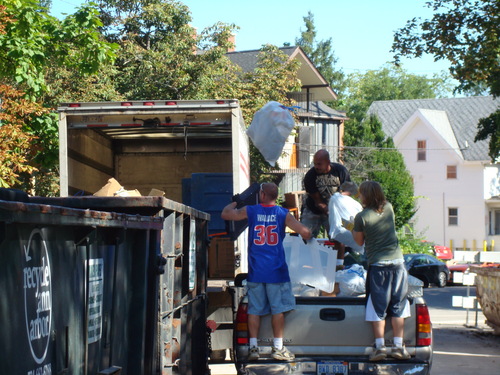 Photo by Dan Meisler | For AnnArbor.com
Competition from new high-rises, along with the continuing poor economy, are putting rent pressures on the off-campus rental housing market, according to landlords and property managers.
But while the new apartment complexes near the University of Michigan Central Campus are siphoning off more affluent students, resulting in less demand and lower rents for off-campus rentals, some of the largest property management companies have reported a better year in 2010 than in 2009.
Zaragon Place and 4Eleven Lofts near Central Campus and the Courtyards at North Campus have added more than 1,000 beds over the past two years, and the university's new North Quad academic and residential complex brings 460 more.
But while landlords have reported some loss of the high-end tenants willing to pay $1,000 or more per month for a room, they also say leasing is on track for a better year than 2009.
"The economy is poor, but it's not getting any worse," said Francis Clark, president of Arch Realty, which has 1,100 units and 3,500 beds. "We're doing much better than last year."
Clark said the company has rented all but two of its units for the fall, as of late August. He said the new high-rises have contributed to increased tenant expectations for amenities such as in-house laundry or central air-conditioning, for example.
Off-campus housing developer and owner Panos Tharouniatis said the competition for renters has been very tight this year, and that the high-rises have been taking the wealthier students out of the market in residential markets surrounding campus. That, in turn, has had the effect of lowering rents in each successive level of housing.
The high-rises "decrease rents because the top tier is gone, and that kind of snowballs down all tiers," he said. That is, the properties that used to be able to charge $1,000 per bed now must lower their rents to attract tenants because there is reduced demand in that price range.
Clark said that for the properties he's involved with, rents have actually increased over last year, and are getting close to -- although not equaling -- 2008 levels.
That's a much more stable situation than the 20 to 25 percent drop-off in rental rates experienced by the Hidden Valley Club apartments that had a foreclosure notice filed in April, he said.
"You did not see that" in student rentals, he said.
Market 'still under pressure'
But overall, according to data collected by Alice Ehn of the Washtenaw Area Apartment Association, average rents in the county have fallen since March in many categories.
For one-bedroom apartments, for example, the average rent in March was $757 but has gone down to $697 as of Sept. 1. For two-bedroom apartments, the fall has been more dramatic: $1,300 in March to $872 right now. Three-bedroom spaces have been relatively stable, falling only $52 from March to September, $1,200 to $1,148. Four-bedroom apartments have actually seen a small increase during the same time frame, from $1,835 to $1,867.
"The markets are definitely still under pressure," Ehn said.
Doug Spaly, president of the Spaly Group, said two specific sectors seem to be hardest hit: rentals on the geographic fringe of the off-campus student neighborhoods, and older apartment complexes.
"Most people I talk to say rents seem to be kind of flat, they don't seem to be going up or down," he said. "In general, it's been better this year than last year in getting places rented."
He said he's not sure if the rent stagnation is due to the economy, the high-rises, or both.
While there are not huge numbers of vacancies this year, owners also facing pressure to upgrade their properties in order to compete with the large apartment buildings, said Dawn Foerg, sales manager at Charles Reinhart Co. Realtors.
"I do see the potential there for campus landlords to have trouble," she said. "Whether they do it or not, there's pressure there to bring their properties up."
That pressure is likely to continue as Chicago-based Zaragon, developer of Zaragon Place, prepares to build a "sister tower" Zaragon Place 2 on East William Street. Another high-rise at Forest and South University also has pulled permits to begin construction.
But Clark of Arch Realty downplayed the potential for further impact on the off-campus market from the new buildings simply because it is aimed at more affluent renters.
"I just don't know how deep that market is," Clark said. "It's a very different market."
Zaragon founder and president Richard Perlman said Zaragon Place is "close to 100 percent" leased for fall, and that he's confident that he can replicate that success at Zaragon Place 2.
"Our market research suggests the market can definitely handle Zaragon Place 2 with the same rent structure," he said.
Perlman said he plans to start construction this fall and open the building to students by the fall of 2012.
Spaly said that after Zaragon Place 2 is built, the 640-bedroom 601 Forest project -- for which contractors are seeking permits to start building a foundation -- could be a truer test for off-campus rentals.
"It's hard for me to imaging getting that kind of rent on that scale," he said. "(The) Forest (project) could really impact the local market ... that could definitely affect things."
'More rentals than renters in single-family homes'
As for the non-student rental market, Kelly O'Donnell, property manager at Edward Surovell Realtors, said there is an oversupply of single-family homes for rent.
"Things have been going pretty well," she said, but added, "There are plenty of renters out there, but more rentals than renters in single-family homes."
O'Donnell also said the rental season has been lasting longer -- past Labor Day -- for the past few years, because of people with credit issues hitting the market year-round.
"Demand doesn't follow any rhyme or reason for the timing of rentals," she said.
She also said rents are falling, as some homes that have rented for up to $1,300 a month in the past are now sometimes going for below $1,000.
Dan Meisler is a freelance reporter and a writer/editor at the Inter-university Consortium for Political and Social Research.