Posted on
Thu, Dec 27, 2012 : 5:59 a.m.
Renting an apartment in Ann Arbor? Prepare for rental rate increases in 2013
By Lizzy Alfs
If you're renting an apartment in Ann Arbor, don't get too comfortable with your monthly rent payment.
Ann Arbor's tight housing rental market and improving economic factors are expected to prompt rent increases at many apartment complexes in 2013.
"Rental rates increase, I think generally, in an upward economy," said Bennett Borsuk, director of Ann Arbor's Cabrio Properties. "Right now, the demand is higher than supply, and that's what's allowing this to happen."
The National Association of Realtors predicts apartment rates in the U.S. will increase by 4.6 percent in 2013, compared with 4.1 percent this year. If you pay $600 in rent, that equates to about $28.
According to local landlords, several factors in Ann Arbor could cause even higher rate increases. Among them:
Landlords are investing in property upgrades — and then rent increases — to compete with the area's new development projects.
There is a shift in housing culture where people are choosing to rent rather than buy.
City ordinances have placed stricter and more costly requirements on rental properties.
Also at play is that for the past three or four years, many landlords experienced declining or stagnant rents when the housing bubble burst. This year and looking into next year, apartment owners are finding it possible to increase rates.
"Our rents were pretty flat and in some locations, actually went down since 2008," said Amy Khan of CMB Property Management in an email, "but in the past two years, we have seen a higher demand and ability of our residents to afford an increase in rates."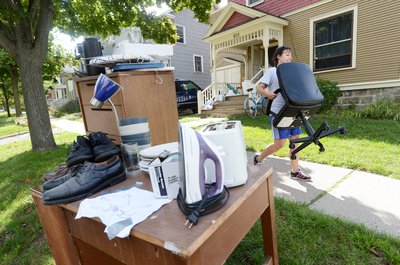 Melanie Maxwell | AnnArbor.com
Landlords say Ann Arbor rent increases in 2013 will range from 0 percent for renewables to 15 percent or higher. Most increases are in the 4 percent to 7 percent range.
"Mostly all of our rental rates on non-renewables are definitely increasing," Borsuk said.
Because Cabrio specializes in buying distressed properties and turning them around, Borsuk said rate increases for a recently acquired property could reach 10 percent to 15 percent.
"A lot of times, the reason we're buying properties is because rents were too low to begin with and there's opportunity there. As a landlord, you're looking to purchase properties that have rents below market," he continued.
McKinley CEO Albert Berriz said rental rates across McKinley's 25-state platform are increasing an average of 10.4 percent in 2013, and the Ann Arbor average is consistent with that. Like Cabrio's, that figure includes recently acquired properties — like the Ironwood Place apartments — and renovated projects.
"This year we just crossed the line from 2008," Berriz said. "Basically, what it comes down to is 2012 was the first year where rents are higher than 2008 rents. We're just seeing that recovery."
So what does this mean for the local apartment shopper?
Chris Heaton, owner of Campus Management Inc., said renters are getting a better experience since many landlords have started improving their properties to get higher returns.
"There's a lot of new development coming online, and I think there are a lot of mom-and-pop landlords who are feeling pressure to modernize their offerings, whether it's putting in a new kitchen and bathroom or updating appliances."
"If (a landlord) is going to do those improvements, they're going to advance their rent," he continued.
He also pointed out that many landlords, hoping people will renew their leases, will charge minimal or no rate increases if a renter is renewing a lease. Renewals are attractive because they eliminate the turnover cost for landlords, Borsuk said.
Heaton said Campus Management "aggressively incentivizes" renewals in the form of a modest rental rate increase. Rate increases at his properties will range from 1.5 percent to 6 percent for 2013, he said.
But for renters who aren't looking to renew, rate increases combined with other factors could cause people to look outside Ann Arbor or Washtenaw County for less expensive housing.
"Washtenaw County is among the most expensive housing markets in Michigan," said Mary Jo Callan of Washtenaw County's Office of Community Development. "That's great; it means income is high and the economy is robust. The downside is the folks who we rely on to work at our businesses, especially retail…they can't afford to live in our market."
Although specific data isn't available on average rental rates in Washtenaw County, Callan said there is a "typical dynamic" of people working in Ann Arbor and commuting from other parts of the county.
She said the number of Washtenaw County residents living in affordable housing units also is on an upward trend, with thousands of residents identifying a need for affordable housing.
"It's great for the global and local economy, but what (rental rate increases) mean are there are fewer options for folks who are lower income and poor," she said.
"The lower end of the housing market is already taken by those who can afford more but are making smart choices for their budget. Then, there's that many fewer units for folks who simply can't spend more," she continued.
Lizzy Alfs is a business reporter for AnnArbor.com. Reach her at 734-623-2584 or email her at lizzyalfs@annarbor.com. Follow her on Twitter at http://twitter.com/lizzyalfs.