Posted on
Tue, Apr 12, 2011 : 5:58 p.m.
Rick Snyder, Republicans unveil new budget altering pension tax proposal, keeping business tax cut
By Nathan Bomey
Gov. Rick Snyder and Republican legislative leaders said today that they are close to a budget deal that would eliminate Michigan's structural deficit, reconfigure the state's tax policy and enact big spending cuts.
The deal is similar to the budget Snyder proposed Feb. 17, but it differs in a few key ways — namely, how it would treat taxation for seniors.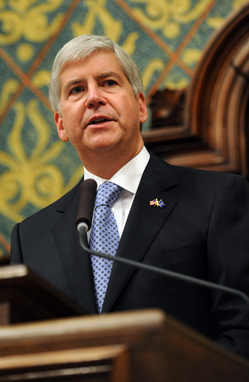 Melanie Maxwell | AnnArbor.com
In a press conference this afternoon, Snyder and Republican leaders said they had agreed, in principle, to most major elements of a budget plan.
After extensive negotiations, the politicians said they had agreed that the plan should include increased pension taxes that would be phased in gradually, depending on the age of taxpayers.
The political officials said they would also make further reductions to the homestead property tax credit, which often benefits seniors by reducing exposure to property taxes.
The new version of the budget plan includes Snyder's original proposal to cut business taxes by $1.8 billion. It would replace the controversial Michigan Business Tax with a 6 percent flat corporate income tax that would exempt most small businesses.
Overall, the new plan would solve the state's chronic budget deficits, Snyder said.
"I feel structurally it's a very good answer," he said.
The key changes to the plan revolve around how it treats seniors. It would split taxpayers into three groups:
People born before 1946 would continue paying taxes at the same rates they do today — which means their public pensions are tax-exempt and their private pensions are exempted up to $45,000 a person. They will not see any changes.
People born from 1946 and through 1952 would be exempt from paying taxes on all "retirement income," including all pensions and retirement accounts, up to $20,000 for a single filer and $40,000 for a married couple. Once this group turns 67, their total income would be exempt up to $20,000 for single filers and $40,000 for married couples — which means that seniors who do not have a pension would be treated like seniors with pensions.
Everyone born after 1952 would have their pensions and retirement account income taxed at the normal individual income tax rate. However, once they turn 67, they would get a "senior income exemption" of $20,000 for single filers and $40,000 for joint filers, regardless of where the income comes from.
The increased taxes in pensions would raise about $300 million in revenue for the state.
Snyder, who wanted to tax all pensions, said he's comfortable with the changes to his proposal.
Snyder's original proposal to tax all pensions had met sturdy opposition among some anti-tax Republicans and Democrats uncomfortable with the implications for low-income seniors.
Snyder had said that seniors with pensions should not get preferential tax treatment compared to seniors who are taxed on their regular earnings. He has also argued that the business tax reform would simplify the state's tax process and create jobs, a claim that drew skepticism from some experts.
"As I've said from Day One, by going through the legislative process, we'll make it a better product," he said today. "And I believe we're achieving that."
Senate Minority Leader Gretchen Whitmer, D- East Lansing, and House Democratic Leader Richard Hammel, D-Mount Morris Township, reportedly issued a joint statement calling the new proposal "nothing but a bait-and-switch that offers little relief in exchange for yet another tax increase on residents."
The new proposal would exempt most small businesses from paying corporate taxes, although small business owners will continue to pay 4.35 percent on their personal income tax returns.
The political officials gave no indication that they plan to scale back Snyder's proposed spending cuts, which include big funding cuts to public schools, higher education and municipalities.
In fact, because the pension tax proposal and homestead property tax credit cuts are being scaled back, the Republicans said they would seek an additional $150 million in spending cuts.
They did not offer details on where those cuts would come from except to say that the Legislature would find new places to carve out dollars.
State Sen. Majority Leader Randy Richardville, R-Monroe, said there's a "strong base of support within" the Republican caucus for the new proposal. He stopped short of saying he's lined up the necessary votes, but he suggested that Republican senators are generally on board.
"It's more a matter of understanding the details of the plan than it is questioning the basic direction," Richardville said. "I'm very pleased with where we are now.
Speaker of the House Jase Bolger, R-Marshall, said the plan is appropriate.
"We have a budget deficit in Michigan because we have a jobs deficit. Therefore, the No. 1 issue is jobs," Bolger said. "So, to help job seekers, we have to make Michigan a better place to find a job."
The new budget proposal would still slash most individual income tax credits and business tax credits.
Under the new proposal, the state's income tax rate of 4.35 percent would be extended for another year instead of falling 0.1 percent. It would drop to 4.25 percent in 2013.
Contact AnnArbor.com's Nathan Bomey at (734) 623-2587 or nathanbomey@annarbor.com. You can also follow him on Twitter or subscribe to AnnArbor.com's newsletters.