Posted on
Wed, Jan 19, 2011 : 6:01 a.m.
Rick Snyder plans announcement on University of Michigan collaboration, Mary Sue Coleman says
By Nathan Bomey
Gov. Rick Snyder plans to make an announcement during his State of the State address tonight about a new collaboration involving the University of Michigan, U-M President Mary Sue Coleman told AnnArbor.com.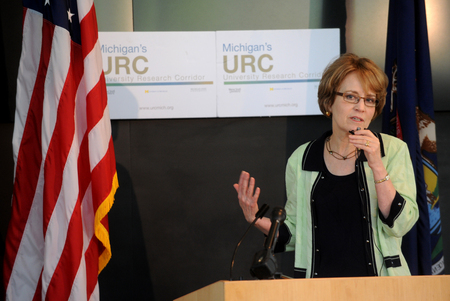 Melanie Maxwell | AnnArbor.com
Coleman, in an interview Tuesday afternoon after U-M officially
opened a new business incubator
, declined to reveal details about the new collaboration except to say "we're very excited about it."
Other U-M officials declined to comment, and a Snyder spokeswoman could not be reached for comment Tuesday night.
It wouldn't be the first time Coleman and Snyder collaborated. Snyder gets most of the credit for founding economic development group Ann Arbor SPARK in 2005 — but it was largely an initiative he co-designed and championed with Coleman.
As an Ann Arbor venture capitalist, Snyder invested in multiple U-M spinoff companies, including health software firm HealthMedia, medical device firm HandyLab and electronics maker Discera.
Snyder and his venture capital firms reaped big returns on the 2008 sale of HealthMedia to Johnson & Johnson, which kept the company in Ann Arbor, and the 2009 sale of HandyLab to Becton, Dickinson and Co., which announced in October 2010 that it would move HandyLab's operations to the East Coast.
Coleman said her experience working with Snyder and witnessing his business career indicates he "has a very good mindset for problem-solving."
"I think he will be very evidence-based, I think he'll be practical, I think he will look for solutions," she said. "He will be action-driven, goal-oriented, trying to get to the end result, trying to figure out ways to get to putting the state on a sustainable path."
She added: "I don't think he's naive about the fact that this is hard work. But I feel very good about the kind of experience that he brings to the job, and I also feel very good about the fact that we've worked with him a long time, and we know him well."
Coleman's comments come a week after Snyder met with the presidents of the state's 15 public universities. Snyder, a Republican and first-time politician who took office Jan. 1, told the presidents that they need to prepare for additional cuts to higher education in the near term.
But he also told them that he believes universities are drivers of economic development and that their role in the state's revitalization is critical.
"If you look at great economic development, a university is usually behind it somewhere," Snyder told the presidents.
"He knows that very, very well," Coleman said. "I understand that tough choices have to be made. I get that. We're going to do the best we can. We want to be good partners with him, just like we've tried to be good partners all across the board."
As the state seeks to close a $1.8 billion deficit, the governor and state legislators are considering a wide range of cuts. Snyder is expected to offer a glimpse of his February budget proposal during the State of the State tonight at 7 p.m.
Political leaders in Lansing have been circulating a document that lays out a scenario in which the state would eliminate the more than $300 million it gives to U-M, thus forcing U-M to become a private university.
But the concept is widely considered to be politically dangerous in part because of the inflationary effect it would likely have on tuition.
Coleman said it was an "unrealistic" proposition.
"The University of Michigan is a proud public institution. This state has a huge investment in this university. We want to be a great public university," she said. "The talk about privatization is just, in my view, irrelevant and silly."
Contact AnnArbor.com's Nathan Bomey at (734) 623-2587 or nathanbomey@annarbor.com. You can also follow him on Twitter or subscribe to AnnArbor.com's newsletters.