Posted on
Wed, Oct 27, 2010 : 6:02 a.m.
Downtown Ann Arbor to get new wireless 'cloud' from new 4G WiMAX Internet network
By Nathan Bomey
An Oakland County-based communications provider is creating a high-powered wireless Internet network that will blanket downtown Ann Arbor in a new wireless cloud, giving businesses an option to subscribe to a service based on 4G WiMAX technology.
The Southfield firm, Internet 123 Inc., otherwise known as 123.net, is spending about $300,000 to $400,000 to create WiMAX-powered networks in a few pockets throughout southeast Michigan. The network in downtown Ann Arbor emanates from equipment based on the top of the 26-story Tower Plaza condominium building on East William.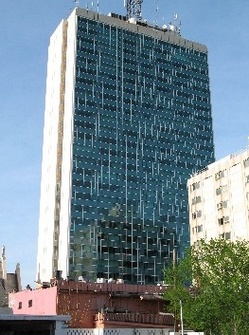 wikipedia.com
Businesses that are located within line-of-sight of Tower Plaza can subscribe through 123.net's sales agent, Ann Arbor-based
20/20 Communications
. 4G WiMAX, which
stands for Worldwide Interoperability for Microwave Access
, is essentially a higher-powered version of typical WiFi networks that experts say will become more common as costs come down.
123.net earlier this year acquired the 20/20 Communications customer base, including the 500 residential customers who pay monthly fees to access the Wireless Washtenaw network that 20/20 operated on behalf of the county.
The new 4G WiMAX network, not available to residents, is separate from the Wireless Washtenaw initiative. But 123.net President Dan Irvin told AnnArbor.com that his firm is considering investing in WiMAX technology to expand the Wireless Washtenaw network, which currently covers about 100 square miles of rural land in western parts of the county.
"We've been investing heavily in the WiMAX stuff, not only in Ann Arbor area but throughout the metro area," Irvin said. "We're pretty excited about it. It's working. It's a little business that works for us."
123.net's investment comes as the country's major cell phone service providers -- Verizon, AT&T and Sprint -- are all investing in 4G networks to improve their wireless data service.
Irvin said the WiMAX network in downtown Ann Arbor would be targeted at downtown businesses at price points ranging from $150 a month to more than $1,000 a month for download speeds ranging from 1 megabit a second to 100 megabits a second.
He said it would provide a competitive option for businesses that don't want to pay for fiber access through AT&T or cable service from Comcast.
"We're little, we have to compete with them and, in the process, we're driving down the costs, making it so that people can really do business here in Michigan," Irvin said.
Mike Horning, director of sales for 20/20, which now sells services on behalf of 123.net, said he is hoping to land about 100 business customers with the new service.
123.net has estimated that 12 percent to 16 percent of Michigan business will be relying on 4G wireless within five years.
"Eventually there's going to be a couple different options that customers can choose from," Horning said. "What the WiMAX really brings to the community is a whole new product where you can essentially get higher bandwidth solutions for a lower cost."
The new network comes after 123.net also upgraded existing equipment for the Wireless Washtenaw network and acquired some additional local fiber from Zayo Enterprise Networks to improve the network's reliability. The network's equipment is based on government buildings throughout the country.
Horning said the hope is to revisit the possibility of slowly expanding the Wireless Washtenaw network sometime next summer.
123.net has acknowledged, however, that Wireless Washtenaw's initial goal of blanketing the entire county with wireless Internet service was unrealistic.
"Some of those areas are not commercially feasible," Irvin said in March.
20/20 Communications sold its customers to 123.net in the weeks after its application for federal economic stimulus funding was rejected earlier this year. As part of the deal, responsibility for managing the Wireless Washtenaw network shifted to 123.net.
Contact AnnArbor.com's Nathan Bomey at (734) 623-2587 or nathanbomey@annarbor.com. You can also follow him on Twitter or subscribe to AnnArbor.com's newsletters.