Posted on
Thu, Nov 18, 2010 : 1:33 p.m.
St. Joseph Mercy Health System to acquire cardiovascular practice Michigan Heart
By Nathan Bomey
(Editor's note: This story has been updated several times with additional information and interviews.)
St. Joseph Mercy Health System is acquiring the Superior Township-based cardiovascular practice Michigan Heart PC, officials announced this afternoon.
St. Joe's will absorb Michigan Heart's eight locations and 326 employees, including its 34 cardiologists, as part of the acquisition. The deal is expected to be finalized by Dec. 31. Michigan Heart serves about 60,000 patients a year.

SJMHS said it is not planning any job cuts. The Michigan Heart brand is expected to be maintained.

Financial details of the transaction were not released. Shareholders of Michigan Heart, a private corporation, must approve the deal before it can be finalized. St. Joe's is a part of Trinity Health, a nonprofit Catholic health care group.

"The transaction fits with our strategy to develop an aligned network of the region's top primary care physicians and specialists, and positions both organizations to succeed under future health care reform measures," said Rob Casalou, president and CEO of SJMHS' Ann Arbor, Livingston and Saline hospitals, in a statement.
"By coming together, SJMHS and Michigan Heart will be able to improve patient-centered care, clinical quality, and open up more access to cost effective health care for all."
Michigan Heart CEO Keith Burmeister said in an interview that the practice's patients would barely notice the changes. They'll still be able to visit their doctors and choose which hospitals they'd like to be referred to.

"We should see a seamless process for them," Burmeister said. "It's not going to be really any different for them from any standpoint."

Burmeister said Michigan Heart would look to expand with additional doctors and facilities, but he declined to offer specifics.
The acquisition marks the second significant transaction for SJMHS in 2010. The health system is simultaneously in the final stages of acquiring Ann Arbor-based Integrated Healthcare Associates, which has some 150 physicians and 700 staff members.
St. Joseph Mercy Health System has seven hospitals throughout southeast Michigan with 1,726 beds, five outpatient health centers, five urgent care facilities, some 25 specialty centers, about 2,700 doctors and another 14,000 employees.
Michigan Heart already refers many patients to St. Joe hospitals. Michigan Heart was formed in 1994 as the result of a merger between two independent practices, Cardiology Associates of Southern Michigan and Ann Arbor Cardiology Consultants. One of those practices dates back 40 years.

"We really thought it was important to make sure we were aligned and ultimately integrated with one of the top quality cardiology service units in the state and nationally," said Beth Cafaro, SJMHS' vice president for health networks, in an interview.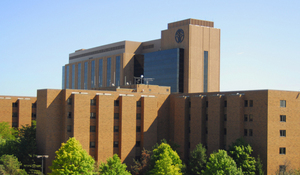 Photo courtesy of St. Joseph Mercy Health System
The acquisition underscores SJMHS' commitment to broadening its health care delivery network in advance of 2014, when the federal health care reform law will take full effect.
Various elements of the health care legislation approved by Congress earlier this year reward health systems for coordinating services.
"As you look at where health care reform is going and the focus on quality of integration of both hospital and physician practices together to provide high-quality services, this is absolutely a key strategic move for us," Cafaro said.
The acquisition gives SJMHS a cardiovascular services function that will help the health system compete for patients with other hospitals.

In a statement provided to AnnArbor.com, the University of Michigan Health System described the Michigan Heart acquisition as "one more sign of the rapidly changing health care landscape."

"We look forward to continuing the longstanding relationships we have with both organizations," U-M said in its statement. "All of us have share a strong commitment to the health of our patients, and to improving outcomes for our nation's number-one killer, cardiovascular disease."

Burmeister said SJMHS and Michigan Heart had been discussing a possible deal since fall 2009 and that discussions turned serious by January.

"We've watched groups across the country merge with health care systems and, with that, we went out and started to interview other successful mergers. We did that together - we traveled across the country a couple of times to look at programs that have been deemed as top benchmarks for integration. We took bits and pieces" from each one, Burmeister said.

SJMHS plans to maintain Michigan Heart's executive leadership and its doctors, a roster that includes Rob Steele, who ran an unsuccessful campaign for Congress against U.S. Rep. John Dingell, D-Dearborn.
Contact AnnArbor.com's Nathan Bomey at (734) 623-2587 or nathanbomey@annarbor.com. You can also follow him on Twitter or subscribe to AnnArbor.com's newsletters.