Posted on
Thu, May 20, 2010 : 3:20 p.m.
Sun Engineering purchases R&B building in downtown Saline, plans to expand
By Nathan Bomey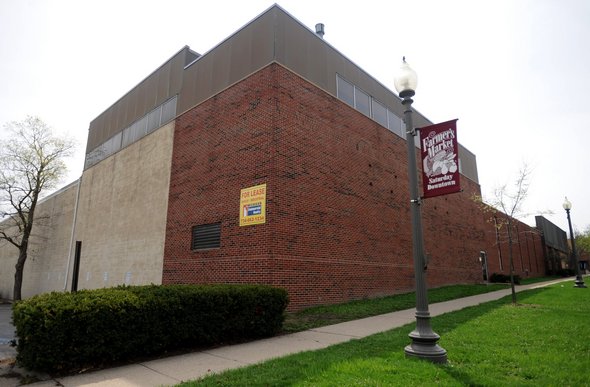 Melanie Maxwell | AnnArbor.com
Pittsfield Township-based Sun Engineering, which manages projects for defense manufacturers and some commercial clients, plans to expand its operation after completing a deal to purchase the R&B building in downtown Saline.
Sun Engineering plans to move its operation from a facility on East Michigan Avenue across from Walmart to the 62,000-square-foot R&B building, which has been mostly vacant for about a decade.
The firm, which currently employs about 15 workers, bought the building (118 E. Michigan Ave.) and five nearby parcels for $1.3 million from an ownership group led by Thomas Fitzsimmons.

Sun plans to start manufacturing ground support equipment for missile defense systems at the facility within weeks, said founder and President Andrew Warner. The company's office function will shift to the R&B building, as well.
Sun plans to add 12 workers by the end of 2010 to staff the manufacturing operation, Warner said.

Warner said the building was enticing because of its mix of office space and manufacturing space, which still has large overhead cranes, tall doors and basic infrastructure necessary to support production.
The move reflects a new twist in Sun Engineering's business model. The company, which previously focused exclusively on planning and outsourcing manufacturing operations for its clients, now plans to start manufacturing some parts on its own.
"Call me an old-fashioned entrepreneur but we've grown very organically by references and word of mouth," said Warner, a U-M graduate who founded Sun in 1996. "That's worked well for us, and it's led to a very steady growth curve."
The deal is a major win for downtown Saline, which endured R&B's exodus in the early 2000's sometime after R&B Machine Tool was sold in 1998 to Beverly Hills, Calif.-based supplier UNOVA Inc.
Fitzsimmons' ownership group bought the property in 2002 with plans to redevelop it. But the group eventually opted to try to sell the building after the commercial real estate market soured.

"It was a long process, but I think both the buyer and the seller are happy with the deal," Fitzsimmons said today. "They're a growing business moving into the downtown area, which is what downtowns need to survive. I think it's going to be fantastic. The building is going to work really well for them and their operations."

To encourage the sale, the Saline City Council has already established an industrial development district at the site, which includes a small storage building and an old house (111 Henry St.) south of the R&B building.

That was a precursor to a tax abatement application, which Sun plans to submit soon.
Warner praised Saline Mayor Gretchen Driskell and said the city made it easy for him to make the decision to move downtown.

"The location is good and I'm really pleased to be able to bring some employment and activity to downtown Saline," Warner said.
The city still harbors hopes that the R&B site will eventually be redeveloped into a multi-use development incorporating housing and retail space.

"But that's a very, very long-term vision, so we're very delighted to have Sun Engineering in the heart of the city," Driskell said. "It's a really good fit and will add more vibrancy to the downtown."
Four tenants currently leasing some space in the facility -- Saline Manufacturing, Rhythm Dance Crew and Performing Arts, Douglas Accounting Services and personal trainer Emily Rogers -- will be kept on as tenants.
The news is the latest sign of momentum for Saline's downtown, which is also celebrating the sale of the former Kelly's restaurant to a family group that plans to launch an Italian restaurant there later this year.

The R&B building is a red-bricked box-like structure that dominates the landscape on the eastern edge of Saline's downtown.
Warner said Sun has already begun painting the exterior and improving the parking lot next to the building. He said Sun may add a loading dock at the facility but has no plans to make major structural changes to the facility.
"The restaurateurs I talked to are excited about having more foot traffic," said Larry Osterling, executive director of the Saline Area Chamber of Commerce. "There's actually going to be some life and activity going on, which is important to downtown."
Saline luminaries Edward Redies and Joseph Buhr established R&B in 1942 to take advantage of a windfall of military contracts during World War II. As recently as 1988, R&B Machine Tool Co. employed 220 workers at the facility, according to a news report from the archives of the Saline Area Historical Society.
R&B Machine Tool Co. in 1980 established an independent subsidiary called R&B Plastics Machinery - and that company still operates in a Saline industrial park on Woodland Drive, where it employs nearly 50 workers.
Contact AnnArbor.com's Nathan Bomey at (734) 623-2587 or nathanbomey@annarbor.com. You can also follow him on Twitter or subscribe to AnnArbor.com's newsletters.