Posted on
Fri, Nov 5, 2010 : 6 a.m.
Local woman wins auction for troubled Liberty Square townhomes in Ypsilanti Township
By Tom Perkins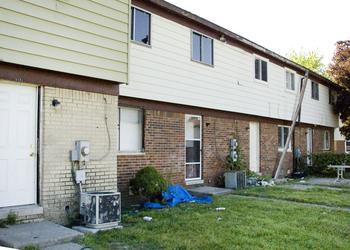 A Van Buren Township property investor has won a public auction for 63 units in Ypsilanti's Township's troubled Liberty Square townhomes.
Angela Lee, owner of Zion Properties, paid $15,200 for the 63 units, which are spread throughout the complex in Ypsilanti Township.
As of Monday, Lee had yet to pay the Washtenaw County Treasurer's Office for the properties. The Treasurer's Office put the townhouses on the block after foreclosing on them for non-payment of taxes in April.
Lee will also be required to pay a cash performance bond. If she chooses to demolish the properties, she would pay $126,000. But that figure is significantly higher if she decides to rehabilitate the properties, as she has indicated she intends to do.
Washtenaw County Treasurer Catherine McClary said bringing the condemned interiors and exteriors up to code is estimated to cost between $65,000 and $72,000 per unit. Renovating all 63 units, therefore, would cost more than $4 million. McClary said she didn't think the performance bond would be quite that high, but it would be enough to ensure that the units were actually brought up to code.
Mike Radzik, director of the Ypsilanti Township office of community standards, said if Lee follows through with purchasing the properties, it won't change the township's legal strategy. The township is getting ready to file a lawsuit against all the properties' owners, and Radzik said it just means Lee would be named a defendant instead of McClary.
Township officials have made clear they want every unit in the complex brought up to code, and will not issue permits to make improvements on just some.
Lee, who grew up in the area and attended Rawsonville Elementary School across the street from Liberty Square, said she is familiar with the complex's troubled past. Still, she doesn't want to see the properties demolished and hopes to fix them up to attract homeowners instead of renters.
Lee said she is not concerned about paying a performance bond and could "go in and make it look like the Taj Mahal" if needed. She said her lawyers are going to meet with the township's attorneys to discuss the situation, and she hopes she can work with the township to avoid demolishing the properties.
The key is attracting people who want to own their home instead of having landlords renting apartments, Lee said.
"It could be a nice neighborhood if it was fixed up and cared for," she said. "We could probably sell each unit very cheaply if each person was willing to go in and do their own work to fix the places."
Lee said she wants to see if the current homeowners association could be dissolved and a new one formed. Lee owns several properties in the area, including Harriet Dairy in Ypsilanti.
Grove Park Homes LLC previously owned the properties Lee bid on. Glenda Ault owns Grove Park, and her husband, Joe Koenig, is an employee. Koenig is also the resident agent for the Grove Park Home Improvement Association, the homeowners association, which owns 25 units. Grove Park owns 18 units, and others are owned by various landlords.
About five owner-occupants remain in the properties.
The township is seeking to have the development declared a public nuisance and officials have said they will file a lawsuit soon. All the exteriors of the buildings have been condemned
Among an extensive list of problems in violation notices recently distributed were rotting exterior wood, soffits and fascias. The notices also request repairs be made to sidewalks, porches, roofs and gutters.
The notices gave until Sept. 20 to bring the buildings up to code. Some residents have made improvements to their exteriors, but most units remained untouched.
Radzik said even if the 63 units Lee has bought are fixed up, they are still surrounded by mold-infested units.
"It's extremely problematic to issue a certificate of occupancy into one unit that's in the middle of a bunch of condemned units, and the (homeowners) association is not keeping up the exterior," Radzik said.
Tom Perkins is a freelance reporter for AnnArbor.com. For more Ypsilanti stories, visit our Ypsilanti page.