Posted on
Sun, Feb 27, 2011 : 5:56 a.m.
Ann Arbor startup June Energy developing portable solar panel device for use in Third World
By Nathan Bomey
If Md. Shahnoor Amin has his way, people in the Third World won't have to walk miles to charge their cell phones anymore.
Instead, they'll have access to electricity generated through the mini, portable solar energy devices his company is developing.
Amin, who earned his master's degree in energy systems engineering from the University of Michigan in December, co-founded Ann Arbor-based startup June Energy to pursue the new technology.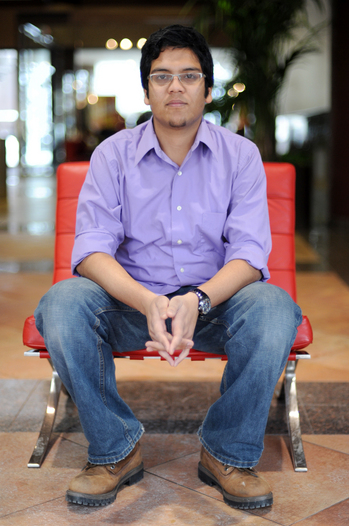 Melanie Maxwell | AnnArbor.com
The company, based at U-M's TechArb incubator in the McKinley Towne Centre building in downtown Ann Arbor, is finalizing a deal to secure $500,000 in venture capital from an investor in Singapore.
Amin co-founded the company with his business partner, Abdrahamane Traore, who recently earned his master's degree from Flint's Kettering University, and Allan Taylor, who is completing his master's degree at Kettering.
The company's handheld device can be used to provide 100 lumens of LED lighting for nighttime activities and can charge small electronics through a side port. It uses solar cells and specialized circuitry the founders developed to capture sunlight and store it in a small battery for later use.
The product could replace kerosene lamps, which are commonly used in the Third World to generate light. But kerosene lamps lead to respiratory problems and can cause severe injuries.
And a kerosene lamp doesn't charge cell phones, whose proliferation has fostered increased communication, collaboration and innovation in the Third World.
With the June Energy device, "in the daytime you can leave it outside and capture sunlight," Amin said. "At nighttime it lights up surrounding space so kids can read, families can cook and don't have to buy wood for fuel."
The device, currently about the size of a book, would cost about $15 and probably would be sold to nonprofit groups or the military.
For Bangladesh native Amin and Mali native Traore, there are personal implications to this device's development. Traore's mother "has to travel miles to charge her cell phone" still today, Amin said.
Amin said his recognition of the device's potential derives from his own experiences witnessing the challenges of generating consistent sources of cheap electricity in the Third World.
"What's really important in entrepreneurship is that the founders and entrepreneurs that are propelling the idea forward have a personal connection to the idea. And these guys both have that," said Doug Neal, executive director of the U-M College of Engineering's Center for Entrepreneurship. "These guys have a strong passion for what they're doing. They're absolutely driven to do this.
But the company's device isn't just targeted at the Third World market. The entrepreneurs have realized there may be a market for it in the U.S., as well.
In fact, U-M became the company's first customer. U-M purchased 30 of the June Energy devices for distribution to participants in the Michigan Clean Energy Prize competition.
Amin said the company's admittedly "very lofty goal" is to produce 10,000 units in 2011. The firm is contracting manufacturing of its device to Ann Arbor-based Mid-Tech Inc.
He said he expects to continue to outsource manufacturing of the device because the founders' expertise is in engineering, not manufacturing.
Amin said the domestic manufacturing holds significant advantages over foreign producers. During a recent trip to Africa, June Energy founders heard repeated complaints from people about the poor quality of Chinese-made products, he said.
"They break within a couple of weeks," he said. "Even if it's cheap, now they're at a point where, my gosh, they don't even want to look at Chinese products. Over there, even price-sensitive people, quality to them is more important. They're like, 'We want to buy something that lasts.'"
June Energy's growth has been fueled by seed capital, entrepreneurial mentorship and investor networking opportunities provided by the Center for Entrepreneurship and the Ross School of Business' Zell Lurie Institute for Entrepreneurial Studies.
Amin said access to cheap office space at TechArb, which was formed in 2009 as a way to boost student-led startup companies, is also invaluable.
"It's been tremendous," he said. "It's one thing to meet at your basement. It's another thing to met at an office right by Google."
Contact AnnArbor.com's Nathan Bomey at (734) 623-2587 or nathanbomey@annarbor.com. You can also follow him on Twitter or subscribe to AnnArbor.com's newsletters.