Posted on
Wed, Mar 10, 2010 : 3:25 p.m.
Ted Dacko, president of Ann Arbor's HealthMedia, to leave Johnson & Johnson
By Nathan Bomey
Ted Dacko, president of Ann Arbor-based health coaching software firm HealthMedia, is resigning from the Johnson & Johnson subsidiary, AnnArbor.com confirmed today.
Dacko, who was credited with steering the company through tumultuous times to a blockbuster sale in October 2008 to J&J, said he may join another Ann Arbor startup, serve on various company boards or provide consulting for a while.

"I'm a guy that likes the process of the startup, building and growing a company, that sort of thing," Dacko said. "J&J is a great company. It's mutual, it's amicable, it's natural. I just said i think it's time you put somebody else in this position, and they wholeheartedly agreed."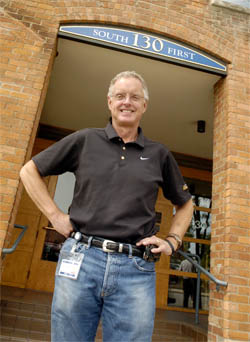 Melanie Maxwell | AnnArbor.com
Dacko's resignation, which is official at the end of March, comes as J&J is
steadily expanding
HealthMedia's presence in Ann Arbor. The company has some 170 workers in addition to an unknown number of contracted employees at local companies like software firm
Enlighten
. That's up from 140 when the company was acquired.
"It's a very smooth transition," Dacko said.
Johnson & Johnson announced in November that it would lay off 7 percent of its global workforce, but it's unlikely those cuts affected HealthMedia directly.

HealthMedia, founded by U-M scientist Victor Strecher and Ann Arbor venture capitalist Rick Snyder, had $23 million in revenue and triple-digit sales growth when it was acquired by J&J. The firm's software offers lifestyle recommendations to help patients avoid chronic disease. The technology helps insurance companies and corporate partners lower health care costs.
Dacko said J&J is committed to the Ann Arbor region and has no plans to leave.
"I think this company can be marvelously successful," he said. "We're still hiring and still growing and things are going very, very well."
HealthMedia narrowly escaped its deathbed in the early 2000's, when the company failed to meet payroll three times.
But Dacko, and the company's investors, displayed patience and maintained their faith in the value of the company's technology.
"We were dead," he said. "And we managed to maneuver it from the deathbed to the winner circle."
David Parsigian, managing partner of the Ann Arbor office of Honigman Miller Schwartz & Cohn, which shares a building with HealthMedia, said Dacko's leadership was vital to the company's survival.
"He was the guy that ultimately transitioned them to the next stage to get them to the exit that they had," Parsigian said. "He's a very high-energy, motivating guy and so he's critical to the entrepreneurial community. He wants to stay and we need him to stay."
Dacko said he hopes to stay in Ann Arbor, though he's not ruling out opportunities outside of the region. He said he's already been approached with opportunities to leave and opportunities to stay.
"Probably more outside the area," he said.
But he said he's not necessarily ready for another HealthMedia right away.
"These things wear you out and I just want to rejuvenate a little bit," he said.
Dacko's departure adds to a growing list of high-profile Ann Arbor entrepreneurs who, in recent months, have left the high-tech companies they shepherded to success.
On March 1, Bhushan Kulkarni, CEO of Ann Arbor-based software services firm GDI Infotech, resigned to lead InfoReady Corp., a spinoff of GDI.
In January, HandyLab CEO Jeff Williams resigned two months after his firm was acquired for $275 million by New Jersey-based Becton, Dickinson and Co. He agreed to become CEO of Ann Arbor-based medical devices startup Accuri Cytometers after Accuri's CEO, Jenn Baird, resigned.
Contact AnnArbor.com's Nathan Bomey at (734) 623-2587 or nathanbomey@annarbor.com or follow him on Twitter. You can also subscribe to AnnArbor.com Business Review's weekly e-newsletter or the upcoming breaking business news e-newsletter.