Posted on
Sat, Jan 26, 2013 : 4:12 p.m.
The Pink Pump walks away from Ann Arbor storefront on East Liberty
By Janet Miller
More change is on the horizon for the East Liberty Street corridor that links town to gown.
The Pink Pump, the shoe and fashion store that moved into the former John Leidy Shop adjacent to the Michigan Theater, is closing after two-and-a-half years.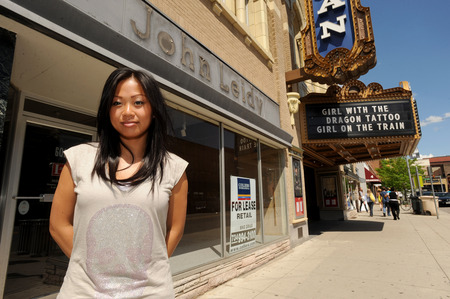 File photo | AnnArbor.com
The 1,150 square-foot space at 601 E. Liberty went on the market Wednesday, said Randy Maas, of Swisher Commercial, and he was already showing it the next day, to someone interested in opening a restaurant.
"And there have been numerous calls," he said. The space could be used for retail or for a restaurant.
He expects The Pink Pump to leave within a month. The space is being listed for $40 per square foot (about $3,800 a month) plus utilities, Maas said.
The Pink Pump still has two-and-a-half years left on its five-year lease. New tenants can either sublease the space for the remainder of the lease or sign a new five-year lease, Maas said.
Either way, he doesn't expect it to take long to fill the space.
"I expect it will be leased within a few months," Maas said.
While the corridor of East Liberty that links Main Street to State Street has seen a fair amount of turnover since Borders Books folded in 2011 and closed its flagship store at Liberty and Maynard, it remains a desirable location, Maas said.
And as plans take shape for the former Borders building, the area will become even busier.
"They leased 17,000 square feet of office space in the (former) Borders building with another 4,000 negotiating a lease. Barracuda Networks is in the area and there's a lot of interest in the first-floor retail of the Border building, with some of it already leased. That is going to bring in a lot of pedestrian traffic," Maas said.
The Pink Pump owner Tawny Thieu opened the Ann Arbor location amid a rush to expand her retail brand. She opened Shoe Envy in 2006 in Keego Harbor, changing the name to The Pink Pump and moving to Bloomfield Hills.
She quickly expanded, opening three more stores in less than a year: A store in Birmingham in 2009 and locations in Royal Oak and Ann Arbor in 2010. In 2011, she opened P2, a more budget-minded option, in Royal Oak.
But she didn't keep consistent hours for her Ann Arbor store, and that might have hurt business, Maas said. Thieu also said the closing of Borders hurt The Pink Pump, he said. Thieu could not be reached for comment Friday.
Suburban Campus Properties, Inc., based in Wakefield, Mass., owns the building. The group also owns University Towers.
Janet Miller is a freelance writer for AnnArbor.com.