Posted on
Fri, May 21, 2010 : 8:59 a.m.
Tobacco executive, investor becomes chairman of Borders Group Inc. after $25 million deal
By Nathan Bomey
A tobacco executive previously tied to activist investing has been named chairman of Ann Arbor-based Borders Group Inc. after he pumped $25 million into the book store chain, officials announced this morning.
Bennett LeBow, chairman of tobacco holding company Vector Group Ltd., was elected chairman of Borders, and previous chairman Richard "Mick" McGuire resigned. LeBow personally purchased 11.1 million shares of Borders' common stock at $2.25 a share. The stock (NYSE: BGP) closed at $2.23 yesterday.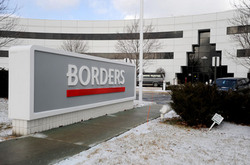 Borders headquarters on Phoenix Drive in Ann Arbor.
It was not immediately clear whether LeBow, now the largest individual shareholder of Borders stock, would make specific demands or has a defined vision for the beleaguered chain. The deal could signal a new direction for the company, which has been struggling to reverse a continuous revenue slide in recent years. The Wall Street Journal said the deal gives LeBow some 15 percent of the company's outstanding shares.

Borders said in a press release that LeBow's investment would further shore up the company's finances.

"Ben's investment will improve the company's capital position, and provide greater stability as we execute strategies to transform the brand," Borders interim CEO Mike Edwards said in a statement. "As an astute investor and business operator with a strong technology background and proven experience with driving company turnarounds, he will play an extremely important role in helping us redefine the Borders brand that is so critical to unlocking a turnaround for Borders."
LeBow, who has previously teamed up with activist investor Carl Icahn, is a tobacco industry veteran whose company controls cigarette maker Liggett Group.

Vector Group's CEO, Howard Lorber, also joined Borders' board as a result of the investment.
A spokesman for LeBow said he preferred not to comment about the announcement. Borders declined to make Edwards available for an interview.

Borders is also expected to call a special meeting of its shareholders to vote on whether to issue an additional stock purchase warrant allowing LeBow to acquire an additional 35.1 million shares for $2.25 each. The deal comes with a caveat:

"If the issuance of the warrant and warrant shares is not approved by the company's shareholders, the company will be obligated to issue to Mr. LeBow 35.1 million stock appreciation rights," Borders said. "Upon the exercise of the stock appreciation rights, Borders Group would be required to make a cash payment with respect to each right equal to the excess, if any, of the future market price of the company's common stock over the $2.25 base price provided in the stock appreciation rights."

The investment comes less than two months after Borders dodged a financial bullet by refinancing its revolving credit facility and paying off a $42.5 million term loan to investor Bill Ackmann of New York hedge fund Pershing Square Capital Management, Borders' largest individual shareholder until this deal..
Borders said today that Pershing "has indicated its support for the (LeBow) transaction."
The deal triggers an existing agreement that allows Pershing to receive 2.7 million warrants for Borders stock exercisable at a price of $0.65 a share. Also, after LeBow receives the additional 35.1 million shares, Pershing will receive another 8.6 million warrants at the price of $0.65 a share.
Borders employs about 650 workers at its headquarters on Ann Arbor's Phoenix Drive. The firm's same-store sales in the fourth quarter of 2009 dropped 14 percent as the company's annual loss dropped from $186.7 million in 2008 to $109.4 million in 2009.
Contact AnnArbor.com's Nathan Bomey at (734) 623-2587 or nathanbomey@annarbor.com. You can also follow him on Twitter or subscribe to AnnArbor.com's newsletters.