Posted on
Sat, Nov 24, 2012 : 5:58 a.m.
Top 5: Stores that I wish were still open in Ann Arbor
By Paula Gardner
Shopping dominates the U.S. consciousness during Thanksgiving Week, and at AnnArbor.com, we need to stay on top of it.
So far, I've edited or written multiple stories about Black Friday (and yes, that means Thanksgiving Day, too); Cyber Monday; and the reason for the holiday — thankfulness.
But as I consider the wave of retail pressure over the past week, I'm also a bit consoled by Small Business Saturday - a version of "shop local" that's building momentum between Black Friday and Cyber Monday.
It's a simple movement: Spend your money at an independently owned small business, and you'll be promoting economic development in your own community.
Here's some explanation from the organizer's website:
By shopping or dining at a small business this November 24th, you're showing your support for all the small communities around you. This means you could be helping local entrepreneurs offer more jobs, which in turn invigorate the economy. Last year, over 100 million people came out to shop at independently-owned small businesses on the day.
The essence of the day isn't new to Ann Arbor or other cities in Washtenaw County. They've all spent years cultivating that "sense of place" to keep their retail districts a unique destination.
Ann Arbor District Library
At the same time, there are a lot of small business owners among us who are working very hard to retain and grow their bricks-and-mortar businesses. The challenges are legendary: Internet sales. Extreme price-cutting by national retailers. Facilities costs.
And attracting customers.
Some local businesses have a natural lifespan. Some struggle to compete. But so many more offer unique products, excellent service and competitive pricing. And they employ our neighbors while filling our storefronts.
It's while thinking about what Shop Local Saturday means for the Ann Arbor area that I'm reminded of many stores that I wish I could shop today. And they're the stores that I'm considering as I spend during this holiday.
1. Jacobson's. I couldn't afford to buy much at the downtown store on East Liberty, because at the time I could walk to it, I was a University of Michigan student (and not a wealthy one). Later, I rediscovered it while it was at Briarwood, and always bought shoes and baby gifts there because they'd always seem special. Klines Department Store is a close runner-up. Its merchandise offered a reasonable alternative, and it also was very accessible on South Main.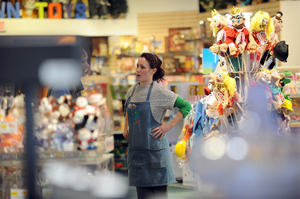 AnnArbor.com files
2. Tree Town Toys. My kids are aging out of toys, but I'm not - and never will be - too old to love a toy store. Tree Town Toys grew out of another Traver Village store, White Rabbit Toys, and it grew under so many fun brands. I wish my kids would play with Playmobil forever. The Santa's Workshop set that I bought there years ago comes out every holiday, and every year it reminds me of the delightful shopping experience in the store.
3. Borders and Shaman Drum. They're so different, yet so tied to retail loss in the State and Liberty area. Both stores were destinations of discovery, victims of changing media. Yet both had such a foothold on what Ann Arbor could value and appreciate in a book.
4. Schoolkids' Records - Much like the heyday of Borders, Schoolkids' on East Liberty could ignite a passion for music you never knew existed before you stepped into the store. It was a place of extreme market knowledge, ordering what staff knew Ann Arbor would listen to.
5. Acme Mercantile - Both quirky and functional, this is a store that was just plain nice to have around. In 2004, it seemed to embody the type of store that could grow with an increased downtown residential base. It couldn't last through the recession, and it's missed.
For more information on the impact of shopping locally, see Business Alliance for Local Living Economies or Think Local First.