Posted on
Wed, Jan 13, 2010 : 6 a.m.
Top 5 news storylines from the 2010 Detroit auto show
By Nathan Bomey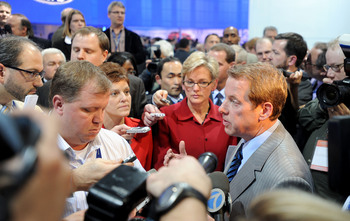 Angela Cesere | AnnArbor.com
Despite the implosion of the auto industry over the last 12 months, the 2010 Detroit auto show maintained its status as the industry's top global event.

From the resurgence of Ford Motor Co. to the new automotive frugality to politics, all of it played out during press days Monday and Tuesday.
Here are the top 5 storylines that emerged during the first two days of the show, which opens to the public on Jan. 16:
1. Ford dominates. The domestic automaker continued its hot streak by sweeping both awards in the North American Car and Truck of the Year competition. It was the third time in the competition's 17-year history that had happened -- and it came as Ford continues to gain U.S. market share. Even hip-hop star Nelly likes Ford.
2. Frugality rules. The auto show was virtually void of far-fetched concept vehicles this year. Automakers realize consumers are embracing frugality during the economic crisis. Hence, General Motors delivered a redesigned Chevy Aveo and Ford introduced its redesigned Focus.
3. Politics looms. The influence of politics on the auto show was hard to miss. Speaker of the House Nancy Pelosi and Majority Leader Steny Hoyer were among a large contingent of Congressional delegates who toured the show and visited with auto executives. Their visit came after the U.S. government last year accepted an equity stake in GM and Chrysler in exchange for financing the automakers' bankruptcy filings. Pelosi promised to visit again in 2011.
4. Startups proliferate. Several startup companies got space on the main show floor for the first time - a sign that the major automakers aren't guaranteed to dominate the emerging electric vehicle segment. Firms like Tesla Motors are serious about developing lithium-ion battery-powered cars.
5. Optimism runs strong. Unlike 2009, when the auto industry was teetering on the edge of the cliff, the industry has a slight sense of stability this year. That was a common theme throughout the press days as executives cheered the sunset of 2009.
Contact AnnArbor.com's Nathan Bomey at (734) 623-2587 or nathanbomey@annarbor.com. You can also follow him on Twitter.