Two 14-story high-rise proposals heading to Ann Arbor's Design Review Board this week
Posted on Wed, Oct 17, 2012 : 5:58 a.m.
Ann Arbor's Design Review Board will weigh in this week on two downtown development proposals: a 14-story apartment building over Pizza House restaurant on Church Street and a 14-story apartment building on East Huron Street.
The developments, if built, would add hundreds of beds to the downtown rental market — particularly for University of Michigan students.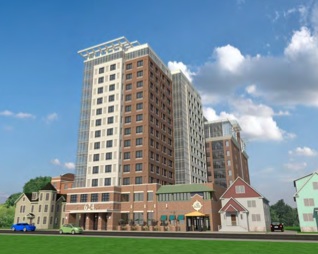 Rendering by J Bradley Moore & Associates
The Pizza House development, proposed by restaurant owner Dennis Tice and Minnesota-based Opus Group, calls for a 14-story, 83-unit project that would be built next to and over a portion of the existing restaurant.
An existing two-story residential structure on the site south of the restaurant would be demolished to make way for the high-rise. The building would consist of one- and two-bedroom units.
Georgia-based Carter leads the second project, which is on the northeast corner of East Huron and North Division streets. A former Papa John's restaurant, a house and a vacant building would be replaced with a 14-story, 213-unit high-rise targeting young professionals, graduate students and upperclassmen.
(Read more about both developments here)
But as Carter prepares to discuss its plans with the Design Review Board this week, some downtown residents and neighborhood association leaders are taking a strong stance against the project.
Ray Detter, chairman of the Downtown Citizens Advisory Council, along with other neighborhood association leaders, sent a document to city leaders last week expressing their concern over the "poorly designed" structure.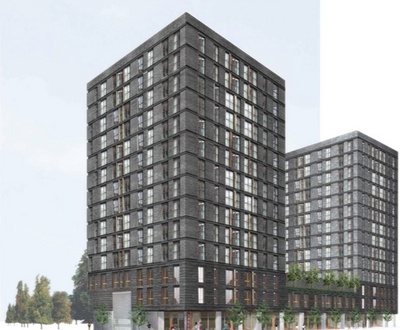 Rendering by Humphreys & Partners Architects
"The project's out-of-town developer is concerned only about his bottom line and obviously has no long-term interest in maintaining the integrity of those properties or of the adjacent neighborhood," wrote the Downtown Design Guidelines Citizens Review Committee, a group representing eight near-downtown residential neighborhood organizations, in an email to city leaders.
"We recommend the mayor meet with the developer as soon as possible to insist on the submission of a proposal that builds on the character of Ann Arbor's downtown district, rather than destroying it," the email continues.
The committee says the developer — who could not be reached for comment — has failed to meet many of the city's downtown design guidelines. Among its concerns:
The "massive, unarticulated" design of the building
The lack of amenities to pedestrians
The effect on Sloan Plaza residents
The scale of the high-rise next to a residential historic district with two-story, nineteenth century homes
The over-saturated student rental market downtown
As part of the city's design review process, developers are required to submit preliminary design plans to the Design Review Board prior to applying for site plan approval. City ordinance requires a meeting with the board, but implementation of its suggestions is voluntary. A citizens participation meeting will precede planning commission and city council meetings on both projects.
The Design Review Board is scheduled to meet at 1:30 p.m. Wednesday, Oct. 17 at 301 E. Huron St.