Posted on
Thu, Nov 29, 2012 : 5:59 a.m.
U-M Center for Entrepreneurship expanding to include main campus library presence
By Ben Freed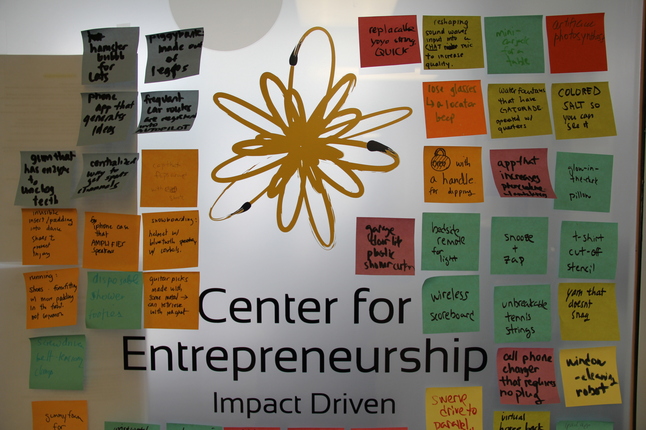 Ben Freed | AnnArbor.com
University of Michigan
students interested in starting their own companies won't have to trek up to North Campus any more.
Starting the week of Dec. 3, the university's Center for Entrepreneurship will expand to include an office in the Shapiro Undergraduate Library on U-M's main campus.
The center, housed in the college of engineering, currently is based in the Chrysler Center on North Campus. Associate Dean Thomas Zurbuchen said the new office will allow the center to help the university rethink what libraries are used for.
"Instead of having a space where someone says 'shhhh,' it's going to be a lot more noisy in there, because people will be creating new ideas," he said.
"Libraries are evolving from a place where they were mostly books and just a few people to being mostly about the people and nurturing their ideas."
The move to the central library is another piece in the expansion of student entrepreneurship that has been happening across campus.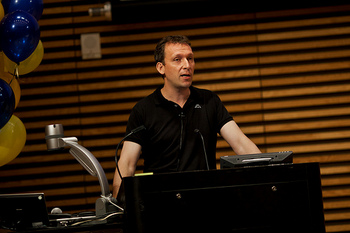 Courtesy University of Michigan
In addition to the Center for Entrepreneurship, the
Zell Lurie Institute for Entrepreneurial Studies
in the business school has been
extremely active
hosting a
multitude of events
both large and small. The
TechArb
student incubator has also
housed promising startups
founded by undergraduate and graduate students.
The center's offices on North Campus also will be moving next semester. The new location will be next to the U-M 3D Lab in the Duderstadt Center.
The lab also is a part of the library system, and Zurbuchen said he hopes the center's proximity to it will help encourage students to not be afraid to build their own models and prototypes.
Until now, the emphasis on entrepreneurial activity had been concentrated in the engineering and business schools.
"What you see now is that we're evolving towards a more campus-wide approach towards entrepreneurship and this space is just a symptom of that," Zurbuchen said.
The Office of the Provost provided funding for the new space, and vice provost for academic and budgetary affairs Martha Pollack said the investment came as a result of the emphasis on inter-campus engagement.
"This is a broad initiative. It supports students across schools and colleges, particularly our undergraduate students," she said. "It's exactly the kind of thing the provost's office likes to support."
A primary function of the new space will be to provide meeting space for individual entrepreneurial students as well as student organizations.
"Just having a space that's dedicated to this kind of activity is so important," Doug Neal, executive director of the Center for Entrepreneurship, said.
"We think it's critical that people enter the space from a variety of backgrounds and schools and come together in one place. It's when people with different ideas come together that truly disruptive innovation takes place."
The other key component of the space will be the advising and mentorship that will be made available to students who are attempting to create their own company or bring an idea to market.
"There will be student advisors there, they will be able to provide peer mentorship to provide guidance on what sort of resources the university has to offer," Neal said.
"Then there will be an advisor staff member who will be there to provide additional support and show students what sort of entrepreneurship-focused classes they can register for and give that sort of assistance."
Zurbuchen said he also hopes that the space's proximity to downtown Ann Arbor will make it another intersection point for students with the leaders of the area's growing startup community.
"We want to be helping students find the opportunities at the best companies around," he said.
"The energy companies, the software companies — we want to give them all the opportunities we can to have a creative and entrepreneurial career. Then, if they choose to stay in the region, or even if they don't, they can feed back into the ecosystem."
Ben Freed covers business for AnnArbor.com. You can sign up here to receive Business Review updates every week. Reach out to Ben at 734-623-2528 or email him at benfreed@annarbor.com. Follow him on twitter @BFreedinA2