Posted on
Fri, Sep 3, 2010 : 3:32 p.m.
University of Michigan chosen to lead joint electric vehicle project between U.S., China
By Nathan Bomey
The University of Michigan will lead a research consortium between the U.S. and China to develop new electric vehicle technologies, the U.S. Department of Energy and U-M announced.
U-M was selected to lead the electric vehicles project for the U.S.-China Clean Energy Research Center, which President Barack Obama's administration established in summer 2009.
U-M will receive $12.5 million over five years to lead the consortium, which includes Ohio State University, Massachusetts Institute of Technology, Oak Ridge National Laboratories, General Motors, Ford, Toyota, Chrysler, A123Systems and other partners.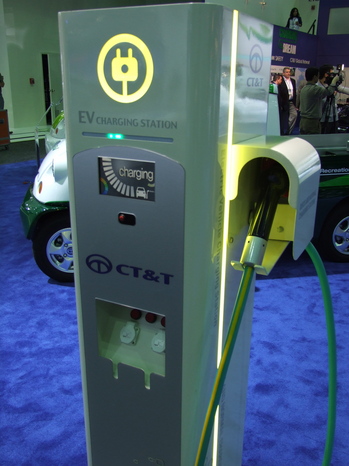 Nathan Bomey | AnnArbor.com
The American and Chinese governments are evenly splitting the cost of the governmental portion of the project. The industry and university partners will match the government funding for a total of $25 million.
China will soon announce what universities will participate in the joint research project.
U-M had publicly lobbied to play a leadership role in the U.S.-China Clean Energy Research Center after forming its own engineering research relationship with Shanghai Jiao Tong University earlier this year. U-M announced the SJTU research partnership during U-M President Mary Sue Coleman's visit to China in June.

The Department of Energy also said that it would distribute $12.5 million for a clean coal project led by West Virginia University. The department also plans to give $12.5 million this fall to a consortium pursuing energy-efficient building technologies.
"The U.S.-China Clean Energy Research Center will help accelerate the development and deployment of clean vehicle and clean coal technologies here at home," Energy Secretary Steven Chu said in a statement. "This new partnership will also create new export opportunities for American companies, ensure the United States remains at the forefront of technology innovation, and help to reduce global carbon pollution."
U-M's consortium will be called the Clean Energy Research Center on Clean Vehicles.
"This unprecedented public-private partnership across international boundaries is a model for how to tackle the grand energy challenges we are facing on a global scale," Dennis Assanis, director of U-M's Michigan Memorial Phoenix Energy Institute, said in a statement. "We have been inspired by the promise this powerful partnership holds and proud of the unique strength of the University of Michigan, a strength based on collaboration and a sweeping base of world-class expertise across disciplines."
U-M is considered a national leader in alternative propulsion technology. The university's energy systems engineering master's engineering program is one of the few clean energy vehicle engineering programs in the country.
University researchers already coordinate energy research projects with industry partners such as GM and Ford. U-M's spinoff companies include an Ann Arbor-based battery startup called Sakti3, which is developing next-generation lithium-ion batteries for electric vehicles.
Experts say the auto industry must drive down the cost of electric vehicles by reducing the size and increasing the reliability of lithium batteries.

Contact AnnArbor.com's Nathan Bomey at (734) 623-2587 or nathanbomey@annarbor.com. You can also follow him on Twitter or subscribe to AnnArbor.com's newsletters.