Posted on
Tue, Jan 3, 2012 : 2:20 p.m.
U-M's Ora Pescovitz: U.S. can't wait for politicians to fix health care system
By Nathan Bomey
Hospitals and health systems are bracing to see whether U.S. Supreme Court upholds federal health care reform later this year.
But Ora Pescovitz, CEO of the University of Michigan Health System, which has more than 20,000 employees, said today that the U.S. can't wait for politicians to fix the health care system.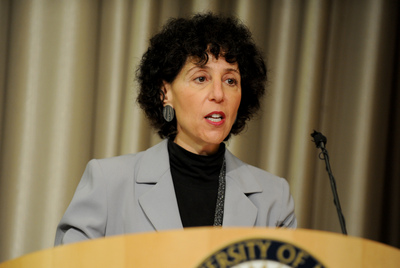 Angela J. Cesere | AnnArbor.com
"Only we can improve health care processes — because we create, manage and use them; we know what works and what doesn't," Pescovitz
wrote in a blog entry
, referencing the medical community.
"Only we can improve the quality and safety of care — because we are the people defining and delivering that care. More than anyone else, we see where there is unnecessary duplication, vulnerability for medical errors and barriers that reduce efficiency and effectiveness of care."
She added: "Only we can move the nation toward a patient-centric health care system — because unlike politicians, policy makers and others, we interact with patients and their families each and every day; nobody is better positioned to witness, understand and act on their experiences and suggestions. All of this, done in parallel, will reduce costs, improve care and promote health equity."
Pescovitz's comments come as the health care industry is anxiously awaiting a Supreme Court hearing on March 26 and a ruling a few months later on the constitutionality of the Patient Protection and Affordable Care Act.
Among the provisions to be debated are the legislation's requirement that individuals obtain health care insurance by 2014, when the law will be fully implemented.
Pescovitz, describing her new website, Medicine That Speaks, as a venue to explore ways to improve health care delivery and lower costs, said reform "isn't about politics." She credited former Medicare director Donald Berwick as a leading voice on the issue.
"It's about patients. It's about medicine and science. It's about you, me, your colleagues, your neighbors and your families. And, ultimately, it's the reason we are here," she said. "Let's commit this year more than ever to show the nation why Michigan is leaders and best in health care, to create the future of health care through discovery and to leave a maize and blue mark on the history of health care innovation and improvement. And let's do it because we know that it is the right thing to do."
In Washtenaw County, the effect of federal health care reform — which President Barack Obama signed into law in March 2010 — is already being felt.
St. Joseph Mercy Health System, for example, acquired physician network Integrated Healthcare Associates (IHA) and cardiology network Michigan Heart in a bid to better coordinate care in preparation for new funding standards.
U-M, SJMHS, Washtenaw County and other entities are also collaborating to study ways to lower health care costs and prepare for a huge influx of newly insured patients expected in 2014.
Statewide, legislation to authorize the creation of a new health care exchange to help Michigan prepare for federal health care reform's implementation is stalled. Gov. Rick Snyder, a Republican, wants the state Legislature to approve a bill to set up the exchange — but House Republicans want to wait to see the outcome of the Supreme Court case.
Contact AnnArbor.com's Nathan Bomey at (734) 623-2587 or nathanbomey@annarbor.com. You can also follow him on Twitter or subscribe to AnnArbor.com's newsletters.