Posted on
Sun, Oct 2, 2011 : 5:57 a.m.
University of Michigan reports all-time high mark for technology deals
By Nathan Bomey
The University of Michigan struck 101 technology licensing deals with businesses and startup companies during its 2010-11 fiscal year, reflecting the most active year for deals in the Technology Transfer Office's history.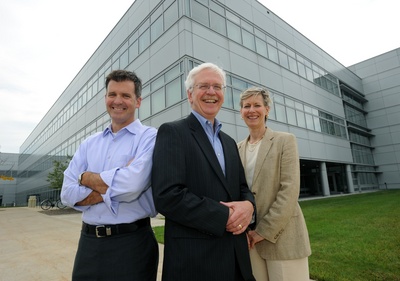 Lon Horwedel | AnnArbor.com
That was
up from 2009-10
, when the university signed 97 technology deals — then tied for its all-time high.
The Tech Transfer Office — which is responsible for commercializing intellectual property created by U-M faculty members — also spawned 11 startup companies in 2010-11. That was up from 10 in 2009-10 and eight in 2008-09. The office has created 104 startups over the last 11 years.
Ken Nisbet, executive director of the Tech Transfer Office, said the results were particularly encouraging because the sluggish economy has caused venture capitalists and corporations to conserve cash.
"Having the success we've had in this market is astonishing," he said. "We're trying to provide opportunities to people to break through this cycle."
The Tech Transfer Office received about $16 million in revenues from its licenses and equity stakes in 2010-11. That was down from $39.8 million in the previous year, when revenues were inflated due to a one-time royalty payment connected to the university's decision several years ago to license the FluMist vaccine.
"We're still happy with that because it represents funds that come back because of successful products in the marketplace," he said. "That money is being reinvested back into these research and tech transfer activities."
Among the most high-profile startups the university founded last year was Life Magnetics, which is developing a diagnostic product that helps hospitals expeditiously determine a patient's bacterial response to antibiotics.
Life Magnetics recently recruited a high-profile entrepreneur to be its CEO: former HandyLab and Accuri Cytometers CEO Jeff Williams, who is also leading U-M startup Tangent Medical Technologies.
Life Magnetics also secured a venture capital investment from Ann Arbor-based Arboretum Ventures and moved into the Tech Transfer Office's new Venture Accelerator, a 16,000-square-foot business incubator for U-M startup companies.
The Venture Accelerator, which is located in a former Pfizer building at U-M's North Campus Research Complex, is already at 50 percent capacity.
Nisbet said 10 companies are based at the Venture Accelerator, and another four are close to moving in. He expects it to be full by early 2012 — more than a year ahead of schedule.
U-M faculty reported 322 technological discoveries in 2010-11 and filed 122 patent applications. They received 82 patents.
The Tech Transfer Office is celebrating its 2010-11 performance with its annual event, Celebrate Invention, which will take place 3-6 p.m. Oct. 19 at the Michigan League.
Contact AnnArbor.com's Nathan Bomey at (734) 623-2587 or nathanbomey@annarbor.com. You can also follow him on Twitter or subscribe to AnnArbor.com's newsletters.