Posted on
Sun, Oct 23, 2011 : 5:58 a.m.
University of Michigan wellness pioneer Dee Edington launches startup
By Nathan Bomey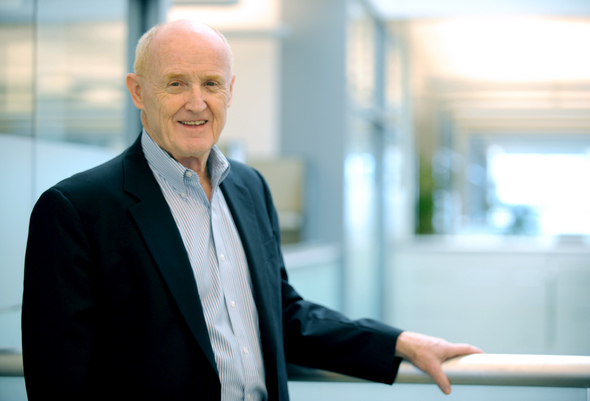 Angela J. Cesere | AnnArbor.com
Health and wellness industry pioneer
Dee Edington
of the
University of Michigan
has come to a determination that naturally startles some of his industry colleagues.
Rather than urging people to improve their health by, say, losing weight, he's laid out a simple, more realistic goal: Don't get worse. Stay where you are.
That philosophy underpins his new company, a consultancy called Edington Associates, which is based at U-M's Venture Accelerator business incubator at the former Pfizer site in northern Ann Arbor.
Edington, director of U-M's Health Management Research Center, said he's already secured a $1 million investment from global health insurance provider Cigna to fund his consultancy.
The firm also has secured access to data-based tools developed at the university, making Edington Associates an official U-M-licensed startup. He's recruited three employees, including Mary Jo Cartwright, a former executive with Johnson & Johnson's Ann Arbor-based HealthMedia division.
Edington said the company's business plan calls for growth to about 30 to 40 employees within three years.
"I wanted to start this new company because I think we have a new way to do health management in the 21st century," Edington said. "We lost the 20th century. We don't have fewer people with diabetes, obesity" and other conditions associated with unhealthy behaviors.
"More doctors, more nurses, more hospitals will not get us out of this situation," he said. "The only thing we're doing with costs is going up."
Corporate clients — armed with data from the U.S. Centers for Disease Control and Prevention showing that more than 75 percent of health care costs are tied to chronic diseases — are gradually beginning to realize that they can save costs by improving their employees' health.
But Edington Associates cites data showing that simply maintaining an employee's health can save up to $1,500 a year compared with the average costs associated with an employee whose health continues to decline.
That's why Edington is adamant that political leaders like Gov. Rick Snyder, who has made healthy living a centerpiece of his health care policy, must acknowledge that convincing Michigan people to improve their health is unlikely.
Instead, the state should start by getting people to stop gaining weight, Edington said.
"If we wouldn't gain weight, we'd be (millions of) pounds lighter" next year than the state would have been, Edington said.
Edington said he's already secured a list of corporate clients such as Adventist Health System in Florida, Blue Cross Blue Shield of Minnesota and a manufacturing company in California.
He said the consulting philosophy he's employing includes:
--A "gap analysis" to determine how to keep employees healthy over time.
--A focus on "helping the healthy people stay healthy" by encouraging existing positive actions. "Let people learn from their strengths, not beating them up from what they're doing wrong," Edington said.
--Providing monthly metrics to corporate leaders so that they can track their employees' wellbeing. Edington's research shows that employees who participate in wellness programs will miss 1.2 fewer days a year.
"His company will not only help employers strengthen their workplace health and wellness business strategy, it will also contribute further to the body of knowledge related to health improvement," Cigna Vice President for U.S. Products Jackie Aube said in a statement.
As a household name in his field, Edington is prone to making sweeping statements about the role that wellness can play in revitalizing America.
"My idea would be that we would have healthy people in this country where we could put most of the hospitals out of business," he said. "And then I could turn hospitals into low-rent housing for seniors."
He makes no apologies for his ambition.
"I say if you're not arrogant, don't come to Ann Arbor," he said with a smile. "That's part of the culture here."
Contact AnnArbor.com's Nathan Bomey at (734) 623-2587 or nathanbomey@annarbor.com. You can also follow him on Twitter or subscribe to AnnArbor.com's newsletters.