Posted on
Fri, Dec 10, 2010 : 2:20 p.m.
University of Michigan will help drive clean energy partnerships between U.S., China, experts say
By Nathan Bomey
Cooperation between researchers in the United States and China is critical to developing revolutionary clean tech solutions, and the University of Michigan will play a central role in that emerging partnership, alternative energy proponents said today at a conference in Ann Arbor.
Both countries will benefit from a push for more joint energy research and cooperation with industrial partners, the proponents said at the Michigan-China Clean Tech Symposium.
"Cooperation and competition are both essential parts of what is happening," said Terry Cooke, founder of GC3 Strategy and a public policy fellow at the Woodrow Wilson International Center for Scholars. "We are joined at the hip in solving this challenge."
The conference comes as U-M is positioning itself as a catalyst for cooperation between the U.S. and China on clean energy research. The university is leading an electric vehicle partnership on behalf of the U.S.-China Clean Energy Research Center.
U-M announced in September that it had landed a $12.5 million grant to lead a five-year consortium to develop electric vehicle technologies -- an initiative backed by the Obama administration.
Marvin Parnes, U-M's associate vice president for research, said the university believes clean energy partnerships with Chinese researchers are vital.
"I think we really bring a lot of knowledge and energy to the discussion," Parnes said.
At U-M, clean energy innovation has surged over the last decade. The U-M Tech Transfer Office reports 213 "invention disclosures" in its portfolio of faculty innovation, including 55 that are licensed to existing companies and 70 that are being actively marketed.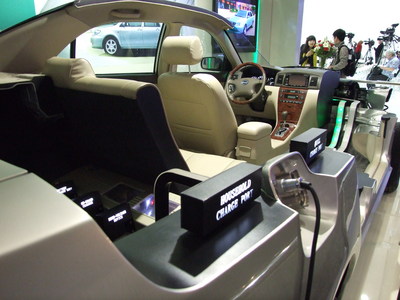 Nathan Bomey | AnnArbor.com
Just 10 years ago, the university was reporting fewer than five clean tech inventions annually, said
Jim Deane
, senior licensing specialist with U-M's Tech Transfer Office.
Fueled by a surge in federal funding and private partnerships, U-M has boosted its clean energy research activity and created a few alternative energy startup companies, including Ann Arbor-based battery firm Sakti3 and Ann Arbor-based Vortex Hydro Energy.
John Austin, director of Great Lakes Economic Initiative for the Brookings Institution, said research universities like U-M are the "great horsepower" of innovation and should play a role in clean energy partnerships with China.
Critics say that partnerships with Chinese researchers expose U.S.-funded intellectual property to misuse or theft.
U-M has offered its reassurance that its intellectual property won't be handed away to Chinese researchers as a result of its various research partnerships.
China is expected to identify various energy and environmental issues as priorities when it unveils its 12th five-year plan to guide the country's continued growth, said Kenneth DeWoskin, senior advisor and director of Deloitte's China Research and Insight Center.
Those priorities are likely to include clean energy technologies, "new energy vehicles" and environmental preservation, DeWoskin said.
By all accounts, China's solar panel manufacturing sector and wind turbine makers have enjoyed the benefits of aggressive government subsidies over the last several years.
However, DeWoskin said those industries today are enduring "an awful lot of economic stress."
In the emerging electric vehicle sector, China hopes to beat U.S. carmakers by developing batteries and alternative propulsion systems faster and cheaper.
But hurdles remain. Chinese electric vehicle maker BYD, for example, initially claimed that it would be exporting electric vehicles to the U.S. by spring 2010 - but that hasn't happened.
Still, "new energy automotive will be among the most important sectors in the (Chinese) economy," DeWoskin said.
Contact AnnArbor.com's Nathan Bomey at (734) 623-2587 or nathanbomey@annarbor.com. You can also follow him on Twitter or subscribe to AnnArbor.com's newsletters.