Posted on
Tue, Jul 19, 2011 : 12:31 p.m.
Expected closure of Borders superstore in Pittsfield Township leaves shopping center with vacancy
By Lizzy Alfs
The ongoing construction of a new Dick's Sporting Goods store at the Waters Place Shopping Center in Pittsfield Township meant that the retail center on Lohr Road was briefly fully leased. But the shopping center's full occupancy was short lived.
With the planned liquidation of Ann Arbor-based Borders Group Inc. — announced Monday afternoon — the retail center is now faced with a 28,900-square-foot vacancy, just months after Dick's Sporting Goods signed a deal to occupy the space vacated years ago when Linens N' Things liquidated. The shopping center still houses Kohl's and Best Buy.
Tom Goldberg, an owner of Waters Place retail center, said he's "saddened" by the Borders news but optimistic about the future of the shopping center.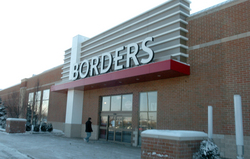 AnnArbor.com file photo
"Though we don't have any current discussions going for replacements, we're quite confident that high-quality tenants will pop on the radar screen," Goldberg said.
The liquidation of Borders means that the Ann Arbor-based chain's 399 remaining stores will be closed quickly, with liquidation sales starting as soon as Friday. There are two Washtenaw County locations: one on Lohr Road and the flagship store on Maynard and Liberty streets in downtown Ann Arbor.
However, the company said in a court filing late Monday that 30 leases could still be sold off to an unidentified buyer in a deal that would have to be approved by a bankruptcy judge.
Goldberg said he doesn't know whether the Borders store in Waters Place Shopping Center could be among the 30 leases.
"There's no indication to us which stores they're looking at," he said. "I wouldn't be shocked if some of the Michigan stores are included because it was obviously a strong market for Borders, so we'll just have to wait to see what develops."
When the Waters Place Borders opened in 2008, it was meant to be a prototype superstore, with a new retail model that emphasized technology to engage customers.
After Borders filed for bankruptcy in February, Goldberg worked out a deal with the company to keep the store in the shopping center open.
While the flagship store in downtown Ann Arbor also remained open during the bankruptcy proceedings, the chain's store at Arborland Center on Washtenaw Avenue closed.
Now that the company is liquidating, Goldberg said he's saddened, but not surprised, to lose the "great tenant."
"They've been a great tenant for a number of years, particularly in the Ann Arbor community," he said. "Everyone loves bookstores and I think that's the sad part."
Despite the development, Goldberg said he doesn't expect decreased traffic to the center.
"Though the store did very well, the amount of customers that were in the store at any given time — other than peak periods like holidays — has never been that high," he said. "So with Dick's opening in the next few months, traffic generated by Borders will be more than handled."
He said the space has not yet been formally placed on the leasing market, but he expects to secure a new tenant within the next few months.
"The tenants in the center are very high performing and the top of the pier group in terms of their sales lines," Goldberg said. "We've never had an issue with finding tenants, and usually when a space becomes available we get multiple inquiries."
"That is a vibrant and successful area, and there will be more to follow in terms of good news," he said.
Lizzy Alfs is a business reporter for AnnArbor.com. Reach her at 734-623-2584 or email her at lizzyalfs@annarbor.com. Follow her on Twitter at http://twitter.com/lizzyalfs.