Posted on
Tue, Apr 27, 2010 : 5:59 a.m.
What deficit? Obama's University of Michigan appearance boosts Ann Arbor economy
By Nathan Bomey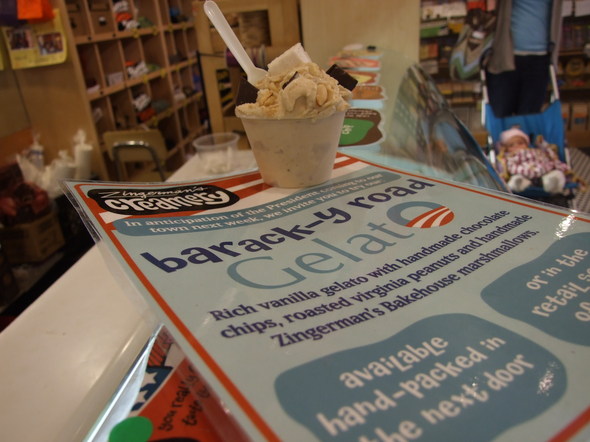 Nathan Bomey | AnnArbor.com
University of Michigan senior Laura VandenBosch leaned over the glass-encased gelato counter at Zingerman's on Monday, briefly considering the implications of a limited-edition presidential flavor: Baracky Road Gelato.

"I wonder if 'Baracky' will come in here," said VandenBosch, who is graduating Saturday with an architectural degree. "He should come in here."
Perhaps he will. When then-President Bill Clinton delivered the commencement address at Eastern Michigan University in 2000, he famously visited Abe's Coney Island in downtown Ypsilanti.

Regardless, President Barack Obama's appearance Saturday at U-M's spring commencement ceremony is sure to give the region a big economic boost.

Some 80,000 people will fill Michigan Stadium for the commencement address, although the ultimate figure could be even higher. The Ann Arbor Convention & Visitors Bureau estimates some 60,000 of those visitors will come from out of town.

Washtenaw County hotels are nearly out of rooms, and restaurants are fielding more reservations than usual for a U-M commencement weekend. And some businesses have created products specifically to capitalize on the president's Ann Arbor trip.

Zingerman's, for one, reintroduced Baracky Road Gelato, a flavor the iconic Ann Arbor restaurant sold briefly during Obama's inauguration in 2009. It's based on vanilla beans from Bourbon Island, Madagascar; Virginian butter-roasted peanuts; marshmallows; caramel; and handmade chocolate chips.

How much does it cost? At $11.99 for 12 ounces, let's just be glad it won't add to the federal budget deficit.

For $15, though, you can purchase a special Obama commencement T-shirt from downtown Ann Arbor shop Elmo's Main Street T-Shirts.

The store is offering to print the commemorative shirts on demand - pick your size and color.

Elmo Morales, owner of Elmo's Main Street T-shirts, said he placed an order for Obama products on the day the university announced Obama would speak in Ann Arbor.

So far, he's only sold one commemorative T-shirt - but he expects demand to kick up this week.

"It's been there, but nobody has been purchasing it yet," Morales said. "It's a perfect gift for a graduate. It's something that they can keep forever."

Demand for T-shirts and trinkets may be iffy, but demand for local hotel rooms and restaurant reservations is far from soft.

AACVB President Mary Kerr said Washtenaw County's 4,000 hotel rooms and 60 bed-and-breakfast rooms are effectively sold out for Friday and Saturday. She said travelers still in need of a hotel room this weekend can check with the AACVB. (Update at 2:40 p.m. Tuesday: Some 50 rooms are now available at two different hotels, Kerr says.)

"We check with our hotels on a regular basis for availability, so if someone cancels a room or a room becomes available, our hotels notify us right away," Kerr said.

A typical U-M football Saturday - when local hotels are sold out and restaurants experience heavy traffic - funnels about $10 million into the local economy, Kerr said.

But she said the AACVB projected that U-M's typical spring commencement weekend injects about $12.3 million into the local economy.

"This one, I'm sure, is a little bit higher because of the fact that the president is speaking at commencement," Kerr said.

The AACVB's "conservative estimate," Kerr said, is that the average travel party of 2.5 people will spend about $257 a night in the Ann Arbor area.

Some visitors make hotel reservations for commencement weekend four years in advance, Kerr said.

That's not quite the case for local restaurants, but suffice it to say that you might have to wait a while for a table this weekend - if you're able to get one at all.

H.T. Riekels, manager of Mediterrano Restaurant in Ann Arbor, said Mediterrano has about 300 dinner reservations for Friday night and Saturday night, as well as 100 lunch reservations for Saturday. He said the restaurant plans to open up its banquet facility to seat additional customers and is hiring a few temporary employees to keep up with demand.

"The restaurant is packed and has been for a while," Riekels said. "It is a bigger deal that Obama is here, but U-M graduation is such a big deal anyway that we'd be packed regardless."
Matt Foyteck, general manager of Gandy Dancer, said his restaurant has some 2,000 reservations for Saturday, though there were still a few slots available Monday. He said reservations for this weekend are up about 25 percent over the 2009 commencement weekend, when Google co-founder and U-M grad Larry Page addressed graduates.
It's not entirely clear when the post-commencement meal rush will hit its peak. That's because traffic congestion could affect the mass exodus from the stadium, not to mention the possibility that Obama's motorcade could cause additional backups. The university also bumped the commencement address from 10 a.m. to 11 a.m. -- which alters the outlook for some restaurants.
"When they moved back the time, it made it a little more difficult," Foyteck said.

Despite the rush to reap revenue from the president's Ann Arbor trip, one area will be largely devoid of commercialism: the space immediately surrounding the stadium.

Security officials plan to prevent upstart entrepreneurs from trying to sell goods in the area around Michigan Stadium.

But at least one entrepreneur believes he can convince the president himself to boost his product. Former U-M basketball player David Merritt, CEO of startup apparel firm I Miss You Inc., is campaigning for the president to wear one of his company's IMU T-shirts.

"The purpose is just to simply spread our message of happiness and the importance of giving back on a larger level in connecting with President Obama," Merritt said. "It would be mind-boggling - the impact it would probably have on our brand."

Then again, the president may just settle for some Baracky Road Gelato.
Contact AnnArbor.com's Nathan Bomey at (734) 623-2587 or nathanbomey@annarbor.com or follow him on Twitter. You can also subscribe to AnnArbor.com Business Review's weekly e-newsletter and breaking business news e-newsletter.