Z'George's Coney Island to replace Zorro's Mexican Restaurant on Golfside in Ypsilanti Township
Posted on Mon, Apr 26, 2010 : 5:58 a.m.
It's been only a month since Annarbor.com reported on the closing of Tio's Restaurant on Washtenaw Avenue. The comments section following the story was full of recommendations for authentic, fresh and affordable Mexican fare in the Ypsilanti area.
La Fiesta Mexicana on Cross St., Taqueria La Fiesta at Packard and Carpenter, La Fuente, Los Amigos, La Casita, Zorro's, Pacific Beach Burrito …

But now another option can be removed from the list.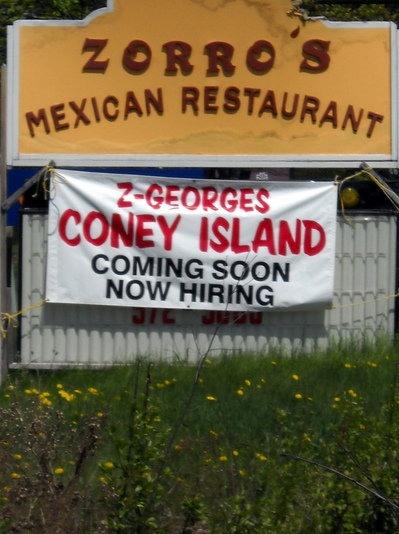 angela smith | contributor
Zorro's Mexican Restaurant at 2071 Golfside has also closed its doors.
Zorro's was a favorite for folks who appreciate good Mexican food.
Ann Arbor resident Peter Adamczyk said, "We're totally bummed, because we used to go there about once a month, sometimes more. We've tried a bunch of different Mexican restaurants, and Zorro's just plain had the best food, and at a reasonable price. My favorite (entrée) was the 'Aye Caramba' spicy burrito, but everything was very tasty. We also loved the decor, with murals on all the walls and weathered-brick faux texture on Spanish arches around each booth. And they had an indoor fountain, which was fun."
The Adamczyk family and other Zorro's patrons will be happy to know that the Ypsilanti closing is the result of a move. The new Zorro's location is just a bit of a drive to Michigan Avenue in nearby Wayne. The management calls the new location "better," and assures that the food, service and prices will remain the same.
In its place, construction and hiring has already begun for a new Coney Island Restaurant. Z'George's Coney Island, is sure to be a favorite for college students at nearby Washtenaw Community College and Eastern Michigan University. Though no opening date has yet been given, applicants can apply to the party store adjacent to the restaurant, Buster's.
Lead Shopping Blogger Angie Smith will hunt for deals and dish on the latest in retail and business news in Ann Arbor. Readers will attain notices of great deals and store happenings in and around the city. To report a news item or tip contact her at angieannarbor@gmail.com.