Posted on
Mon, May 20, 2013 : 10:57 a.m.
Andrew WK talks about his youth in Ann Arbor, My Little Pony, and more
By Jenn McKee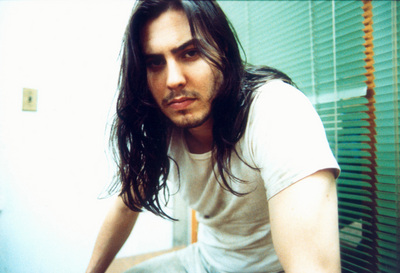 Island Records
Ann Arbor native and "Party Hard" rock star
Andrew WK
(Wilkes-Krier) has had, to put it mildly, an eclectic career.
His life in music began at age 4, when he started studying classical piano; and throughout his teens, he was part of several bands. Eventually, after WK moved to New York, his party-anthem hit "Party Hard" brought him national attention back in 2001.
Since then, he has since stayed famous by way of: motivational speaking (at NYU and Yale, among other places); an appearance at a My Little Pony conference; an apparent appointment as a U.S. cultural ambassador to the Middle East (which the U.S. Department of State revoked just before WK was scheduled to fly to Bahrain); being named spokesman for Fresh + Sexy Wipes; being co-owner of New York's Santos Party House in New York City; and belting Ramones songs with Marky Ramone's Blitzkrieg at Santos and, soon, on a world tour.
Before that happens, though, WK will play a secret late-night show in Southeast Michigan on May 25, following his performance at Howell's Bledfest music festival. The money raised by WK's midnight show will support Ann Arbor's Community High School. WK attended CHS from 1993-97.
Details about the location and time of the secret house party will be released via Twitter following WK's set at Bledfest.
"If I had not gone to Community High, I wouldn't be doing what I'm doing," said WK. "I wouldn't be talking to you now. To this day, my idols are the juniors and seniors who were going to school there when I was a student. … The most exciting people existed right in front of me then. Community cultivates a student body like that."
WK - whose father, James Krier, is a U-M law school faculty member - hopes CHS will use the money for "big new mural or something." And in anticipation of WK's upcoming appearances in the area, AnnArbor.com asked him about Little Ponies, nosebleeds and more (but not intimate wipes).
Q. Because your 2001 album "I Get Wet" featured a photo of you with a massive nosebleed, this has become your trademark. Why did you choose that image for the album?
A. I just hadn't seen a record cover like that before. It seemed like there was something very primal about a nosebleed, even though there's all this blood pouring out of you, but there's no pain or violence or injury involved. I'd had many nosebleeds as a kid. I got them just while sitting in class. So it's really intense looking, but everyone, from your grandmother to your brother, can relate to it. And it was territory not yet claimed.
Q. Could you tell me about the influence Ann Arbor had on you?
A. The longer I've not lived there, the more blown away I've been by what an amazing place it was and still is. … Schoolkids Records introduced me to music I didn't even know existed. It was this radical kind of stimulation, and I got hooked, and it informed all that I got interested in. …
By the time I turned 18, I'd gotten into a lot of trouble and upset those close to me, … so I moved to New York, and that really humbled me and cut me down to size. Which may be what people want when they come to New York - to be challenged and thrown off-balance. … It felt like the place I was supposed to go. But sometimes, when I see Michigan friends, I think, wouldn't it be fun to live there again?
Then I realized Ann Arbor is just part of me. It's inside me, no matter what. … It's a strange thing. I've tried to express how much I appreciate the spirit of that town. I meet people around the world who have never been there, but they have a sense of what it's like. That people there are very passionate, and there's a high level thinking - more than outside the box, it's out of the stratosphere, and it's famous for that. … But I've also noticed that there seems to be a lot of anger coming from Ann Arbor about me.
Q. Really? Why?
A. What I do - it's not the traditional aesthetic of Ann Arbor, which is more intellectual, I guess. I'm not like that. I'm not trying to impress anybody. I'm just trying to party. … But it hurts more than it normally would when the hometown you love so much seems to have a problem with you.
Q. Tell me about stepping into a punk icon's shoes and performing Ramones songs with Marky Ramone's Blitzkrieg.
A. When the invitation was extended to me, I had to prove to myself that I could do it before we began rehearsals. I wasn't sure I could do it, The quantity alone - doing something like 34 songs in 90 mintues - is a challenge. But the experience has made me a better singer, it's made me a better person, and I knew I could not blow this. When I told my friends about it, they got really serious and stoic and said, 'You have to step up.' … No one's made better music, period. And Steve Lewis, the king of the nightlife world in New York City, … helped my friends and I quite a bit when we were preparing to open Santos Party House. … I worked with him, and did a few events with him. He became another mentor, and is just this incredible person you can't help but learn from. … Marky asked (Lewis) if he had any ideas for a singer, and Steve Lewis mentioned me. And it wasn't a matter of, 'Should I do it?" It was, I'm going to have to do this out of an obligation to the gods. You don't question it when an opportunity like that comes to you.
Q. How did you come to host a panel at a My Little Pony convention?
A. It was one of the greatest experiences of my life. … The people that were there were unbelievable. So kind, so positive, and so passionate. It was a real example of that perfect balance between community cohesiveness and … a collective group of one-of-a-kind people. … The focus of that fanbase is being nice, and having fun, and having a passion. Over time, we've come to downplay the value of passion and caring about. We say things like, 'It's cheesy and stupid to like something that much.' So to see people fearlessly in love with something was inspiring. I'd want to be around it all the time.
Q. Tell me about the U.S. Department of State appointing you cultural ambassador to the Middle East, and planning a visit to Bahrain, only to have the whole trip canceled.
A. They didn't want me to do music shows. They wanted me to lecture and meet students and bring back my impressions of Bahrain to the U.S. … I was blown away. … I'd gone through many background checks, I had an itinerary, the plane tickets were bought and the hotels arranged and all that. … We'd been working on this for months. …
The day before our flight, the same representative (who initially contacted WK) called us and told us that someone from the Department of the Secretary of State saw a picture of me … and canceled the trip, saying someone like that is not an appropriate person for a trip like this. I don't know if it was the bloody nose, or because my clothes weren't clean - I don't know. …
But as frustrating and confusing and baffling as that was, we achieved what we hoped to achieve by starting a conversation. … People were finding out more about this place, and looking up information online, because we were talking about it. And if that was part of the goal, we may have achieved more in that sense than if we'd actually gone. I would have done a great job, and I was very humbled and privileged to represent my country - I would do it with dignity and saw it as a great responsibility - but who knows? Maybe they were protecting me. Maybe there were safety issues they couldn't tell me about. It was just this bizarre experience.
Q. A lot of rockers might have disappeared from the scene after having a hit like "Party Hard." What's the secret to having an enduring career in the music business?
A. I'm on an adventure, and I've turned myself over to it entirely. I don't feel I'm in control of it. It's like I'm being pushed and led by one hand, and pulled by the other, and I just do my best to never take it for granted. I don't always understand why I'm asked to do these things, but I try not to waste it, and to make the most of it. … 'Party Hard' was the rocket fuel that launched whole adventure, but … at this point, 12 years after album came out, I'm stronger and bigger than ever. And that doesn't make sense. But you don't always have to make sense of things to enjoy them.
Jenn McKee is an entertainment reporter for AnnArbor.com. Reach her at jennmckee@annarbor.com or 734-623-2546, and follow her on Twitter @jennmckee.