Posted on
Thu, Jul 19, 2012 : 5:37 a.m.
10 dos and don'ts from an Ann Arbor Art Fair first-timer
By Danielle Arndt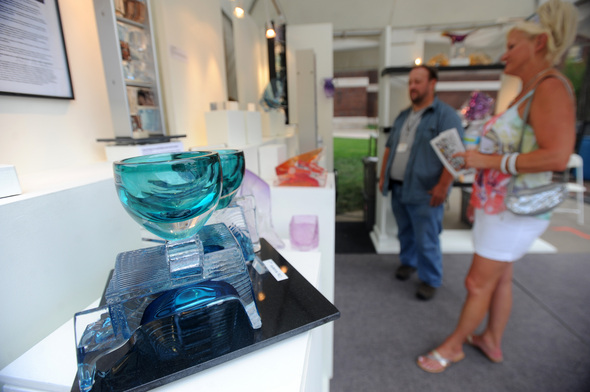 Angela J. Cesere | AnnArbor.com
Before spending more than three hours in the sun on Wednesday, I was an Ann Arbor Art Fair virgin.
But not a virgin to artists' wares and fairs overall.
My family is a big fan of festivals, carnivals and craft shows. Our summer — and often, winter — vacations growing up always consisted of very traditional, Pure Michigan-type adventures. And typically, our destinations would depend on the festivals or fairs taking place in a particular town.
The Ionia Free Fair, Greenville's Danish Festival, the Douglas Wine and Art Stroll, Saugatuck's Venetian Festival, the West Shore Arts & Crafts Fair in Ludington, Petoskey's Art in the Park, Grand Rapids' ArtPrize — we've seen them all.
But after Wednesday's Ann Arbor Art Fair experience, I will say that if there is one art festival not to miss, it's Ann Arbor's. If the above festivals are your scene, then Ann Arbor really offers a combination of them all. And, as cliche as it sounds, there is something there for everyone.
Here are some dos and don'ts — including what to hit and miss — from the eyes of an Ann Arbor Art Fair newbie.
1. Do take the bus into downtown Ann Arbor.
Locals who have witnessed the traffic gridlock and craziness of the parking situation in downtown gave me this advice, and I did not regret taking it. While others tweeted about being stuck in traffic or waiting in line for the parking garage during their morning commute, I was sitting on the bus reading their tweets and with only about 10 other people around me.
2. Don't try to see all of Art Fair in one chunk of time.
I had the idea that for this column, I would time how long it took to get through each of the four, concurrently-held art fairs — from one end of downtown to the other — traveling at a slightly faster than "mosey" pace and stopping at the occasional booth to browse and take in the pieces and wares.
I wanted to be able to tell readers how much time to allot to get a "full" Art Fair experience.
Bad idea. I couldn't do it.
There was simply too much to take in that I got distracted from my mission. Plus, how can you not people-watch at a fair this size? That's half the fun!
Its size is one of the reasons the Ann Arbor Art Fair easily surpasses any usual "art in the park" experience. And the variety. With artists from more than 47 states and three countries, there are some really unique pieces, which leads me to my next "do."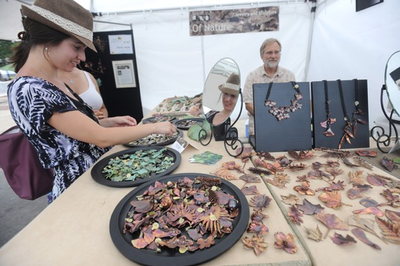 Angela J. Cesere | AnnArbor.com
3. Do check out "The Original" Ann Arbor Street Art Fair around Ingalls Mall, between North University and Washington streets.
I can't even begin to tell you my favorite booths from the Street Art Fair, but the pieces stood out from the rest. The pieces here are phenomenal, from a complete living room of funky black and red metal furniture; to exquisite hand-blown glass; large jacks hanging from a wall; a mostly enclosed booth resembling a shipping crate filled with wildlife paintings; and jewelry that makes a statement.
Here you also will find the art demonstration tent, which is worth taking in if for no other reason than it's breezy under the giant trees off North University and makes a the perfect spot for a nap, as one elderly woman proved Wednesday afternoon.
4. If you are in Ann Arbor for the art, don't be discouraged by the sidewalk sales.
State, Liberty and Main streets were the most packed with people walking around on Wednesday, but if you are on a time crunch and are looking for distinctive pieces, either for gifts or your home, some of these blocks appeared to be more about the sidewalk sales, mixed with some flea market fare.
My advice: Don't be discouraged by the sidewalk sales and keep going; there's art nearby. The discount perfume, as-seen-on-TV knife sets and knock-off designer sunglasses booths just kind of dampened the "art" experience for me.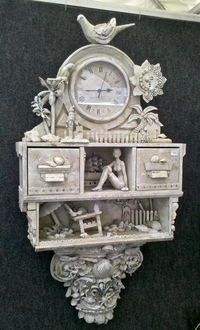 Danielle Arndt I AnnArbor.com
5. Having said that, do visit the following booths on Main Street, in the Summer Art Fair:
"The Cordwainer" — Booth D202. Custom leather bags, purses, wallets and belts by James and Rombye Perry from Tennessee. Unique, but not beyond what a reasonable person would pay for a custom leather bag.

Exotic water sculptures — Booth D306. Maryland artist Yos Belchatovski creates metal, home and garden sculptures that double as fountains. (He even has several hooked up to running water, so if he's not looking you may be able to splash a little on your face).

Architectural constructions — Booth D315. I didn't see anything else quite like former Ann Arborite Andy Striewski's clocks, shelves and other wall hangings. Made from found objects, fragments of buildings, clay, plaster, paper, stone and plastic shapes, Striewski tries to exhibit a connection between women and architecture in her work — "their strength, endurance and integrity," she said.
6. Don't miss the big stuff. (And it was also about this point in the day that I learned: Don't forget cash, water or sunscreen).
What was most exciting for me about the Ann Arbor Art Fair was the large-scale sculptures, reminiscent of Grand Rapids' ArtPrize and differing from a typical summer art show.
One of the biggest complaints of ArtPrize has been that artists sink a ton of money into one piece or a collection of pieces that they submit to solicit votes from event-goers for a chance to win $250,000, but the sales element is missing. It is not cost effective for artists to participate, so some people speculate how long the event will last. Whereas here in Ann Arbor, there is both the display and recognition element as well as the opportunity to sell various items. And this is Ann Arbor's 53rd Art Fair.
It was fun to see local artist Bill Secunda's sculptures at booth E161 off South University Avenue. Secunda was a finalist in ArtPrize 2009 for "Moose."
There are more large-scale, metal animal sculptures by Keith Bradley near the corner of Maynard and William streets — such as: "The Pisser," which you'll just have to see; "The Boca Babe," a giant hippo that doubles as a chair; and "Poopsie" the Poodle. Bradley asked for no photographs, so you will have to wander down there to check them out.
7. Don't look for the nudists.
Apparently once a staple on Liberty Street during Art Fair, the Ann Arbor nudist group (the Southeast Michigan Naturists) was nowhere to be found this year.
And I'll admit: I was searching for them.
I've heard so many stories about the Art Fair nudist group that I was curious. I'm not sure what I would have done, had I encountered them — other than turn bright red and hide my eyes from their loincloth regions. But nevertheless, I was out to experience all of Art Fair for my first time, so I was a little disappointed by their absence.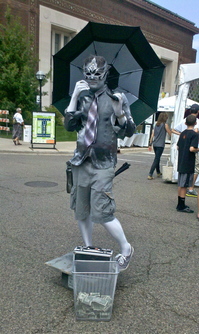 Danielle Arndt I AnnArbor.com
8. Do indulge in the fair food.
It's not possible to properly enjoy a summer festival without eating some greasy fair food. But with Ann Arbor being close to the foodie capital of the mitten, I was hoping for food with a little more spunk than the traditional items of shaken lemonade, hot dogs, Gyros, Philly cheesesteaks, pizza and elephant ears.
I found the food court at Ingalls Mall was the place to be. The University of Michigan booth was offering "Wolverine Juice," which consists of pineapple, mango and blueberry juices; gazpacho and pad thai. And next to the U-M booth, Southfield-based Eskimo Jacks sold ice cream sandwiches with a choice of two warm gooey cookies and your favorite ice cream.
9. Do bring your kids.
The children's crafts and activities in the Street Art Fair were awesome and educational. Kids could learn to use a potter's wheel, as well as make "found object," monochromatic sculptures with staff from the Museum of Contemporary Art in Detroit. The sculpture project was inspired by a Detroit sculptor named Gordon Newton. The children learned about the artist, his history and the history of the medium while they worked.
10. This is probably the No. 1 lesson I learned at Art Fair Wednesday...
The website makes it sound entertaining and magical. However, awkward was the result of my interactions with George Tait's The Living Statue.
After standing around watching the silver spray-painted man with two other ladies Wednesday afternoon, wondering how to get the living statue to perform, I decided to drop a dollar into his waste basket.
The statue came to life. Snatched up my hand and kissed it, which would have been fine except he left his lips to my hand and held on tight to my fingers until I told another member of the "audience" to take a second dollar from my purse to put in his waste basket.
Lesson: Don't give money to the street performer. Or at least know what you're in for if you do.
Staff reporter Danielle Arndt covers K-12 education for AnnArbor.com. Follow her on Twitter @DanielleArndt or email her at daniellearndt@annarbor.com.