Posted on
Wed, Mar 10, 2010 : 1:17 a.m.
High-energy Avett Brothers delight, even without encore
By Roger LeLievre
Call it controlled musical chaos.
Melanie Maxwell | AnnArbor.com
The alt-country-punk band The Avett Brothers performed a sold out, Ark-sponsored show Tuesday night at the Michigan Theater that had fans on their feet from the moment the members walked on stage.
If you weren't there, you missed one heck of a time. Thanks to past appearances at The Ark, local fans know an Avett Brothers' live show is a sing-along, clap-along, dance-along, high-energy affair, and Tuesday's larger-venue concert lived up to that reputation.
Guitarist Seth Avett and his banjo-picking brother Scott, along with stand-up bass player Bob Crawford, cellist Joe Kwon and drummer Jacob Edwards, offered several tracks from the Avett's latest CD, "I and Love and You," their major label debut, produced by music industry wunderkind Rick Rubin.
One thing that's abundantly clear — as great as The Avett Brothers are on CD, they are better live. Their audience rapport is superb (the only other band I have seen come close might be Great Big Sea) and watching Kwon jump around on stage with his cello and Crawford spin his bass is a big part of the fun. The band was clearly having a blast, and so was the audience.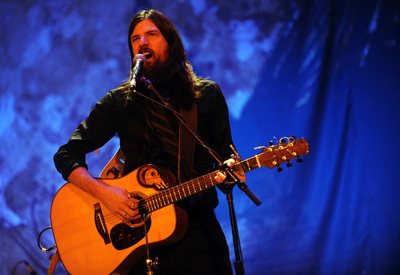 Melanie Maxwell | AnnArbor.com
High points from the new CD were the melancholy title tune and its polar opposite, the spirited "Kick Drum Heart," as well as the lyrically poetic "Head Full of Doubt/Road Full of Promises."
They also dipped liberally into their back catalog with audience favorites such as Scott Avett's solo acoustic turn on "Murdered in the City," turned a cappella when his guitar refused to stay in tune. "Salvation Song," "Shame," "Paranoia in B-Flat Major" and the country-punk "Slight Figure of Speech" were also highlights. The delicate "Bella Donna" showed the band just as capable of exploring its softer side as they are rocking out with full-throttle country-punk bombast.
The Avett Brothers performing "Paranoia in B-Flat Major" live in Wisconsin last fall:
The night's only cover was a spot-on version of Roger Miller's "Where Have All the Average People Gone?" Miller has gone under-appreciated for years; it's nice to see him get his due.
Rhode Island-based folk-rock foursome The Low Anthem were the perfect opening act, drawing a standing ovation at the end of their set. Just as I was thinking how well the band's introspective tunes — and the members' crazy skills on a truckload of current and vintage equipment — would go over in a smaller venue, frontman Ben Knox announced an April 7 gig at The Ark. If you are a fan of this kind of music, do yourself a favor and check them out — you won't be disappointed. Members joined the Avetts for "The Fall" and "January Wedding," much to the delight of the audience.
Speaking of disappointment, The Avett Brothers inexplicably offered no encore, despite a rousing ovation at the end of their set. Everyone was on their feet screaming and clapping, the band came back out, announced that they were "2 minutes from curfew" and so did not have time for another number. What was that all about? It was only 10:30. I heard more than 1 fan muttering something along the lines of "this sucks" as they left the theater. It was the 1 sour note in an otherwise outstanding show.
Of course, if there wasn't such a long intermission between bands — and this seems to be happening more and more lately — maybe they would have had time to do an encore. If the powers that be are reading this, it might be something to consider.
Roger LeLievre is a freelance writer who covers music for AnnArbor.com.