Posted on
Thu, Nov 3, 2011 : 1:15 a.m.
Bob Seger a fan-pleaser at hit-filled EMU show
By Roger LeLievre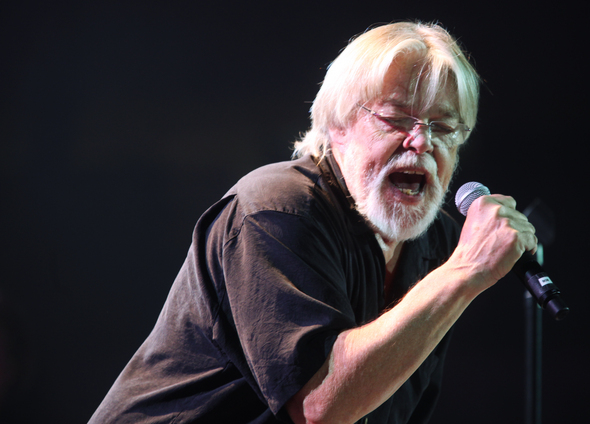 Jeff Sainlar | AnnArbor.com
What did you think of the show? Take the poll and/or leave a comment at the end of this post.
Related coverage:
• Photos from Bob Seger at the EMU Convocation Center
• Set list from Bob Seger & the Silver Bullet Band in Ypsilanti
• Concert review: Bob Seger comes home for satisfying show

It was everything you'd expect a homecoming concert by rock icon Bob Seger, one of Ann Arbor's native sons, to be: loud, at least semi-rowdy (Wednesday, after all, was a work night) and packed with the hits. Seriously, how can you follow up "Mainstreet" with "Old Time Rock and Roll" and not have the crowd go wild?
Seger, 66, who went from his Ann Arbor beginnings in the 1960s to rock royalty in the 1970s, chose the Eastern Michigan Convocation Center in Ypsilanti as the launching pad for the fall tour with his Silver Bullet Band. All in all, he sounded pretty darned good, an accomplishment in itself considering the Convo Center's sometimes spotty acoustics.
The crowd—not unexpectedly on the older end of the demographic scale—was on its feet more often than not, particularly for the uptempo numbers, clapping along and singing the chorus of old favorites such as "Hollywood Nights," "We've Got Tonight," "Old Time Rock and Roll," "Katmandu' and "Turn the Page."
Seger even got the jump on the holidays, offering his rendition of "The Little Drummer Boy."
The only time fans seemed to turn on him was when Seger sent a shout-out to Gov. Rick Snyder and his wife, Sue, who were in attendance. The boos seemed to have the edge, and one audience member could be heard trying to start a "recall Rick" chant. Other than that, it was a performance that seemed to please pretty much everyone.
"He was great—he kept nothing back," said Bob Rasmussen from Ypsilanti. "He played all the good ones. He rocked out." His wife, Tammy, agreed: "It was my birthday present," she said," and it lived up to expectations and beyond. He still rocks."
Jeff Weaks, also of Ypsilanti, was delighted with the show as well. "He sounded just as good as back in the day, I was really surprised. And talk about putting on a great show. … How many songs can one guy have? And then there's the songs he didn't sing."
"It was awesome; Bob Seger is always awesome," said Kim Burns of Plymouth, who said she's seen the rocker eight times. "Even his new stuff is good."
Derreck Long of West Bloomfield, like many others sporting a Bob Seger concert shirt, was also pleased. "It was wonderful. It was all a high point," he said after the concert ended.
Even the critics were kind. "He can't really belt them out the way he used to, but I don't want to dis Bob," said Sandy Bradford of Livonia. "I love Bob."
It has been decades since Seger performed in Washtenaw County. All in all, it seemed that for fans, it was worth the wait.