Posted on
Thu, Nov 3, 2011 : 1:32 a.m.
Bob Seger comes home for a satisfying show
By Will Stewart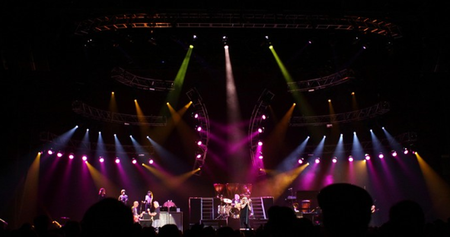 Jeff Sainlar | AnnArbor.com
What did you think of the show? Take the poll and/or leave a comment at the end of this post.
Related coverage:
• Bob Seger a fan pleaser at hit-filled EMU show
• Photos from Bob Seger at the EMU Convocation Center
• Set list from Bob Seger & the Silver Bullet Band in Ypsilanti

If you weren't paying close attention on Wednesday, you might not have even noticed that Bob Seger's performance at Eastern Michigan University's Convocation Center was a homecoming show.
References to his hometown of Ann Arbor were few, and there weren't any guest appearances by, say, Kid Rock. Even Seger himself rarely said anything more than "All right EMU" in reference to his surroundings.
But t then it hits you: the local color is embedded in the tunes. The dancer in "Main Street;" the "dark-haired beauty with big, brown eyes" in "Night Moves" … Michigan and Ann Arbor ooze out of these tunes.
And if there was still any doubt that Seger was back in friendly surroundings, it disappeared quickly amid the roars from 8,000 fans, who clapped along, sang along and pushed the 66-year-old singer through a two-set, two-hour-plus show.
Wednesday marked the first show of Seger's fall tour and, let's be honest, it wasn't without its awkward moments. Breaking in a new sound system proved problematic, particularly when feedback actually halted the show for several tense moments.
Fortunately, Seger has dozens of tunes that are part of the collective consciousness, certainly more than enough to conquer a little feedback.
Wednesday's show was perfectly paced, mixing the singer's signature raveups like "Nutbush City Limits" and "Fire Down Below, mid-tempo rockers like "Beautiful Loser" and "Come to Poppa," and ballads like "Against the Wind" and "Mainstreet" into a cohesive whole.
Unfortunately, Seger lacks the voice to really pull off some of his leaner and meaner material. "Her Strut" sounded thin, while the newly unearthed "Hey Hey Going Back to Birmingham" lost its way when Seger's voice failed to cut through the mix.
The show's highlights came when Seger found himself behind an acoustic guitar or in front of the piano. Without the bombast from the Silver Bullet Band, Seger's songcraft really came through. "Night Moves," the show's penultimate number, "Against the Wind" and "We've Got Tonight," therefore, were the evening's emotional and artistic highlights.
A few thoughts:
• Sometime during the 1970s, Seger created a monster when he allowed Alto Reed's saxophone solos to gain prominence in his songs. Now, songs like "Turn the Page" depend on Reed's stage-chewing, smooth-jazz solos stepping all over the singer's delivery.
• The Christmas tune "The Little Drummer Boy," should be dropped from the set list immediately.
• Not surprisingly, considering first-night jitters, the Silver Bullet Band came out only half loaded. But after stumbling through the opening tune. "Feel Like a Number," the band quickly found its footing.
• The newest band member, Kenny Greenberg, certainly earned his keep, ably recreating signature guitar parts throughout the show. Likewise longtime Silver Bullet drummer (and Grand Funk Railroad founding member) Don Brewer was rock-steady all night long.
On Wednesday, without a lot of fanfare or ceremony, Seger proved that—at least when your songs are part of the American soundtrack—you really can go home again.