Posted on
Thu, Apr 1, 2010 : 5:54 a.m.
Hal Holbrook, Tyler Perry, Clash of the Titans and more
By Russ Collins
Win free movie tickets
Editor's note: Comment on today's "Cinema Chat" for a chance to win free movie tickets to the Michigan Theater. Some time between now and 6 a.m. Wednesday, leave a comment on this column, written by the Michigan Theater's Russ Collins. Offer your opinion on a recent movie you've seen, or on anything Russ mentions. We'll randomly select a winner and notify that person via the email address they signed up with. They will get two passes to a movie of their choice.
Most public schools are on a break next week! That means you may have some spare time to take in a movie. If you have not taken the kids to see Tim Burton's "Alice In Wonderland" or DreamWorks' well-reviewed "How to Train Your Dragon," this is your chance! For more mature tastes there are a couple of great films opening at the Michigan Theater — 1 features an outstanding performance by Hal Holbrook; the other is an acclaimed, award-winning film from Austria.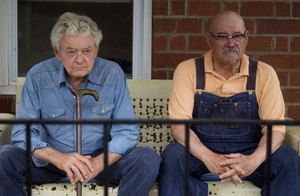 "That Evening Sun" stars Oscar nominee Hal Holbrook as an aging farmer who is unhappy at the retirement home his lawyer son consigned him to and defiantly returns to his Tennessee country farm. Upon his return, he discovers the farm has been leased by his son to the family of an old enemy. Not one to suffer fools gladly or go down easy, Hal Holbrook's character moves into the old tenant shack on the property and declares that he will not leave until the farm is returned to his possession. But the new tenant has no intention to move out or give in to the demands of the old man. The LA Times is a fan: "Though the movie is filled with complex emotions and a powerful poignancy, it often manages to be darkly funny, thanks to Holbrook's wily, unsentimental portrayal under Teems' smartly calibrated hand." And so is Ann Arbor native and Entertainment Weekly critic Owen Gleiberman: "Hal Holbrook was born to play sly, cantankerous rascals." "That Evening Sun" opens Friday and will only play the Michigan Theater for 1 week.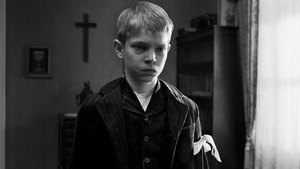 "The White Ribbon,"
which won the Golden Globe for Best Foreign Language Film and the Cannes Film Festival's Palm D'Or, also
opens at the Michigan Theater on Friday
. The Village Voice raved, "It's (director Michael) Haneke's best ever." And
Rolling Stone
enthused, "Don't let anyone tell you too much about this spellbinder from Austrian writer-director Michael Haneke." Set just before the start of World War I, in a small German village, a number of unexplained accidents beset the schoolchildren and their parents. Though they at first appear coincidental, it begins to seem that they are not, in fact, accidents at all.
At the cineplex "Clash of the Titans" is a remake and a loose adaptation of Greek mythology. Perseus, played by "Avatar" star Sam Worthington, was born a god but raised as a man. He sets off on an epic mission to combat the god Hades, played by Ralph Fiennes, before Hades attempts to seize power from Zeus, played by Liam Neeson, and unleash hell on earth. The show business trade paper Variety is not a fan: "Even more haphazardly plotted than the original, 'Clash of the Titans' boasts 3D imagery and kinetic action that can't obscure a movie that is, finally, pretty flat." Opens Friday at a cineplex near you.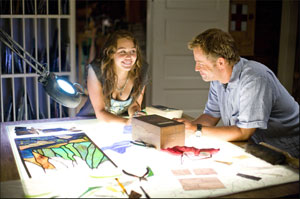 "The Last Song" actually opened at cineplexes yesterday. Miley Cyrus stars as a rebellious young woman who is sent to spend the summer with her estranged father, who abandoned her and her mother when she was very young. It is directed by Julie Anne Robinson, who has worked on acclaimed TV shows like "Pushing Daisies" and "Weeds." It is Miley Cyrus' first non-Hannah Montana big screen appearance since "Big Fish." The 1-man media industry Tyler Perry follows up on his hit film "Why Did I Get Married, with "Why Did I Get Married Too?" It stars Perry (who also directs), Janet Jackson, Jill Scott, Cicely Tyson and Louis Gossett Jr. In this sequel, four couples reunite for their annual vacation in order to socialize and to spend time analyzing their marriages. Their intimate week in the Bahamas is disrupted by the arrival of an ex-husband determined to win back his recently remarried wife. Check your local cineplex for show times. Hooray for the Ann Arbor Film Festival The 48th Ann Arbor Film Festival ended Sunday, and I hope you took the opportunity to enjoy the world's best experimental film festival. A few of the festival highlights included: experimental multi-genre music producer Flying Lotus' wonderful, live electronic score for the avant garde film "Heaven and Earth Magic," by acclaimed filmmaker Harry Everett Smith, who legendary experimental filmmaker Kenneth Anger calls "the greatest living magician." Kenneth Anger himself was honored at this year's festival — he delighted audiences with screenings of his most famous films, a very special onstage interview and Q&A, and with an impromptu autograph signing in the Michigan Theater lobby. Duncan Campbell's film "Bernadette," a look at Irish dissident and political activist Bernadette Devlin, stood out as one of the best documentaries of the festival and took home the Michael Moore Award for Best Documentary Film. Be sure to mark March 22-27, 2011 on you calendars so you can be sure not to miss the 49th annual Ann Arbor Film Festival.
Russ Collins is executive director of the Michigan Theater in Ann Arbor. Tune in to the audio version of "Cinema Chat" on WEMU radio (89.1-FM) each Thursday at 7:40 a.m. and 5:40 p.m., or listen to it online at WEMU's web site.