Posted on
Thu, Dec 10, 2009 : 11:41 a.m.
"White Christmas," "Messiah" or Santa, there's sing-along holiday music this week
By Susan Isaacs Nisbett
From concert halls to area churches, 'tis the season for holiday music. But as lovely and inspiring as it is to listen, sometimes it's singing the music yourself that makes for the greatest joy.
Fear not. If you missed the chance to sing the "Hallelujah" chorus along with the UMS Choral Union in Handel's "Messiah" at Hill Auditorium last weekend, I bring you glad tidings of good things. To wit, the Ann Arbor Symphony's annual Sing Along with Santa; the 45th annual version of the Community "Messiah" Sing; and a chance to sing along with the holiday movie favorite "White Christmas." All those take place Saturday, and the annual Kiwanis Christmas Sing at the Michigan Theater follows on Sunday.
Now the bad news is that they all happen this Saturday afternoon, so it's unlikely you can do all three, unless like Santa, you've mastered being pretty much everywhere at once. (Two of the three might be doable.) Anyway, here's an itinerary for a music-filled Saturday: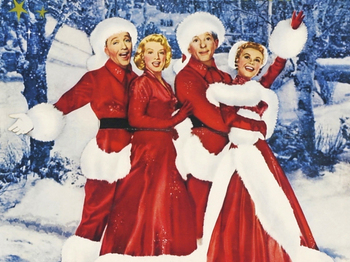 Before you Sing Along with Santa, there's time to sing along with Bing (Crosby) and Danny (Kaye) and Rosemary (Clooney) and Vera (Ellen) in the classic 1954 film "White Christmas."
Don't know the lyrics? No problem. When the film shows Saturday at 1:30 p.m. at the Michigan Theater, on-screen lyrics make it easy for the audience to participate in this tale of two former war buddies turned entertainers who, with their girlfriends, try to help their former commanding offer get his resort out of hock by putting on a show. I'm dreaming of fun.
Interactive props and a costume contest are also part of the event; attendees are encouraged to come dressed as their favorite character from the movie. Tickets are available at the door or in advance on ticketweb.com: $12 adults, $9.50 students, seniors, veterans, $7 Michigan Theater members.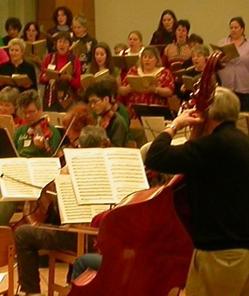 photo by David Boprie
The
Community "Messiah" Sing
is an unrehearsed reading of Handel's "Messiah" that is "played and sung for the pure holiday musical pleasure of the performers," as organizer-in-chief Meg Gower notes in materials about the event.
As someone who has participated in the past, I can tell you it's tremendous fun, and, as Gower writes, "it's open to "anyone interested and capable of a good effort in reading and performing the vocal or orchestral parts: amateurs, professionals, families, school and church groups." (Note that orchestral players must pre-register, for reasons of balance; singers can just show up!) All participants should bring is good will and good heart (and a treat to share at intermission, if desired). Scores and cold and hot beverages are provided. There is no charge to participate, but donations are cheerfully accepted on site.
Singers and players convene to be ready for a prompt 2:30 p.m. start Saturday, in the sanctuary at St. Clare's Episcopal Church, 2309 Packard Road. Richard Ingram, choral director at Huron High School since 1978, leads the sing for the second year. Its conductor for many years before that was the much beloved Robert Pratt, who passed away just a few weeks ago.
For more information or to pre-register, contact Meg Gower, 734-433-0150 or megower@umich.edu. Carols and participation by wee and grand folk are more the order of the day at Saturday's other sing-it-yourself event, the Ann Arbor Symphony Orchestra's Sing Along with Santa. It takes place at 4 p.m. at Bethlehem United Church of Christ, 423 South Fourth Avenue, presented by the Bernard L. Maas Foundation. Santa Claus himself will be there, as well as a number of local celebrities: A2SO tuba principal Fritz Kaenzig, for example, and radio personality Lucy Ann Lance, who acts as mistress of ceremonies.
Expect holiday songs and storytelling, with pianist Lori Zupan (the A2SO's business manager in her "other" life) officiating at the keyboard. The concert also features Reynaldo and Alicia Reyes performing Puerto Rican Christmas music. After the concert, Santa takes time to meet with the children so he can update his holiday list. A photographer will be on hand to capture it all, and families will receive photos in time for Christmas.
Admission to Sing Along with Santa is $6 for children and $15 for adults. Family tickets are available for $35 for up to six family members. Preferred seating patron tickets are also available for $50. Names of patron ticket buyers appear in the Sing Along programs. Tickets are available by calling 734-994-4801, visiting the Ann Arbor Symphony Orchestra office at 220 East Huron, Suite 470, Monday-Friday 9 a.m. to 5 p.m., online at the A2SO web site, or by e-mail at a2so@a2so.com, and if not sold out, at Bethlehem UCC starting at 3 pm on the day of the concert.
Finally, Sunday, December 13 at 1:30 p.m., the Michigan Theater will host a free Christmas sing presented by the Ann Arbor Western Kiwanis Club. Local young entertainers Ariel & Zoey and their brother Eli will be featured, and radio's Lucy Ann Lance will host. After the sing, Santa will listen to children's Christmas wishes. At 4 p.m. Sunday the Michigan will offer a free screening of "It's a Wonderful Life."
Susan Isaacs Nisbett is a free-lance writer who covers classical music and dance for AnnArbor.com.