Posted on
Thu, Jul 19, 2012 : 9:02 p.m.
5 things to check out Friday at the Ann Arbor Art Fair: bowling ball jewelry, Mr. B and more
By Jenn McKee
Previous article: Five things to check out Thursday at the Ann Arbor Art Fair
Previous article: Five things to check out Wednesday at the Ann Arbor Art Fair
Find a roundup of Ann Arbor Art Fair coverage here.
The Ann Arbor Art Fair offers countless fascinating sights—as well as sounds, tastes, smells and experiences.
Here are a few suggestions for things you might want to check out today—and add your own in a comment at the end of this post:
Matt Cole's recycled bowling ball jewelry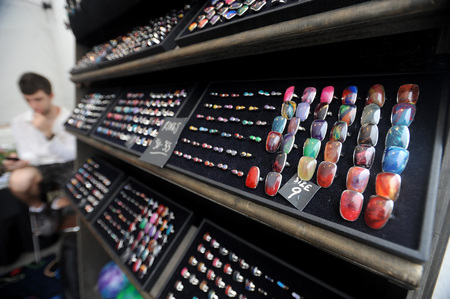 Angela J. Cesere | AnnArbor.com
A few years ago, when the jewelry company that State Street Area Art Fair artist
Matt Cole
worked for went under, he looked around his home, had an epiphany and, well, picked up the spare, so to speak.
"I've been bowling since I was 6 years old, and I'm still an avid bowler today," said Cole, a resident of Yellow Springs, Ohio. "I have a 225 average in my league … in Dayton, Ohio. And I had an enormous number of bowling balls. And after working in the jewelry world for so long, I realized that my bowling balls had a lot in common with all of these stones that I'd been working with. I knew that if I could figure out an easy way to cut these balls apart and use the shells of the balls, … it might look great. And I knew that bowling balls were all over the place. Everyone's got one in their closet, basement, garage, whatever, just sitting there."
Cole—whose booth is located on Liberty Street near Division—draws on his years of experience to design the colorful pieces' stainless steel "housing," and he's able to make several different pieces from each bowling ball he gets. But where and how does he get the balls?
"I have a relationship with the largest distributor of bowling supplies and equipment in the world, located in Akron, Ohio, called Ace Mitchell," said Cole. "Fantastic people own and operate that place. The ladies in the office give me a call when they have an abundant number of cracked or blemished bowling balls that they're ready to throw away."
However, 50-year-old, black, rubber bowling balls need not apply.
The boogie woogie piano stylings of Mr. B
It wouldn't be Art Fair without everyone's favorite local boogie woogie piano player, Mark Braun, who goes by the name of Mr. B.
Mr. B doesn't maintain a regular performance schedule during fair days, but instead offers up spontaneous marathon sessions on North University, as part of the Street Art Fair scene. So if you're wandering around the area, you're likely to hear him tickling the ivories.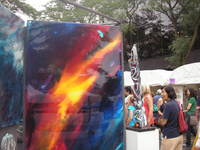 Nicholas Mirandon's surf-tacular paintings
At the corner of Main and Washington, you're likely to get swept up in the wave of Summer Art Fair artist Nicholas Mirandon's large, colorful, psychedelic paintings, created with resin.
As the artist's website explains, "In 1962, while working for Gordon and Smith surfboards in San Diego, California, (Mirandon) first envisioned using resin as a medium while creating color resin graphics and designs on surfboards. It wasn't until 1967 that he created his first resin painting at his own La Jolla Surfboards in Del Mar, California. For the next ten years, Nicholas developed techniques and experimented with resin colors as an art form and in 1977, he dedicated himself entirely to the resin medium and began to show his work nationwide."
Seated in his booth on Thursday, Mirandon said, "It's not a typical artist's painting medium. It needs a special situation to work with it, because it's a chemical reaction. The resin needs to have a catalyst put in it, a hardener, and the timing factor depends on that catalyst."
So does he have to scrap some projects that go awry?
"In the beginning, a lot, yes," said Mirandon, who lives in Del Mar, California. "But after 45 years, I don't make many mistakes. … I've been burned enough to learn."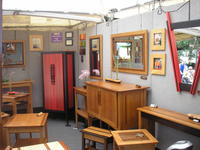 The furniture of Lance and Vicki Munn
Bloomfield, Indiana-based furniture artists Lance and Vicki Munn have been showing work at the Ann Arbor Art Fair since 1976.
"We both do all of the jobs, but our shop is mostly divided by physical strength," said Vicki Munn. "Because in the beginning, the boards are sixteen feet long and a foot wide, and I can't pick them up."
The couple's booth on South University has beautifully crafted cabinets, tables, stools, mirrors, and more, primarily made from local timber (cherry, walnut, etc.), and on the smaller pieces, they use more exotic wood, from different parts of the world, as points of accent.
Among Vicki's favorite pieces are small tables called Piper's Pick. "They're really nice, they're inexpensive, they're shaped like a guitar pick, and they're named after my granddaughter," she explained. " … And we always use these different combinations of wood that we don't always put in the bigger pieces, because when you're making the $1800 piece, you've got to make sure it's going to sale. So you don't often feel as free to do things like that."
The Potters Guild's porch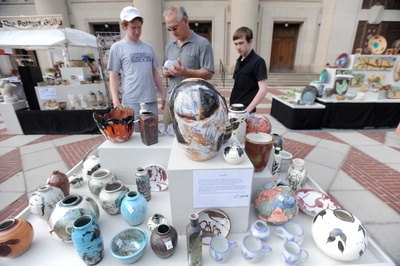 Angela J. Cesere | AnnArbor.com
The Art Fair presents countless different media and styles, created by artists from all over the country. But if your goal is to specifically find some high-quality pottery—or to seek out the work of local artists—you'll defnitely want to stop at the Potters Guild site.
More than a booth, since it offers space for many members of the Ann Arbor-based group, the Potters Guild space takes over the plaza right in front of Hill Auditorium, on North University Avenue. It's always one of the more pleasant spaces at the fair, nicely showcasing the ceramics with plenty of elbow room, as well as offering a good vantage point overlooking North U.
Potters Guild artists on display are all accomplished in their medium, and a wide range of styles can be seen. And among the participants is the dean of Ann Arbor ceramics, J.T. Abernathy. - Bob Needham