Peggy Lampman's Tuesday dinnerFeed
Recipe:

Birthday Buffalo Steak gets a lift from mallet-crushed peppercorns

Posted on Tue, Jul 19, 2011 : 4:23 a.m.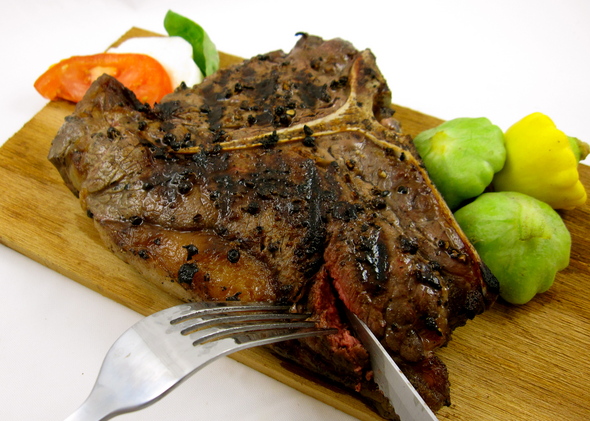 Peggy Lampman | Contributor

Peggy Lampman Tuesday dinnerFeed
(Correction to Friday blog: Back Alley supplies 36 Pesto-Shrimp with Spinach Bruschetta on the appetizer platter instead of 2 dozen.)
Every year on my birthday I receive a birthday steak from a family member. It's a family tradition that began with my grandmother some 50 years back, and though she's since departed, giving a steak as a birthday present remains our custom to this day.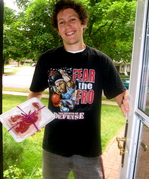 My birthday coincided with a friend, Wendy Williams, advising me that I had to try a buffalo steak from Sparrow Meats in Kerrytown. Her verbatim email: "It was SO good! I just put a bit of olive oil, some Montreal steak seasoning, more black pepper and a bit of fennel pollen on it. It was amazing. Had grilled vegetable stacks and bruschetta on the side. Yum."
I don't have fennel pollen (available at Zingerman's Deli) or Montreal steak seasoning (which is a great seasoning brand in general), but I do have salt and pepper. And I did insist my birthday steak be buffalo this year.
Grilling the perfect steak is an art form, and I've blogged about it excessively. In summary, if had to nail it down to three tips, they would be:
1. Cut of meat — I prefer on-the-bone rib eye, T-bone, porterhouse-style, at least 1 and 1/4-inch thick.
2. Liberally sprinkling both sides with salt and pepper, then letting the meat sit at room temperature at least an hour before grilling.
3. Searing over extremely high heat, then moving meat to a slightly cooler, medium-high heat, and cooking it to desired level of doneness.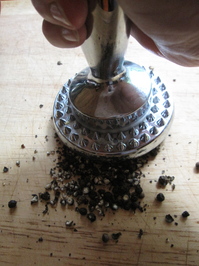 Last month's
Bon Appetit magazine
had an article about grilling the perfect steak, and I checked to make sure we were in sync.
We were, in fact, but the magazine recommended additional simple steps that took this year's birthday steak to another plateau: resalting the meat a second time, right before grilling; and pounding whole black peppercorns with a mallet to get fine, medium and coarse ground pepper, then rubbing it into the meat. I did this, and it was a marvelous coup de grace, providing different flavor profiles of peppery goodness.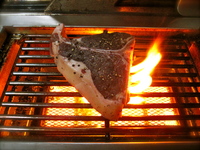 And finally, the thick, on-the-bone steak cut from buffalo purchased from Bob Sparrow in Kerrytown was masterful: unbelievably tender and good, with a rich flavor that I've never tasted before in a steak.
The only difficult thing about grilling the perfect steak is staring at the finished product, and smelling its lip-smacking aroma as it sits the required 10 minutes. You do not want to cut into the beef after pulling it off the grill, as those savory juices will escape; they need time to settle and be absorbed. Ten minutes is a painfully long time to watch a perfectly grilled steak. See for yourself.
Yield: 1 big steak (enough for two)
Prior grill rest time: 1-2 hours
Grill time: 9-11 minutes for medium-rare
After-grill rest time: 10-15 minutes
Ingredients:
1 steak, bone-in, at least 1 1/4-inch thick preferred
Olive oil
2 tablespoons whole black peppercorns

Directions:
1. Brush both sides of beef with olive oil. Liberally sprinkle both sides with kosher or sea salt. With a mallet, pound peppercorns until you have an assortment of fine, medium and coarsely ground pepper, and rub into beef. Let meat sit at room temperature 1-2 hours.
2. Oil grill grates. Prepare one side of gas or charcoal grill to high heat, and the other side to medium-high heat. Sprinkle additional salt over beef. Place steaks on the hottest side of grill and sear for 1 1/2-2 minutes on each side. (To create a diamond pattern on the meat, rotate 45 degrees after 1 minute.) After searing meat, move steaks to a slightly cooler side of the grill and cook to desired level of doneness. (For medium rare, about 3-4 additional minutes per side.)
3. Remove steaks from grill and let sit 10-15 minutes.
Looking for a specific recipe? Click here for dinnerFeed's recipe search engine; type the recipe or ingredient into the search box. I am a real-time food writer and photographer posting daily feeds on my website and in the Food & Drink section of Annarbor.com. You may also e-mail me at peggy@dinnerfeed.com.