Posted on
Thu, Feb 14, 2013 : 10:50 a.m.
Meatloaf Bolognese: The best meatloaf in the world
By Jessica Webster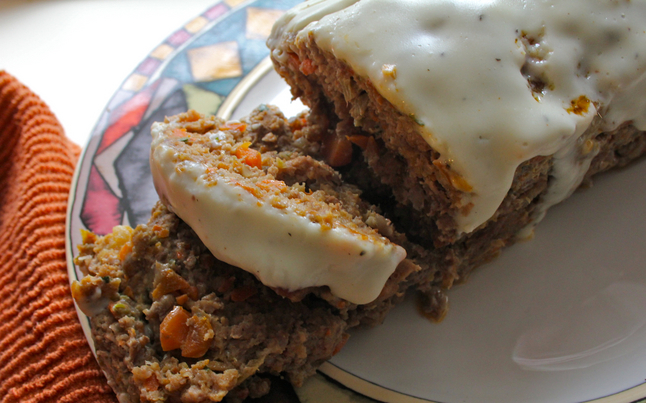 Jessica Webster | AnnArbor.com
Every time I think about becoming a vegetarian, I remember how much I love
Bolognese
sauce. I love it over pasta, in lasagna, or just by the spoonful from the pot on the stove. That rich blend of meats and aromatics, with just a hint of tomato paste, is just too good to ever give up.
Last week, as I was stirring up a batch of Bolognese, waiting for the carrots and onions to caramelize, I had an epiphany. Now maybe you've already had this epiphany, but it suddenly occurred to me that my favorite sauce and meatloaf have a lot in common.
Start with aromatics? Check. Add a little tomato paste? Check. Use a blend of beef and pork? Check.
So I set to work translating my regular Bolognese recipe (adapted from Saveur Magazine) to a meatloaf. I love the flavors that the onion, celery and carrots take on when you invest the time to caramelize them, so I started there. Then add a little pancetta or bacon, a little wine, a little tomato paste, and you're almost there.
My biggest worry was making sure the meatloaf wasn't too dry, so I stole a trick from my favorite meatball recipe and soaked a couple of thick slices of sandwich bread in milk. Once the bread softens, you squeeze most of the milk out and blend the bread with the meat mixture.
With lasagna Bolognese in mind, I replaced the traditional ketchup and brown sugar meatloaf glaze with a simple bechamel sauce. Just drizzle it over your loaf and dig in.
I'm no meatloaf connoisseur, but I can confidently and enthusiastically say that this was the best meatloaf I have ever eaten in my life.
Meatloaf Bolognese
2 thick slices firm white sandwich bread
mllk
3 tablespoons olive oil
2 tablespoons unsalted butter
1 medium onion, finely chopped
1 medium celery rib, finely chopped
1 medium carrot, finely chopped
4 slices bacon or (or 4 ounces pancetta), finely chopped
1/2 cup dry red wine
3 tablespoons tomato paste
2 large eggs
salt
pepper
1/3 cup finely chopped flat-leaf (Italian) parsley
1/4 cup freshly grated parmesan or pecorino romano
3 garlic cloves, minced
1 1/2 pounds ground beef chuck
1/2 pound ground pork
Heat the oil and butter in a medium heavy-bottomed pot over medium heat. Add the celery, onions, and carrots, season with salt and pepper, and cook, stirring frequently, until soft and lightly browned, about 15 minutes. Reduce heat to low and cook, stirring occasionally, until very soft and caramelized, about 15 minutes more.
Add the bacon or pancetta and continue cooking, stirring occasionally, until the fat has rendered, about 10 minutes more. Increase the heat to medium, add the wine, and simmer, stirring constantly, until evaporated, about 5 minutes. Add tomato paste and cook, stirring frequently, for 2 minutes. Remove from heat and let it cool down.
Preheat oven to 350 degrees.
Place bread in medium bowl; add enough milk to cover. Let stand until bread is soft, about 10 minutes.
Gently beat eggs in large bowl. Add salt and pepper to taste, parsley, garlic and grated cheese. Stir. Add beef, pork, and cooled onion, celery, bacon and carrot mixture.
Squeeze bread almost dry; discard milk. Blend bread into meat mixture.
Mix with your hands until everything is blended well. Pack mixture into a 9- by 5-inch loaf pan or form it into an oval loaf in a 13- by 9-inch baking dish.
Bake until an instant-read thermometer inserted into center of meatloaf registers 155 degrees, 1 to 1 & 1/4 hours. Let stand 10 minutes before serving.
Bechamel sauce: from Epicurious.com
2 tablespoons butter
2 tablespoons flour
1 1/4 cups milk, heated
Salt
Freshly ground pepper
A pinch of fresh nutmeg
Melt the butter in a heavy-bottomed saucepan. Stir in the flour and cook, stirring constantly, until the paste cooks and bubbles a bit, but don't let it brown — about 2 minutes. Add the hot milk, continuing to stir as the sauce thickens. Bring it to a boil. Add salt, pepper and nutmeg to taste, lower the heat, and cook, stirring for 2 to 3 minutes more. Remove from the heat.
Drizzle some of the bechamel sauce over the meatloaf immediately, and serve the rest on the side.
Jessica Webster leads the Food & Grocery section for AnnArbor.com. Reach her at JessicaWebster@annarbor.com. You also can follow her on Twitter or subscribe to AnnArbor.com's email newsletters.