Posted on
Sun, Jan 20, 2013 : 5:29 a.m.
Five reasons I am looking forward to Ann Arbor Restaurant Week
By Jessica Webster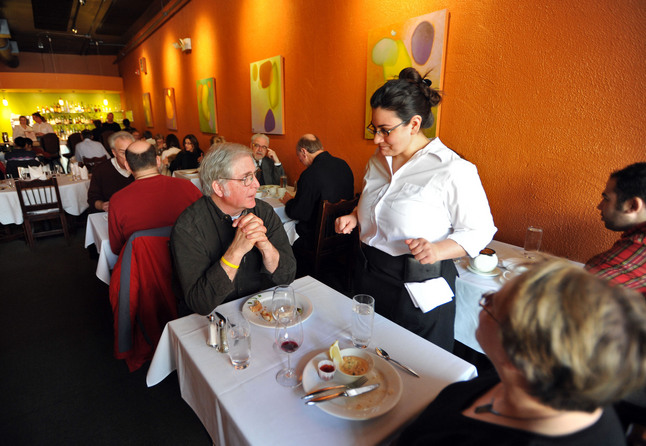 AnnArbor.com file photo
Ann Arbor's
Restaurant Week
starts ... now! 55 area restaurants are participating this year—more than ever before—offering fixed-price lunch and dinner menus today through Friday. Lunch is $15 and dinner is $28, and many restaurants are offering two-for-one pricing.
I've spent a lot of time checking out the menus of the participating restaurants, plotting my Restaurant Week trajectory. As I put together my wish list, I realized that I was seeking out different restaurants for different reasons. Some offer a new experience. Others are old favorites in a new setting. And others are just too much of a deal to pass up.
Here are the five things I am most looking forward to during this year's Ann Arbor Restaurant Week:
Deals
If you head out to Restaurant Week looking for a great deal, you might be disappointed. The prix-fixe setup for the multiple-course meals at many of the participating restaurants pretty closely match the a la carte prices you'll find the rest of the year.
That's not the case everywhere, however. Conor O'Neill's has one of the best deals in town during Restaurant Week. For $28, two diners share an appetizer sampler (including their very tasty spinach and artichoke dip and stuffed mushrooms), two entrees (I love their shepherd's pie) and a dessert sampler. Oh yeah, and a beer sampler to share (if you're over 21).
Restaurants that have put together unique menus that offer an interesting variety
I tend to stay away from Restaurant Week menus that simply mash together an appetizer, an entree and a dessert from their regular menu, as I rarely order desserts when dining out.
But when a restaurant goes out of its way to mix it up, providing tastes of a broader spectrum of their offerings, I'm happy to check it out. Miki Japanese Restaurant has one of the more interesting looking Restaurant Week menus, with two different fixed menus, one more sushi- and sashimi-focused, and the other more appetizer- and meat-oriented.
New restaurants
Haven't made it in to sample the food at Lena, the new Latin American-inspired restaurant on the corner of Main and Liberty streets? Curious about Kuroshio, the new Asian fusion place on the corner of Liberty and Fourth? Or just excited that Isalita, Adam Baru's new restaurant on Liberty at Division, is accepting reservations this week, making it possible to finally check it out without waiting 90 minutes for a table? Restaurant Week is a great time to check out some of the plethora of new eateries that have opened in the past few months.
The opportunity to enjoy expensive favorites without breaking the bank
The Chop House's white-tablecloth retro atmosphere is my favorite place to enjoy a martini and a $40 steak, but it's a once-a-year indulgence, since the check for two of us usually comes in well over $150. With Restaurant Week pricing, I'm happy to get the same atmosphere, smaller portions and a much smaller check. Even with a halfway decent bottle of wine, a couple can be in and out for under $100.
Frita Batidos/eve the restaurant
I'm still scratching my head about Eve Aronoff's impressively ambitious menus for Restaurant Week. Not content to just present her favorites from her current Cuban-inspired fast-casual restaurant, Frita Batidos, she is also resurrecting favorites from her shuttered upscale eponymous restaurant.
How will she do it? How many diners can she fit at the communal picnic tables? How can she cook two different styles of food from the small Frita Batidos kitchen? The whole scenario seems fraught with disastrous possibilities. That won't keep me away, though. Tell me Eve's making her Inspired Nachos and Triple Chocolate Pots de Creme again and I will be there in a heartbeat.
What are you most looking forward to at this year's Ann Arbor Restaurant Week?
Jessica Webster leads the Food & Grocery section for AnnArbor.com. Reach her at JessicaWebster@annarbor.com. You also can follow her on Twitter or subscribe to AnnArbor.com's email newsletters.