Posted on
Wed, Aug 14, 2013 : 5:55 a.m.
My last pilgrimage to Krazy Jim's Blimpy Burger
By Jessica Webster
Jessica Webster | AnnArbor.com
Nearly everyone I know has a Blimpy Burger story.
Some of them are sweet. Michael Jewett told the story of evenings spent with his dad, hitting the newsstand to stock up on comic books, then making the trip to Krazy Jim's for dinner. This trip always came with an admonition from Michael's dad, Coleman.
"Don't tell your mom."
Then there are the other stories, like my friend Jenn tells. She only went once. She had heard that she might get yelled at if she ordered the wrong way, and she was nervous. When longtime Blimpy staffer Davi asked her if she wanted any grilled items, Jenn blurted out: "I just want cheese."
Rule number 5 from the Blimpy ordering guidelines: "Just before the burger comes off the grill, you will be asked to pick what kind of cheese you prefer, if any."
Jenn ended up with just a piece of cheese on her bun. No burger.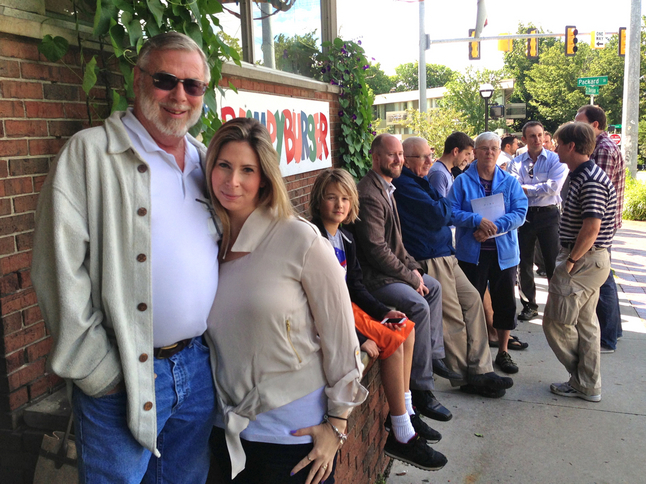 Jessica Webster | AnnArbor.com
My fondest Blimpy memories date back to the late 1990s. My ex-husband and I would get our burgers and root beers to go. By the time we got home, the grease would have soaked through the quadruple layer of napkins and the bottom of the paper sack we were transporting our meal in. We'd plate up our burgers and dine while we watched the Tigers find new ways to lose. The TV volume would be turned down and we'd listen to Ernie Harwell's commentary on the radio.
Krazy Jim's Blimpy Burger is closing on Wednesday, hopefully just for a few months until a new location can be found. But just to be on the safe side, I decided it was time to make some new Blimpy memories with my 11-year-old son.
Remembering that Blimpy opened at 11 a.m., we stopped for some cash at the bank and made our way down to the corner of Packard and Division at 10:30 Tuesday. We were overjoyed when we saw that we could park right in front of the restaurant. We were less overjoyed when we discovered the sign on the door saying that Blimpy wasn't opening until noon.
I tried to tell my son that this would make a better story for us to tell for years to come. He wasn't buying it.
We were the second group in line, behind another parent-child combo. Shannon and Dave Dolan arrived just a few minutes before we did. Dave had already been to the restaurant a few times in the past couple of weeks for goodbye visits with family and staff, but Shannon just got home from Europe so he decided to make one last trip with his daughter.
Shannon was nervous about ordering: "I've been yelled at before."
She spent the time in line writing out her order and drilling her dad on the order process.
"What burger do you want, Dad?"
"I'll have a double with a fried egg."
"DAD! I didn't ask you about that yet! You have to wait until they ask you what you want from the grill!"

The line started getting longer by about 11, and by 11:30 it had wrapped around the block. Those of us at the front of the line started wondering how much we could sell our prime spots for. It was decided that we'd probably be able to dine at the Chop House with the proceeds.
The conversation in line turned to the question of whether it was a true Blimpy experience if you didn't get yelled at. My son, overhearing this while playing Temple Run on my phone, paused the game and asked me for another ordering tutorial.
At 11:54, the open sign was turned on and the crowd erupted in applause. A few minutes later, we were in.
I've probably been to Krazy Jim's Blimpy Burger nearly 100 times in my 24 years in Ann Arbor, but my pulse quickened as we stepped through the door, grabbed our drinks and our trays, and got ready to place our orders.
My son made it through the line with no troubles, spitting out his rehearsed answers to the appropriate questions at the appropriate times. I was proud. I, on the other hand, got chastised for having my cell phone visible as I documented our last visit. I thought about explaining that this was more of a camera than a cell phone, but decided I didn't want to risk getting kicked out.
"Would they really kick you out for talking back?" asked my son. I told him I didn't want to find out.
I checked in with Shannon and Dave on our way to the table with our trays.
"I got yelled at three times," laughed Shannon with a grin.
There wasn't anything special about my last (for now) Blimpy Burger. I got a quad with American cheese on a Kaiser bun - I went with an extra patty for good luck. The mixed veggies were as delicious as always. The only thing different was that this order was served with a side of sadness.
"Don't think of this as a favorite Ann Arbor restaurant that's closing," said my son, trying to comfort me. "Let's think of this as a great restaurant we found in another city that we might not ever visit again."
Owner Rich Magner told AnnArbor.com's Lizzy Alfs that he's close to signing a lease for another location, and that he could be up and running again in a few months. I'll take comfort in that, too.
So for now, it's not good bye. Instead, we'll say au revoir, Blimpy Burger. I hope to see you soon.
Jessica Webster leads the Food & Grocery section for AnnArbor.com, a part of the MLive Media Group. Reach her at JessicaWebster@annarbor.com. You also can follow her on Twitter or subscribe to AnnArbor.com's email newsletters.